Reading Time:
2
min read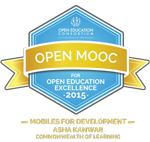 The Open Education Consortium awarded the Commonwealth of Learning/President and CEO, Professor Asha Kanwar, with the Open Education Excellence Award for the open MOOC "Mobiles for Development".
The Open Education Awards for Excellence provide annual recognition to outstanding contributions in the Open Education Consortium community. These awards recognize distinctive open education sites, technological innovations, notable open courses, and exemplary leaders in Open Education worldwide. The awards are announced each year at the Open Education Global Conference.
"Mobiles for Development" was launched on 2 October, 2013 and finished on 25 November, 2013. Indian Institute of Technology in Kanpur (IITK) partnered with COL in designing and operating this MOOC. In COL, a team comprising staff of Knowledge Management (V Balaji, Ricky Cheng, Michelle Gruda and Helen Askounis) organised the course.
The MOOC taught learners about important concepts and practices in mobile technologies that are relevant to learning and education, agricultural extension and rural credit and finance. The course saw 2282 registrants from 116 countries. All course materials have been published as Open Educational Resources.
-30-