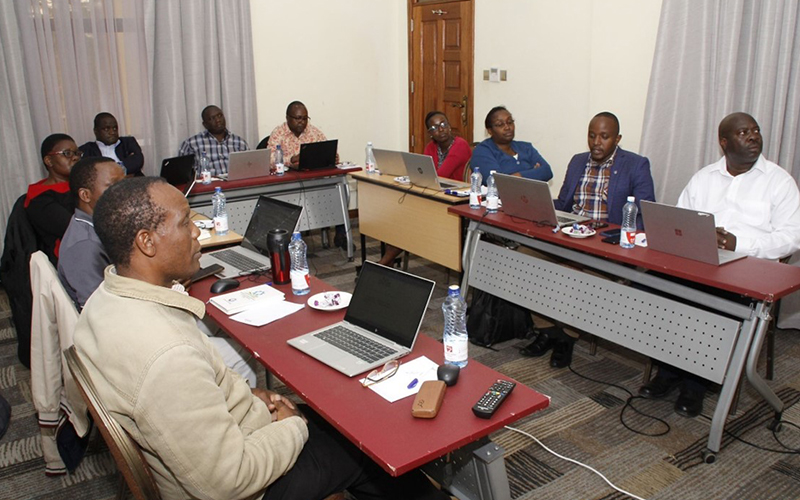 Reading Time:
3
min read
COL's partner, Technical Vocational Training Authority (TVETA), Kenya, has recently concluded a one-week workshop where a standard for TVET in ODL mode were reviewed and development of a tool for accreditation of TVET centres was discussed. These centres are implementing Competency-Based Education and Training (CBET) using Open, Distance and eLearning (ODeL) approaches.
Participants in the workshop held in early June included the officers from the Standards, Accreditation & Outreach, and ICT Directorates at TVETA. Stakeholders from public and private institutions offering CBET programmes, industry players and TVET administrators were involved.
Addressing the workshop participants, Peris Njoroge, TVETA Deputy Director: Standards Development noted that the workshop was timely as the ODeL Standard was due for review. New considerations were emerging  from increased uptake of ODeL following the COVID-19 pandemic. Fred Oanda, Director: Accreditation and Outreach Services at TVETA said that enabling accreditation of ODeL centres and programmes would lead to increased equity, access, quality and relevance of TVET training.
An action plan was developed to ensure that standards are maintained in delivery of CBET amidst global disruptions to TVET systems –due to climate change, migration, digitalization, COVID-19 and Industry 4.0. Robert Okinda, COL Adviser for Technical and Vocational Skills Development, said "To build future resilience of TVET systems, COL supports national ministries and TVET agencies to develop frameworks for a flexible, open, adaptive and responsive CBET for increased quality and equitable access."