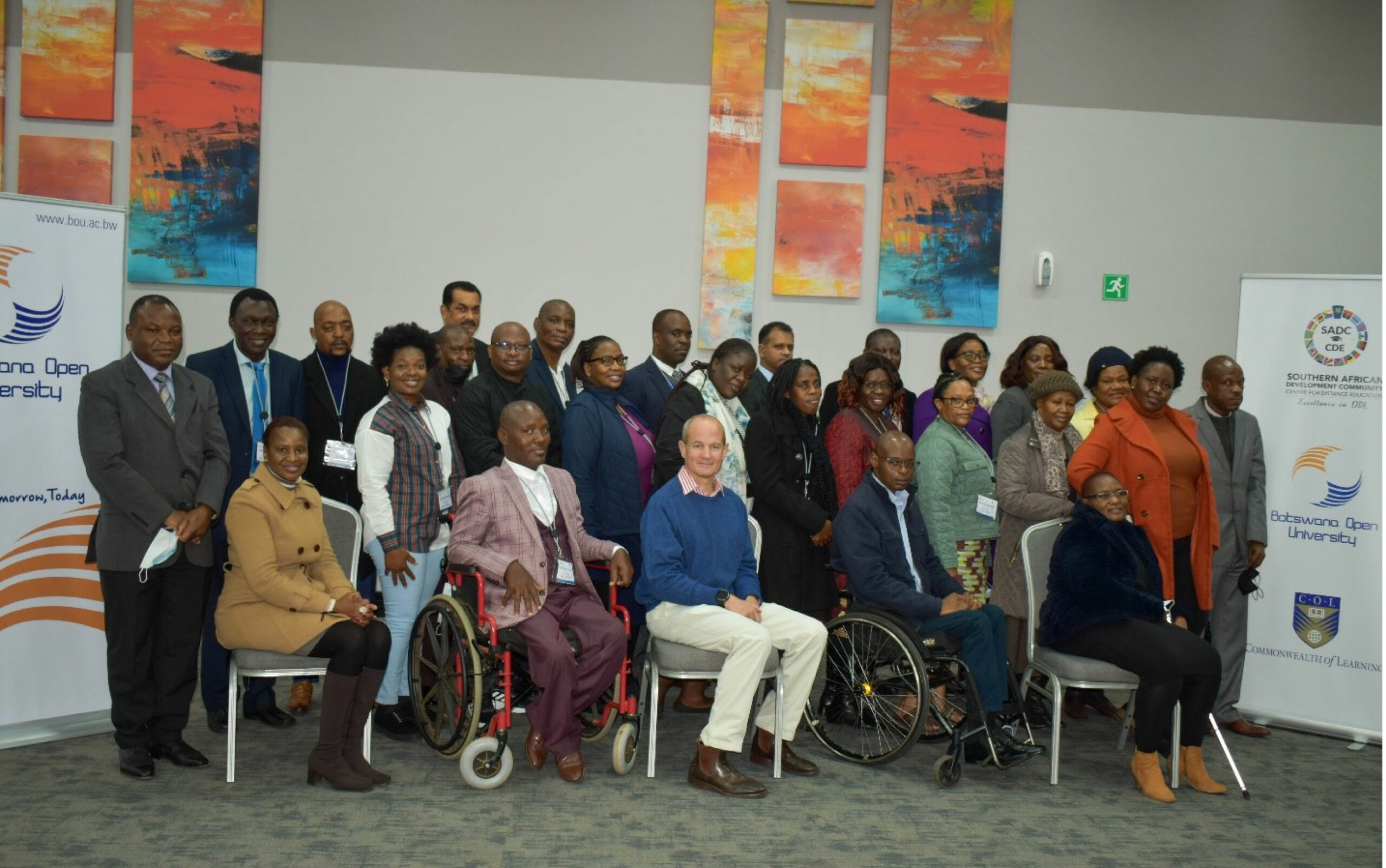 Reading Time:
4
min read
The Southern African Development Community Centre for Distance Education (SADC-CDE), a COL regional centre, held a two-day workshop on developing effective Open Educational Resources (OER) policies for the SADC region. The workshop was held in Gaborone, Botswana in June 2022. The main objective was to promote the adoption of  OERs through the development of national and institutional Policies. A total of 26 participants, including people with disabilities (PWD) joined. The aim of the workshop was to introduce participants to the concepts of open licences and OERs; explore the requirements to ensure educationally effective adoption of OER; unpack the policy environments needed to support this use, at both institutional and national levels to and determine the requirements for and scope of effective OER policies.
The Vice Chancellor of Botswana Open University, Dr Daniel Tau welcomed senior level higher education representatives from the 11 member states including Botswana, Eswatini, Lesotho, Malawi, Mauritius, Mozambique, Namibia, Seychelles, South Africa, Tanzania and Zambia and enjoined them to be ambassadors for OER in their respective countries and institutions. In his opening remarks, the Minister of Education and Skills Development, Honourable Dr Douglas Letsholathebe asserts that "the capacity building that COL continues to facilitate in the region should leave 'footprints'. These 'footprints' can be yourselves, leading the development of policies in your respective countries, and then later implementing such policies for the betterment of your education systems". COL was represented by Dr V Balaji, Vice President who joined the inaugural event online.
Participants were introduced to OERs and practices as well as the applicable policy change. The workshop ended with a "call to action" where all countries and institutions agreed to develop national and institutional OER policies in the next 12 months.  Professor Jane Frances Agbu, COL Adviser: Higher Education said: "I am glad this workshop also had a focus on OER for PWD for there is increasing recognition in the countries of the region of the need to address the learning needs of PWD who constitute a noticeable proportion of students".