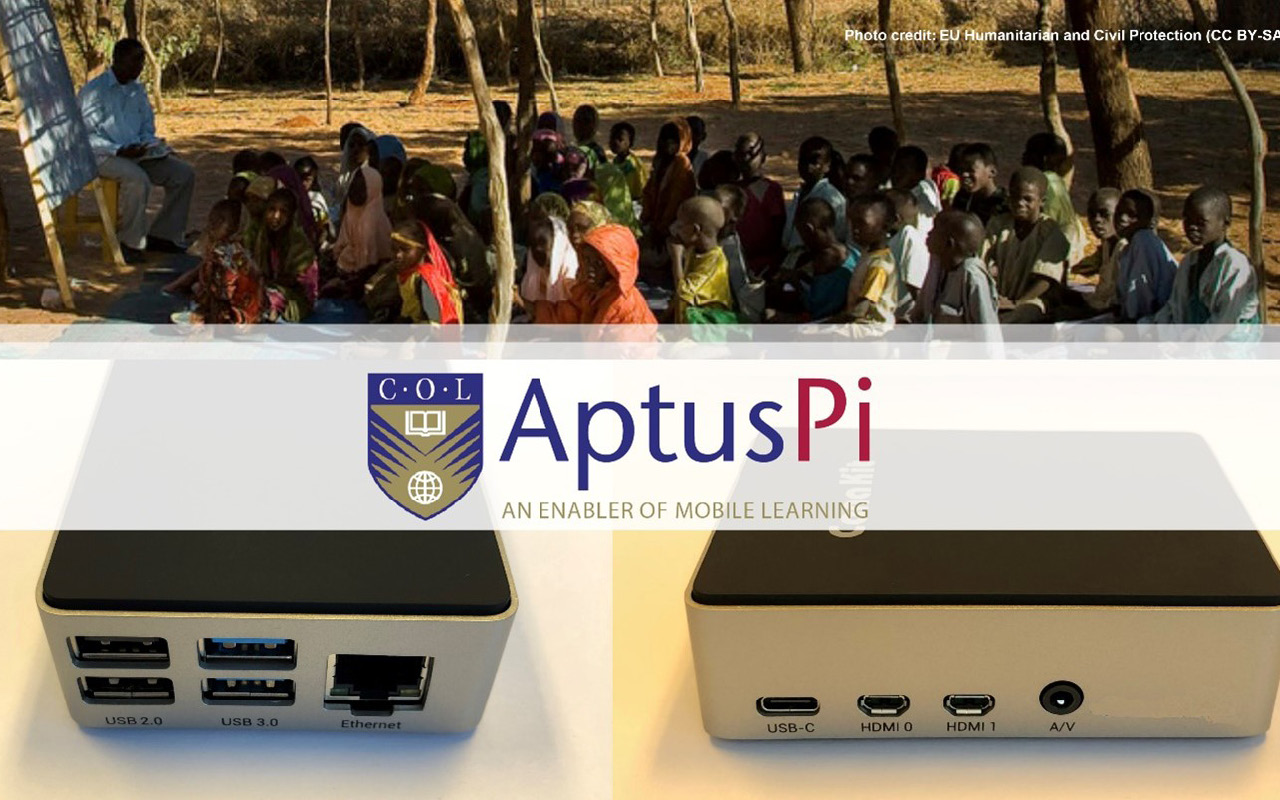 Reading Time:
4
min read
Aptus/AptusPi, COL's low-cost device allows educators and learners to connect to digital learning platforms and content without the need for grid electricity or Internet access. The result is a "Classroom Without Walls" that can be set up within minutes and accessed with a laptop, tablet or mobile phone. COL has successfully deployed the device across the Commonwealth to enable learning continuity in Member States stricken by natural disasters and pandemics , and to provide support to out-of-school children.
"After porting the Aptus device to the latest Raspberry Pi hardware platform which is available around the globe, COL is now preparing a set of detailed open-source guides that will help countries to develop Texpertise in assembling, installing and using the AptusPi devices. These guides will lay the foundation for a vibrant Commonwealth-wide AptusPi user community," said Dr Naveed Malik, COL Special Adviser: Technology & Innovation.
In response to a request from the Maldives Ministry of Education, COL has provided 200 devices with uploaded Grades 1 to 8 textbooks, over 100,000 Creative Commons licensed articles from Wikipedia for Schools and Simple English Wikipedia, 1,000+ Creative Commons licensed educational videos from Khan Academy, as well as PhET Interactive Simulations in Biology, Physics, Chemistry and Math. Training on AptusPi deployment and use is being planned.
In Malawi, Mozambique, Vanuatu and Zambia, COL's device is helping meet the challenges caused by the exponential increase in the cost of proprietary textbooks and printed study materials. In Ghana, AptusPi will help provide access to learning resources for out-of-school children who may only be able to visit a school or a support centre occasionally.
According to Dr Tony Mays, COL Education Specialist: Open Schooling: "Access to digital curriculum-based OER which are interactive by design, and use a variety of media, enables continuity of learning even when schools are closed or are inaccessible. However, Internet access and cost present barriers, especially in rural areas, and  AptusPi represents one of the best solutions."