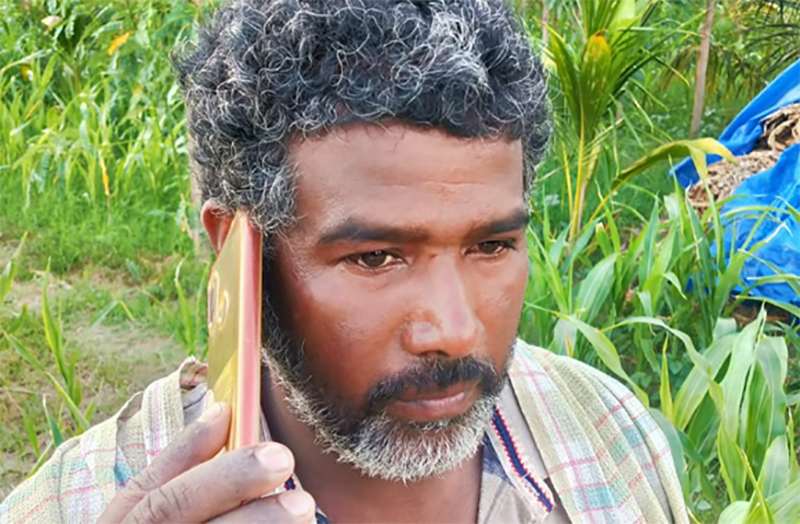 Reading Time:
4
min read
Farmers from two districts in the Indian state of Tamil Nadu learned various aspects of Integrated Pest Management (IPM) through a MobiMOOC offered jointly with two local community-based organisations. The course was delivered over five weeks in the framework of COL's Lifelong Learning for Farmers (L3F) programme. It was structured as a series of short audio lessons, which were holistic in nature and easily understandable to farmers. A total of 2,199 farmers were enrolled in the course and nearly 90% remained active.
"For the first time, many farmers in our area gained the confidence to talk about pest and disease," noted Mr Kalaiselvan, an experienced farmer and course participant. He especially appreciated insights into disease prevention, and the low-cost and no-cost methods of pest management.
MobiMOOCs allow COL to use scalable learning for farmers, blending the features of an Internet technology (MOOC) with a non-Internet delivery system (phone calls). This was the second course on agricultural production practices offered to farmers, and the topic had been identified by partners through a survey of interested learners. A total of 860 learners became eligible for certificates of participation.
Ms. Kalyani, another successful learner, who is also a director on the board of a farmer-producer organisation in her region, said she had learned several useful things through the course, including ways to prepare pest repellent to ward off pests and planting trap crops to attract harmful insects. "Other farmers appreciated the results and adapted the practice for their farms," she added.
According to Mr. Madhanagopal, CEO of the Allangai Jallikattu Agri Horticulture Farmer Producer Organisation, farmers are looking forward to more learning opportunities to improve their IPM practices.
In response to these needs, L3F will be hosting more courses, including for countries in Sub-Saharan Africa and the Caribbean.
Dr Moses Tenywa, COL Education Specialist: Agriculture and Livelihoods, said: "The demand-driven L3F brings timely and relevant information to the farmers in their homes thus building their confidence in the programme".