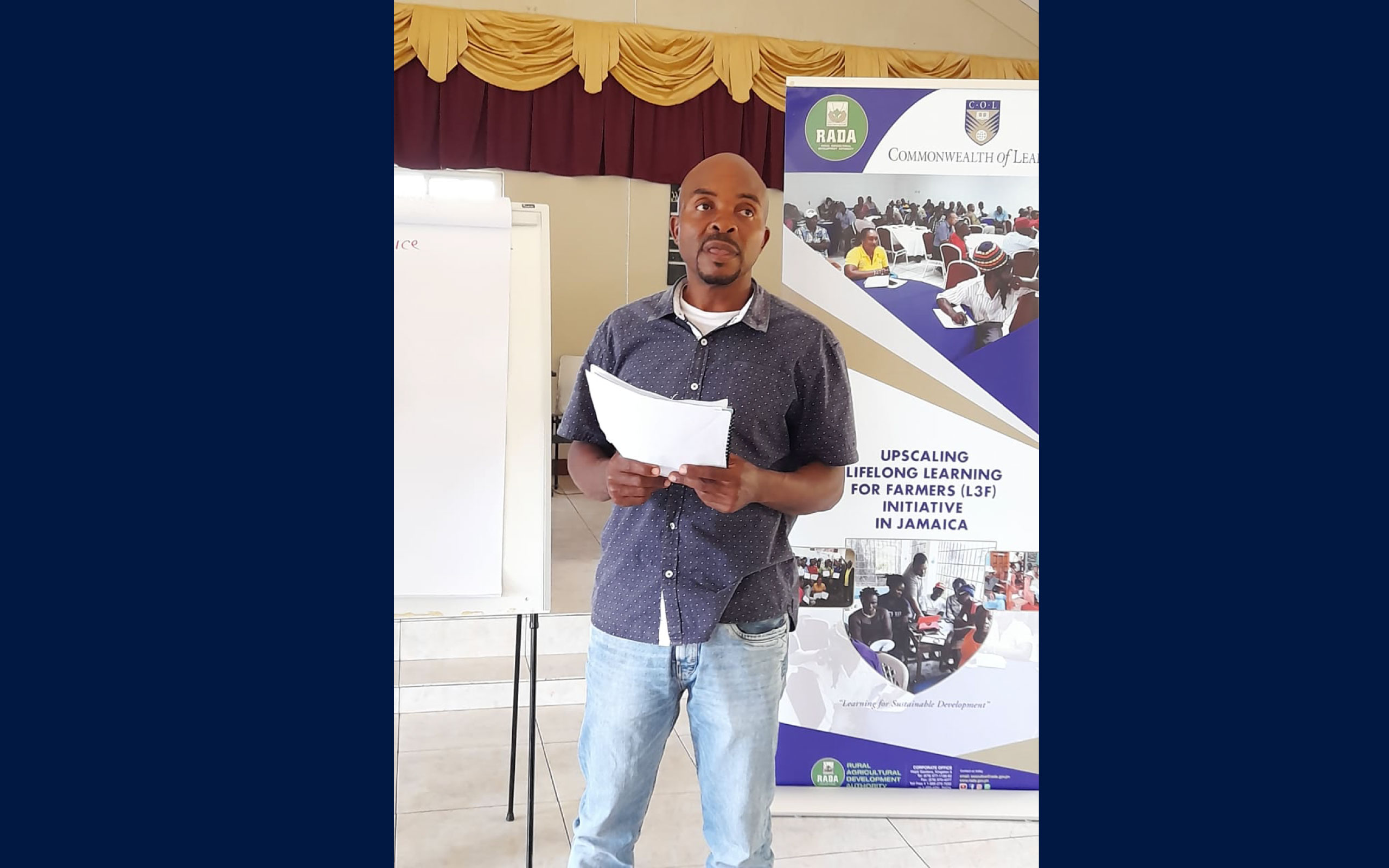 Reading Time:
5
min read
400 farmers from rural Jamaica are benefitting from an eight-week training programme sponsored by Commonwealth of Learning (COL) on how to treat farming as a business and to maximise their earning potential.
Using a combination of face-to-face and open and distance learning, the programme involves the use of mobile devices to train and mentor participants into higher levels of professionalism in agriculture.
Through exposure to topics such as effective marketing techniques, business proposal writing, record keeping, and other business skills for future growth, these Jamaican farmers are now being taught the fundamentals of how to turn their underdeveloped farmland into a thriving agribusiness.
A series of workshops was conducted earlier this year by the Caribbean nation's Rural Agricultural Development Authority (RADA) in collaboration with COL, in different Parishes in Jamaica, including the Needham Pen Farmers Association.
COL's Adviser: Lifelong Learning for Farmers, Professor Wale Adekunle, commented on this grassroots initiative:
"When agriculture is underperforming, as is the case in many countries, the consequences are food insecurity, malnutrition, hunger and poverty. To transform agriculture, the perception, mind set and attitude of farmers to farming must change. Fundamentally, the perception, understanding and practice of agriculture must transcend its current boundary of engagement by farmers to the level of a serious business capable of wealth creation for improved livelihoods."
The Commonwealth of Learning is currently working with various partners in Jamaica in support of learning for sustainable development. Through the Lifelong Learning for Farmers (L3F) Initiative, COL is collaborating with RADA to bridge the learning gaps that exist in the life of resource-limited farmers and in their enterprises in order to help them become more business-oriented farmers. L3F is the foundation of agricultural transformation which COL is laying with partners in Jamaica and a number of other countries in the Commonwealth.
Agriculture plays a vital part in the economy of Jamaica. The sector is one of two, along with tourism, deemed as pivotal to the Jamaican government's economic growth and job creation agenda. For over 15 years, RADA and COL have been facilitating projects and activities to transform farmers treatment of agriculture as a 'hobby" or "farming the bush" into a modern, sustainable agribusiness model.
Current efforts are also being made by organisations like RADA to create, support and provide opportunities to the youths of Jamaica with support from COL's Gender Initiative, and to encourage economic and social transformation on a community and countywide basis.