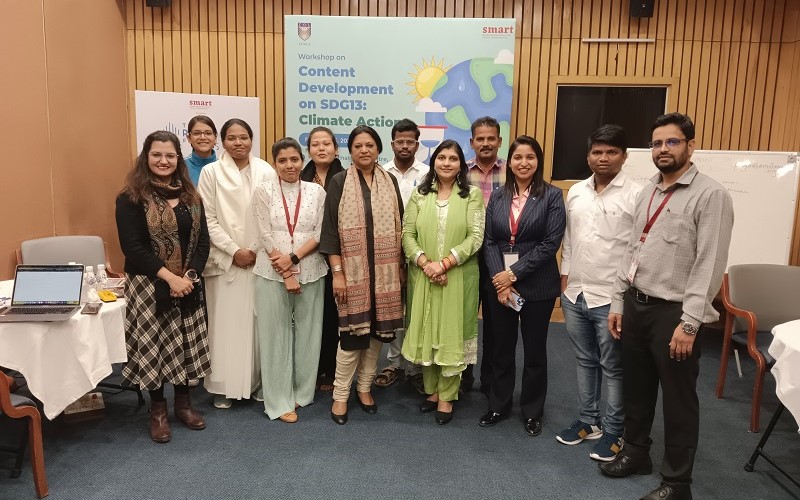 Reading Time:
4
min read
The Commonwealth Educational Media Centre for Asia (CEMCA), the regional centre of the Commonwealth of Learning, is collaborating with UNESCO and SMART (Seeking Modern Applications for Real Transformation) on two unique initiatives – Sustainable Development Goals (SDG) Fellowship and Curriculum on Climate Change for Community Radio (CR) broadcasters.
While the Fellowship allows CR broadcasters to highlight newsworthy and under-reported grassroots stories related to the SDG goals, the Curriculum will serve as a systematic learning programme for the skills development of community radio practitioners on SDG 13: Climate Action.
The Curriculum on Climate Change enables the participants to help strengthen the resilience and adaptive capacity of their communities to climate-related threats and natural disasters in countries significantly affected by climate change. To initiate the curriculum development process, an orientation workshop was held earlier this year in New Delhi, India and was attended by ten SDG Fellows who were selected through a competitive process for their excellence in grassroots-level work through a range of community media applications.  The Fellowship includes a financial award and mentorship support for pursuing a project of choice at the community level.  These chosen Fellows would also assist CEMCA and SMART in developing a curriculum on Climate Literacy for use at the community level.
The process of creating content is participatory. The SDG Fellows, who are part of this process, contribute to the Climate Change Curriculum which is designed to fill the gap in structured learning programs for those who work in community radio. It will also equip the SDG Fellows with the knowledge and skills to help local communities deal with climate change. The curriculum will first be tested with 11 SDG Fellows. After that, it will be made available through media schools.
In his remarks at the workshop, CEMCA Director Dr B. Shadrach pointed out that the SDG Fellows will be trained to use storytelling as a compelling medium to engage communities in the awareness of climate change and take appropriate action.
CEMCA is also partnering with SMART, an NGO based in New Delhi. Ms Archana Kapoor, Founder of SMART, commented that it was an excellent experience learning to work with Community Radio Stations and SDG Fellows. Ms Kapoor added that she appreciated the support extended by mentors in the SDG Fellowship programme.