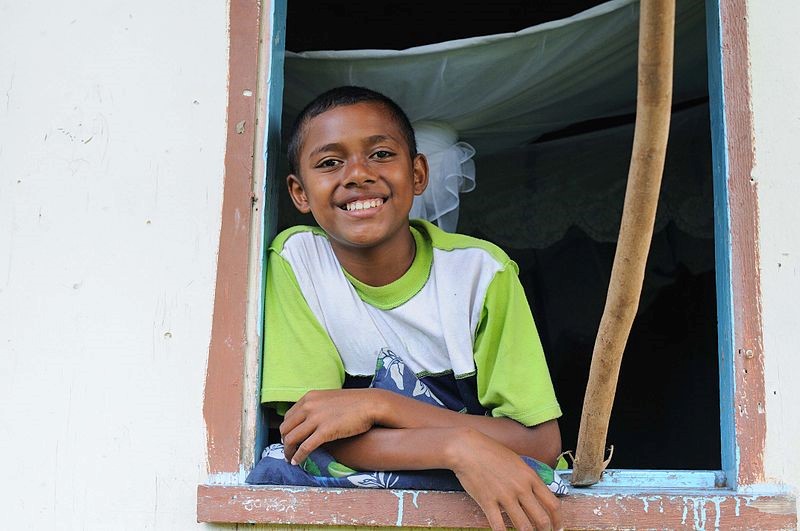 Reading Time:
5
min read
by
Dr Tony Mays, Education Specialist: Open Schooling
Dr Kirk Perris, Adviser: Education
The proportion of young people (0-24 year-olds) in the Commonwealth States of the Pacific is approximately 50%, or nearly five million individuals. Relative to secondary schooling, this demographic segment reflects three groups of individuals – those who will be of secondary school age, those who are of secondary school age, and those who were of secondary school age a short time ago. Within the middle group, reflecting those who are currently of schooling age, participation rates in secondary schooling have been highly uneven.
COL, in partnership with its regional centre, the Pacific Centre for Flexible and Open Learning for Development (PACFOLD), located at the University of the South Pacific (USP), therefore undertook a baseline study to try to understand better the scale of need regarding out-of-school children in the Pacific. The vision was to subsequently consider open schooling methods – adopting flexible learning and technology-enabled learning solutions to widen access for learners – as a means of intervention. All nine Commonwealth Pacific Island Countries (PICs) participated in the research process demonstrating a commitment towards understanding and addressing the challenge. The study has just been published and can be downloaded from the following link: Out-of-school children in the Pacific
The study highlights that even though most PICs have made substantial investments in education to improve access, serious problems that impede equal access to education persist. Some examples include:
inadequate access to learning facilities and limited number of schools in rural areas; outlying islands
lack of engaging learning materials and insufficient teaching and learning resources;
shortage of teachers (especially in Science Technology Engineering and Mathematics (STEM) education)
poor Information Communication Technology (ICTs) infrastructure and support;
violence in some schools; and
hidden costs (e.g., clothing, books and transportation).
The challenge is particularly acute in the transition from primary to secondary and from junior secondary to senior secondary schooling.
In addition, there are major challenges with internet connectivity that hinder the development of online learning that could help address the challenges of OOSC. These challenges are exacerbated by other issues relating to low teacher qualifications across the PICs and resultant concerns about the quality of learning. Almost all the countries in the study have ratified the United Nations Convention on the Rights for Persons with Disabilities but have struggled to implement in practice. In addition, recurring natural disasters repeatedly disrupt traditional schooling provision.
These issues will be discussed during a formal launch of the study online on 6th May (7th May in the Pacific) and then will be followed by three online workshops in succeeding months aimed at identifying ways to address these challenges using open schooling approaches.
Photo credit: https://commons.wikimedia.org/wiki/File:Fiji_(3997565309).jpg