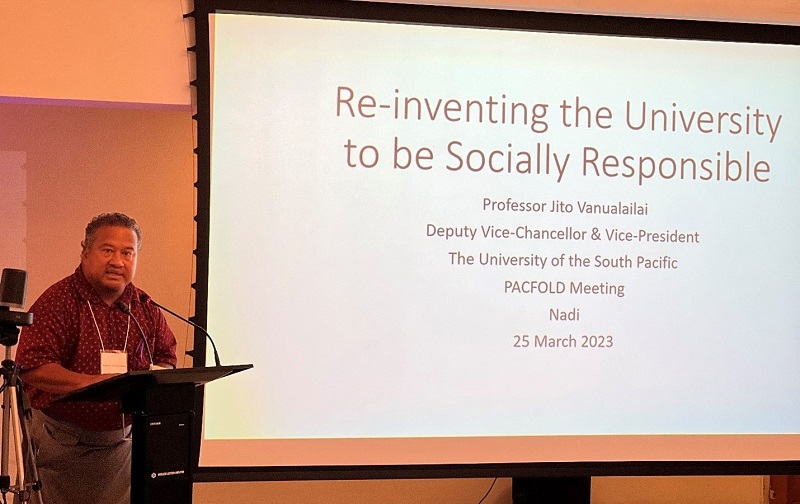 Reading Time:
4
min read
Jointly organised by COL and the Pacific Centre for Flexible and Open Learning for Development (PACFOLD), a COL-supported regional centre and partner, a coordination meeting was recently held in Lautoka, Fiji as part of the Pacific Partnership for an open, distance and flexible learning (ODFL) project which is being implemented in the region.
Meeting participants received detailed presentations on activities and progress toward outcomes under the ODFL project, funded by the New Zealand Ministry of Foreign Affairs and Trade. Eight of the nine Pacific region Commonwealth countries participating in the project – Fiji, Kiribati, Nauru, Papua New Guinea, Samoa, Solomon Islands, Tonga and Tuvalu – were represented at the meeting.
COL President and CEO Professor Asha Kanwar in her opening remarks stressed the urgency and importance of the green learning agenda, as well as the usefulness of blue and green skills for the region. These initiatives were also included in the recommendations submitted at the first Conference of the Pacific Education Ministers, held a few days earlier in Auckland, New Zealand.
In a special address, Deputy Vice Chancellor and Vice President of the University of South Pacific (USP), Dr Jito Vanualailai, emphasised that a socially-oriented approach would be critical to learner success in acquiring citizenship skills as well as technology-based skills.
Country representatives prioritised teacher capacity development to deliver ODFL, while it was determined that education ministry officials would also require capacity-strengthening support. While appreciating some of the current topics available through COL course offerings, life skills and climate change and adaptation along with digital technology leadership were also requested.
A discussion on micro-credentials, which the participants regarded as an approach with much potential for the region, was also posited.
The meeting was facilitated by Dr Rajni Chand, Director of PACFOLD, along with Dr V. Balaji, Vice President of COL, Dr Tony Mays, COL Education Specialist: Open Schooling and Dr Betty Ogange, COL Education Specialist: Teacher Education.
Image caption: Dr Jito Vanualailai, Deputy Vice Chancellor and Vice President of the USP, presents at a special meeting of COL Focal Points in Lautoka, Fiji, 25 March 2023.