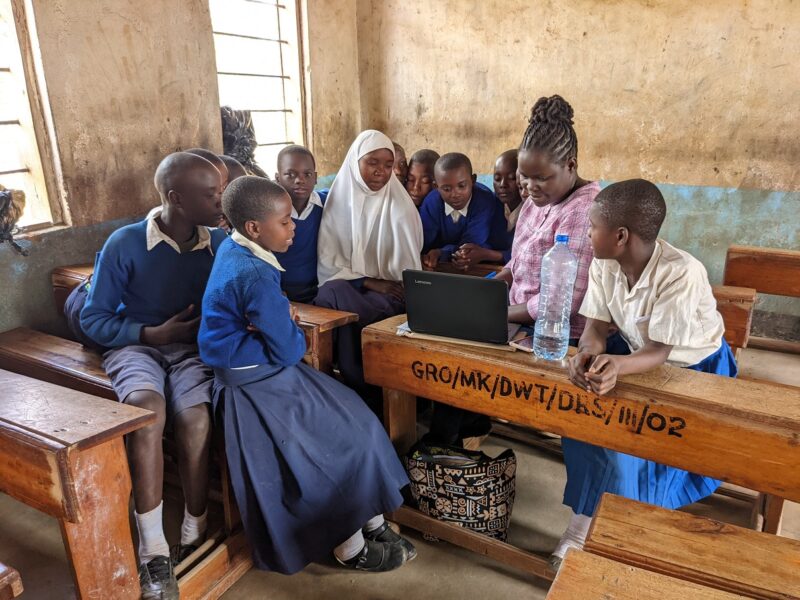 Reading Time:
12
min read
By Ms Frances Ferreira, COL Acting Director: Skills; and
Dr Karen Nyangara, COL Adviser: Gender
A special International Women's Day 2023 news blog from COL
Everywhere you look, people are busy on their mobile devices. Fingers tapping away or scrolling as phones and laptops have become the means by which people of all ages keep connected, entertain themselves and learn.
During the Covid-19 pandemic, and the restrictions caused by it, Dr Karen Nyangara's 83-year-old mother used her phone to do more than just make calls. She learned how to make video calls to family and friends, scroll through the internet for news and keep in touch with her doctor to give updates on her health and fill prescriptions. She also learned to send information, sometimes fake and often hilarious, but many times downright useful. While her world suddenly changed and closed in physically, it opened up digitally. These achievements may seem small, even ordinary, but they have made her more independent and connected, today.
Sadly, this is not an opportunity everyone experiences. The GSMA Report on the Mobile Economy (2022) indicates that in 2021, more than 200 million people around the world connected to the mobile internet for the first time. However, the report also states that 450 million people globally still live in areas without access to internet services. Furthermore, digital illiteracy, the cost of devices, and cultural and gender barriers still mean that women and girls fall far behind men in digital knowledge, skills access and ownership – especially in less developed countries. Innovations that recognise and cater for the intersectionality of gender, education and technology have become more critical than ever for bridging this gap.
The theme for International Women's Day, 8 March 2023 (IWD 2023), is "DigitALL: Innovation and technology for gender equality." The theme is tightly aligned with the priority theme for the upcoming 67th Session of the Commission on the Status of Women (CSW-67), "Innovation and technological change, and education in the digital age for achieving gender equality and the empowerment of all women and girls."
Innovations in technology often focus on big institutions and programs aimed at tech-savvy audiences. Artificial Intelligence (AI), such as new generation chatbots, have the power to transform learning while 5G (the fifth-generation technology standard for broadband cellular networks) exponentially increases speeds at which data is processed and accessed. But these amazing, state-of-the-art innovations are mostly out of reach for educators and learners, particularly in developing countries.
DigitALL calls on us to look at sophisticated technology as enablist rather than elitist. Those at the cutting edge of technology and innovation can work together with gender experts and educators to change how digital tools are designed and marketed to increase access for everyone. It may call for ensuring that 2G and 3G technology, still in use in many countries, does not become obsolete, using satellite technology to overcome the connectivity limitations of mobile-based internet coverage or using AI to create learning materials in different languages. This technology can be used to educate communities on breaking down discriminatory norms that hamper women and girls from the access to and use of digital devices.
To accomplish this, we need digital leadership that requires creativity, innovation, strategic capability and technical know-how and foresight. The Commonwealth of Learning (COL) is strategically placed as an enabler of technology-based approaches. COL builds the capacity and capabilities of institutions and individuals in formal, non-formal and informal environments for reaching the unreached with lifelong learning opportunities. COL has various projects working towards closing the gender gap in leadership, technology, and entrepreneurship to ensure sustainable livelihoods for women and girls. All of these projects are carefully crafted to improve gender equality and empower women. Technology offers an opportunity to entrepreneurs. As small and nimble enterprises, entrepreneurs will be able to adopt new technologies easier while creating new innovative solutions. In a recent study[1] from the Women Entrepreneurs Knowledge Hub, it was reported that women are less likely to be involved in technology-oriented sectors, and that the majority of all small to medium enterprises (SMEs) in Canada underutilise technology. The study also reported that, "there is evidence that women entrepreneurs face barriers in working in the tech sector, in incubators (organizations that helps startups and individual entrepreneurs to develop their businesses) or as implementors of technology."
One survival mechanism is to embrace digital services and, given the surge of female entrepreneurs, it is evident that they will require advice, human capital and skills to implement technology. COL, in collaboration with its local partners, has trained young women entrepreneurs in rural and marginalised communities in Bangladesh and Sri Lanka to develop Mobile Apps on the MIT App platform. The training was conducted online, using various platforms such as Zoom, YouTube, WhatsApp and Google forms. Monisha Akter, an entrepreneur from Bangladesh said, "What I have learned during the training is my asset. I am now able to quickly design and  advertise my products online and I have achieved success with my business."
In a similar way, Thilini from Sri Lanka wrote, "I never thought this training will take me so far as an entrepreneur as well as opening an opportunity to become a government official". Thilini completed the Mobile App Development Training Course conducted by the Women's Development Centre with support from COL. Following the training, she ventured into e-commerce and established her own online business.
SchoolNet SA has been working with teachers and school leaders from ten schools in the Amathole District in South Africa's Eastern Cape as part of COL's Teacher Futures programme. Teacher Futures strives to develop teaching and learning communities of practice (COP) for the purpose of scaling up in-service teachers' digital knowledge and skills and assisting them in providing quality and sustainable education in Eastern Cape schools. On sharing information, Ms Charmaine Nel, a Department Head from Ntabenkonyana High School, said, "That is also quite exciting. You don't have to travel to the next school to get information – we just share that on our laptops. Even when it comes to saving work, it doesn't get lost easily now that we are using Google Drive."
In 2020, COL launched the Commonwealth Wise Women (CWW) mentoring project to promote change by empowering girls and women to become leaders and influence the next generation of leaders. CWW leverages the power of digital technology to connect young women to prominent female leaders including The Rt Hon Patricia Scotland, KC, Commonwealth Secretary-General and Professor Asha Kanwar, President and CEO of the Commonwealth of Learning.
This testimonial from Ms Lucky Michael, a mentee from Tanzania, sums up what a huge impact digital empowerment can achieve. She commented, "This program inspired me to become a person who believes that social change is possible if you are empowered with access to the right information."
[1] https://wekh.ca/wp-content/uploads/2020/04/WEKH_The_Impact_of_COVID-19_on_Women_Entrepreneurs.pdf