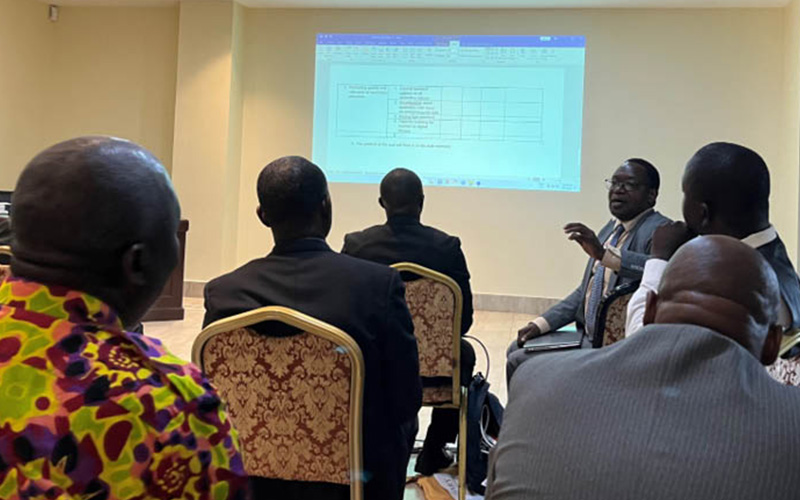 Reading Time:
5
min read
The Commonwealth of Learning (COL) is supporting Malawi for the provision of open schooling.
Towards this goal, the Ministry of Education held a Joint Sector Review Meeting (JSRM) from 9 – 11 November 2022, under the theme 'Transforming Education for Accelerated Human Development Towards Achieving Malawi 2063'. COL Education Specialist: Open Schooling, Dr Tony Mays participated and followed up progress to date.
Professor Joshua Valeta, Director of Directorate of Open, Distance and e-Learning (DODeL) and COL's focal point, argued the need for a blended, face-to-face and digitalisation of education strategy.
A presentation by Ms Feggie Mphasi Mwale, Headteacher from Ngumbe School Community Day Secondary School in Blantry, spoke to how she had turned around the fortunes of a rural secondary school through a "help each other" philosophy, finding appropriate partners to assist the school along with good governance and communication.
The JSRM attendees outlined some significant goals for Malawi that Open Schooling can help achieve, including increasing:
Primary enrolment from 90 to 100 per cent;
Primary completion rate from 52 to 100 per cent;
Transition to secondary school from 38 to 100 per cent; and
Secondary completion rate from 19.8 to 100 per cent.
Illustrative strategies for implementation included:
Making education mandatory from early childhood to secondary school and intensifying girls' education;
Widening access to government loans and scholarships to Open Distance and eLearning (ODeL) students;
Scaling up teaching and learning through cost-effective tablet-based adaptive technology;
Expanding network coverage to the entire nation and reducing tariffs on internet data especially for students to increase access to digital learning opportunities;
Widening access to devices through loans, scholarships and grants, local assembly devices and reducing importation taxes;
Establishing an ODeL transformative ecosystem that provides equitable access to quality and relevant education that promotes lifelong learning; Establishing educational radio and TV stations with nationwide coverage,
Opening digital secondary schools; and
Operationalising ODeL and ICT for education polices along with SADC Cybersecurity Infrastructure Framework.
COL helped develop an ICT for education policy. The Directorate of Distance Education's plan is to fast-track the acceptance of this policy along with an ODeL policy by getting them into the agenda for the appropriate government committee, with the intention of completion in December 2022 and to deliver on the publicly stated goal to operationalise both policies by October 2023.
Dr Mays also facilitated a workshop with the Malawi College of Distance Education and Ministry staff which involved a thorough review of work completed, in-process and planned, a review of the policy work currently in process and discussions related to promoting open schooling for girls plus open course and content development.
Professor Valeta concluded the MCDE workshop by remarking, "We need to be more open and to create more open learning opportunities."