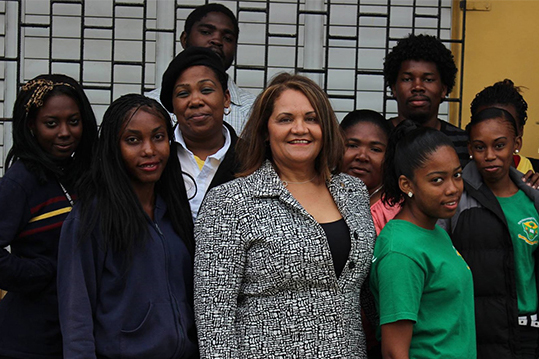 Reading Time:
5
min read
A recent study commissioned by the Commonwealth of Learning (COL) shows that for every dollar invested in an open schooling programme in Belize, more than eight-and-a-half dollars will be returned to the local economy.
Open schools are recognised as a solution to the growing demand for secondary education in developing countries because they are more flexible than traditional schools with regards to student ages, prerequisites, and enrolment requirements. As a result, they meet the needs of a broad range of learners, and people of all ages who want to acquire new skills and knowledge to improve their livelihoods.
COL has supported the establishment of open schools in more than a dozen developing Commonwealth countries, but until now these investments haven't been evaluated to determine if open schools are good value for money.
"We know that open schools work because we hear individual success stories of graduates who complete programmes and go on to get better paying jobs," said COL President & CEO Professor Asha Kanwar. "This study looks at the bigger picture and shows that open schools can deliver a powerful return on investment."
Between 2012 and 2015, COL supported the establishment of open schools in Vanuatu and Belize. The programme in Vanuatu is an initiative of the Ministry of Education and Training that aims to address the needs of adolescents who either drop out or are pushed out of conventional schools before completing Year 10.
In Belize, the open school programme is hosted by the Gwen Lizarraga High School (GLHS), supported by the Ministry of Education, Youth and Sports. For many years, GLHS offered face-to-face classes for out-of-school youths. Beginning in 2012, with support from COL, staff began developing online study materials for students to use as an alternative to attending daily classes.
The study set out to determine whether these investments achieved value for money in relation to the financial supports and other inputs provided. The evaluation showed that open schools are both more efficient and more economical than traditional schools at producing qualified graduates with good prospects for improved livelihoods.
To date, approximately 320 out-of-school youths and adults have successfully obtained secondary education qualifications through the two programmes. More than 60 per cent of 'graduates' in Belize were female.
The absence of data on the increased earning power of open school graduates in Vanuatu made it impossible to calculate the return on investment there; however, in Belize the study shows that the open school programme will generate over USD 21 million for stakeholders over a ten-year period, achieving a return on investment ratio of almost 8.6 to 1.0.
Resource:
Value for Money Review & Social Return on Investment Analysis