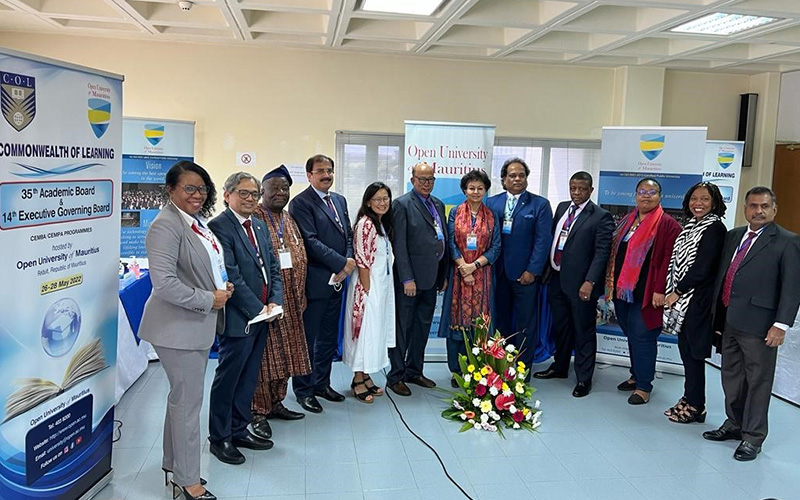 Reading Time:
3
min read
The Open University of Mauritius hosted the Executive Board Meeting of Commonwealth Executive MBA/MPA on 28 May 2022.
The head of institutions and their representatives from 10 out of the 12 partner institutions attended the meeting. These included the Allama Iqbal Open University, Pakistan, Bangladesh Open University, Botswana Open University, University College of the Cayman Islands, University of Guyana, National Open University of Mauritius, Wawasan Open University, Malaysia, Open University of Nigeria, University of Seychelles, and the Open University of Sri Lanka.
Professor Asha Kanwar COL President and CEO welcomed the members and provided an overview of the Commonwealth Executive MBA/MPA programme highlighting the collaborative content development and responsibilities of each of the partner institutions in providing tutoring support and assessment to ensure the quality of the programmes. "We see higher levels of student completion rates in partner institutions, where the support is stronger," she said, adding "a return-on-investment study conducted in Pakistan revealed that for every dollar spent on the programme, participants received back 3.4 dollars, and over 38% received a promotion."
Prior to this meeting, the Academic Board (AB) of CEMBA/CEMPA reviewed the revision process of 10 courses of the programmes and made recommendations. The executive governing board endorsed the recommendation, and the AB will revise an additional eight courses of the MBA programme to complete the revision process.
The meeting also resulted in consultations among partner institutions and sharing of best practices and successes. An interesting observation from the open universities was that they all gained higher enrollment during COVID-19.