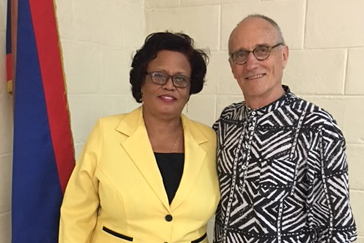 Reading Time:
3
min read
The Commonwealth of Learning (COL) is working with the Belize Ministry of Education, Youth, Sports and Culture to expand open schooling in the country. The COL Senior Advisor – Open Schooling, Dr Johan Hendrikz, met with officials to discuss the Ministry's priorities and how COL can address these. COL's support in Belize will have a special focus on out-of-school youth, however, it is anticipated that the project will also impact mainstream schools, improving throughput and reducing dropout rates.
In preparation for the launch of the project, the directors of all evening division schools, and institutes for technical and vocational education and training that work closely with the schools, were invited to a workshop on open schooling management and policy. The workshop, which was developed in accordance with the needs of the Ministry, was intended to prepare the participants for a new era in evening division schools in Belize.
Open schooling is defined by COL as "the physical separation of the school learner from the teacher, and the use of unconventional teaching methodologies and information and communications technologies". It is designed to complement, or provide an alternative to, the conventional school system, improve access and enhance quality at an affordable cost.
"The evening division schools in Belize are meant for those learners who could not complete their formal schooling," says Dr Hendrikz. "These evening schools are based on the principles of open schooling and are addressing the challenge of out-of-school youth. COL is supporting the Ministry to improve the quality of teaching and learning."
Photo: Dr Carol Babb, Chief Education Officer of the Belize Ministry of Education, Youth, Sports and Culture, and Dr Johan Hendrikz, Senior Adviser – Open Schooling, Commonwealth of Learning.