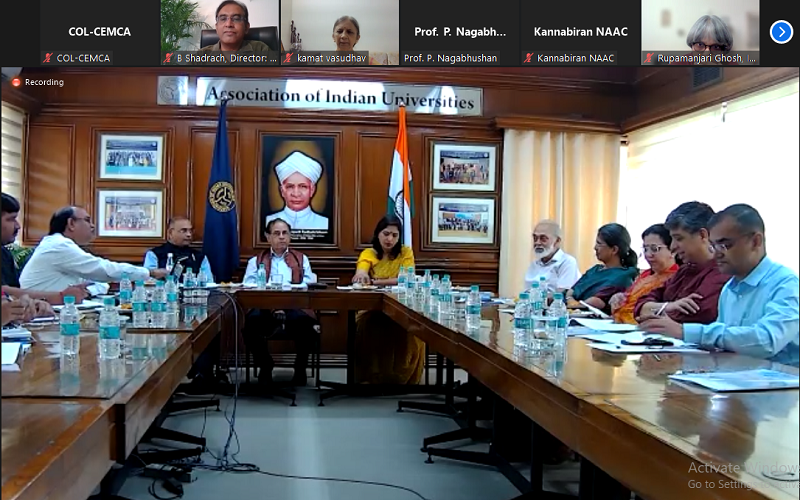 Reading Time:
3
min read
The Commonwealth Educational Media Centre for Asia (CEMCA), the regional centre of the Commonwealth of Learning (COL), and the Association of Indian Universities (AIU) organised a meeting of the Expert Committee on National Policy on Blended Learning (NPBL) for higher education in New Delhi, India. The primary objective of the meeting was to finalise the draft blended learning policy for higher education institutions in India – a document with substantial implications for India's educational landscape where blended learning received renewed emphasis following National Education Policy 2020's (NEP 2020) recommendations for applying blended learning models in educational practice.
Building on these ongoing initiatives, CEMCA and AIU collaborated in drafting this policy with the participation of experts.
The key components include a vision statement, scope, objectives, definitions, policy statements, compliance principles, implementation guidelines, review mechanisms and anchor agencies.
During the meeting, experts underscored several critical aspects of the policy document. They stressed that this approach should not be excessively prescriptive but rather open and adaptable to institutions' diverse needs and resources, particularly those located in smaller towns and rural areas. Moreover, it should have the flexibility to embrace future technological advancements, including artificial intelligence (AI), while aligning with the learner- and learning-centred approach highlighted in NEP 2020.
Dr B. Shadrach, Director, CEMCA, emphasised the increased significance of the policy document in light of the disruptions caused by Covid-19 and the release of NEP 2020.