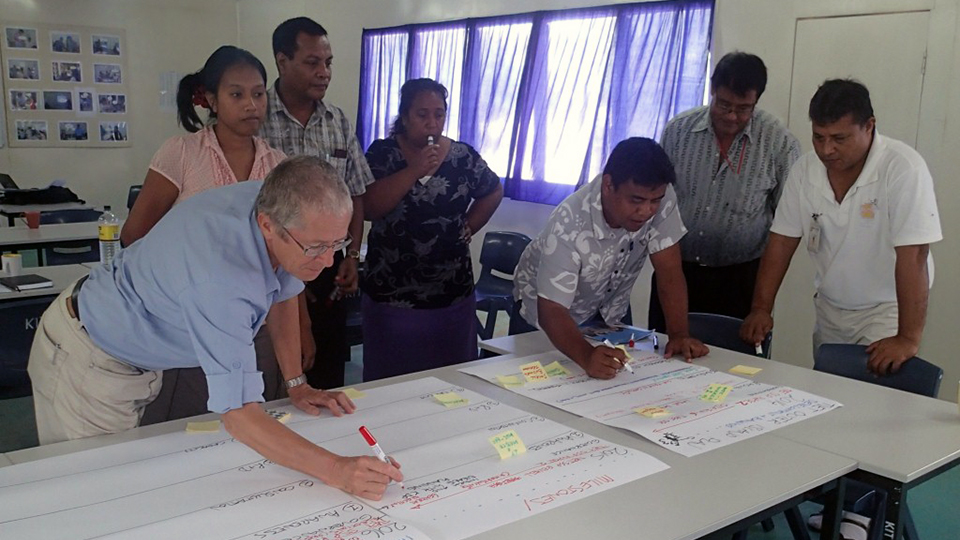 Reading Time:
3
min read
COL's technical and vocational skills development (TVSD) partners in the Pacific have been busy since the Pacific technical/vocational education and training (TVET) Forum held in Tonga, in March 2013. New flexible approaches to skills training are being explored in Kiribati, Papua New Guinea, Samoa and Vanuatu.
Distance and flexible learning is particularly challenging in the island nations of the Pacific – so when TVET stakeholders in Kiribati wanted to develop a strategy for outer-island programme delivery, they called on COL for support. Pacific distance learning expert Mr. Brian Sayer, based in Honiara, Solomon Islands, facilitated a series of workshops bringing together participants from the Kiribati Institute of Technology, the Marine Training College and the Teacher Training College, as well as the Ministry of Labour and Human Resource Development, to explore how flexible learning could help meet the needs of people living in all areas of Kiribati. COL is partnering with technical advisers from the Australian Department of Foreign Affairs and Trade's Kiribati TVET Sector Strengthening Programme to support these activities. An Outer Islands Development Plan is now in draft and three pilot courses, or case studies, are proposed to test the use of technology to reach more young people.
COL consultants and advisers are an intrepid bunch – as evidenced by COL consultant Brian Sayer (right), who was travelling by small boat with The Honourable Boutu Bateriki, Minister of Labour and Human Resource Development in Kiribati. They were visiting the Principal of Immaculate Heart College, on North Tarawa.