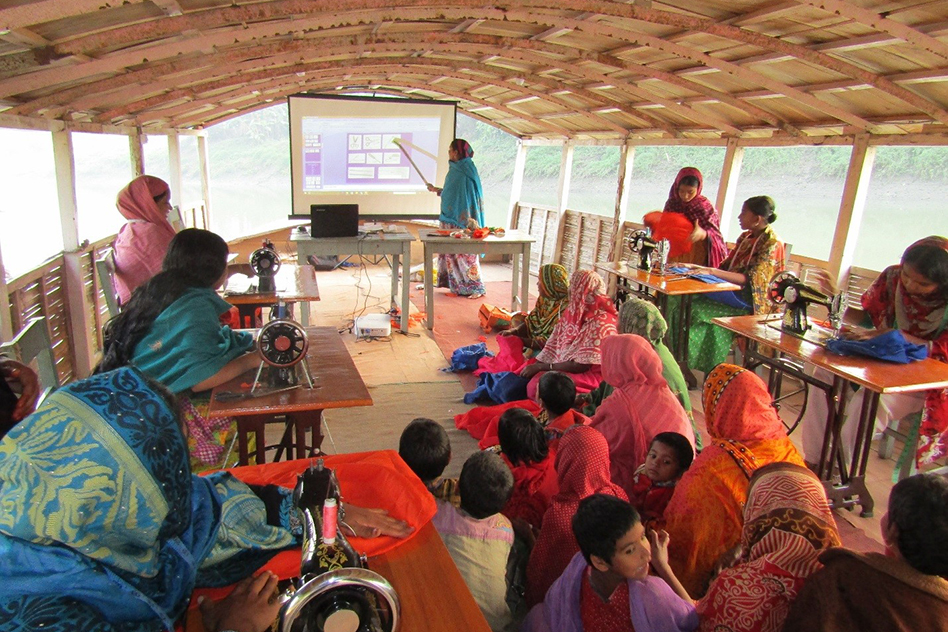 Reading Time:
4
min read
Every year, one third of Bangladesh experiences the floods of monsoon season. For families living in flood-prone areas, this can prevent children from accessing education. The Commonwealth of Learning (COL) with funding from Australia's Department of Foreign Affairs and Trade, partnered with Shidhulai Swanirvar Sangstha (SSS) to combat this problem with something that uses the situation to its advantage: boats.
Shidhulai Swanirvar Sangstha (SSS) is an organisation that operates a fleet of floating schools, libraries, health clinics, solar workshops and floating training centres serving close to 115,000 families in flood-prone regions in northwestern Bangladesh. Boats themselves are equipped with wireless internet and outfitted with solar panels that power computers, lights and multimedia equipment. Floating schools deliver learning right to the doorstep of students that will allow them to take full advantage of the education and information facilities available, even during the monsoon season.
As part of COL's GIRLS Inspire initiative, COL and SSS collaborated on a project that supported skills development for women and girls who were married as children and those at risk of early marriage. The project aimed to educate and enable the poorest and most vulnerable girls and women living in flood-prone areas of the country, in order to empower them, improve the quality of their lives, improve gender equality in the community and end the cycle of child, early and forced marriage.
In one year, the GIRLS Inspire initiative in Bangladesh was able to reach more than 13,000 women and girls across 64 remote, flood-prone villages. More than 10,000 community members attended evening boat shows where topics such as gender equality, early marriage prevention, elimination of domestic violence and exploitation, climate change and resilient livelihoods were discussed. Further, 1,602 girls accessed microloans, 902 girls joined internships and 4,389 women and girls are benefiting from income-generating opportunities, demonstrating a positive change in the economic empowerment of the women and girls.