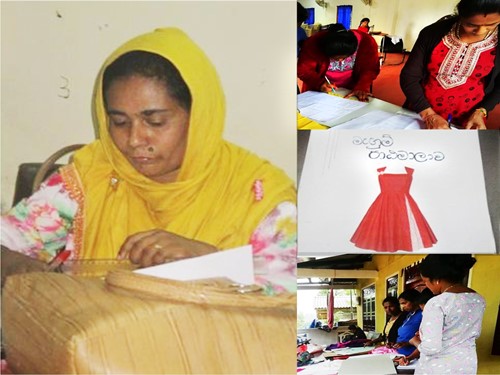 Reading Time:
3
min read
Until Rumeisha became involved with COL's GIRLS Inspire, she would rarely leave the house. This young woman from a village in Sri Lanka was raised in a traditional culture and would manage her day-to-day life with minimal income brought in by her husband and occasional sewing orders. Even though Rumeisha was good at sewing and had participated in a sewing diploma course, her skills remained largely untapped.
A life-changing break came after she met with a representative from the Women's Development Centre, GIRLS Inspire partner in Sri Lanka. Rumeisha was invited to participate in a training programme aimed at building women's livelihood and business skills. She was able to build self-confidence and obtain skills that allowed her to become a sewing instructor for the Industrial Development Board in her native village.
"The different experiences I got from the project activities totally changed my life," Rumeisha says. "I was a dependent woman who would not even go shopping alone and had to ask parents for financial support."
GIRLS Inspire has provided over 97,000 vulnerable and hard-to-reach women and girls across the Commonwealth with opportunities to receive skills training, enabling them to have sustainable livelihoods.
Rumeisha is proud that she was able "to find herself" with support from GIRLS Inspire. Despite the pandemic-induced disruptions and pregnant with her second child, she is determined to succeed. In 2020, she started a sewing class for women from her community. A total of 25 of Rumeisha's students have already graduated and are selling good-quality garments locally.
Ms Frances Ferreira, COL Education Specialist: Gender, said: "Rumeisha's experience is an example of how GIRLS Inspire has contributed to a woman's empowerment by increasing her confidence and improving her agency. Rumeisha is now an inspiration and a role model in her community."