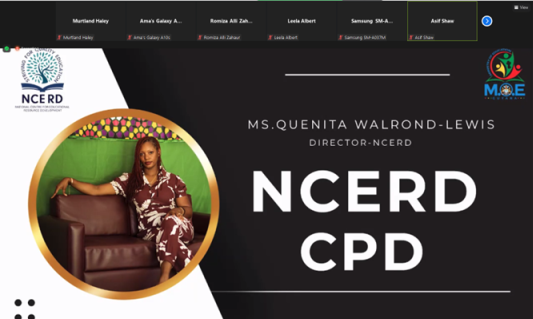 Reading Time:
3
min read
The National Centre for Educational Resource Development (NCERD), Guyana's agency responsible for in-service teacher professional development, launched its online platform for teacher continuous professional development (CPD) on 10 February 2023.
In expressing her appreciation to the Commonwealth of Learning (COL), Director of NCERD, Ms Quenita Walrond-Lewis noted the importance of COL training in assisting NCERD to transform their CPD course and workshop offerings to better suit online and blended learning.
The resulting 24 courses, now available on the platform, cover areas such as Teaching Mathematics, Teaching Chemistry, Special Education Needs and Disabilities, and Teaching of Reading, among others. Ms Walrond-Lewis explained that Guyana's teachers, at all levels, are now able to access a variety of professional learning experiences previously available only in the traditional face-to-face format and that the flexibility of the online programme meant they could work at their own pace, deciding what, when and where they learn.
Dr Mairette Newman, COL Education Specialist for the Virtual University for Small States of the Commonwealth (VUSSC), said she anticipates that the partnership between COL and NCERD will continue, "As NCERD moves to increase the number and variety of its online CPD offerings COL's micro-course platform for Continuing Professional Development (CPD) –  COL Commons (https://colcommons.org) – is a natural fit, offering bite-sized, self-paced and on-demand learning experiences."