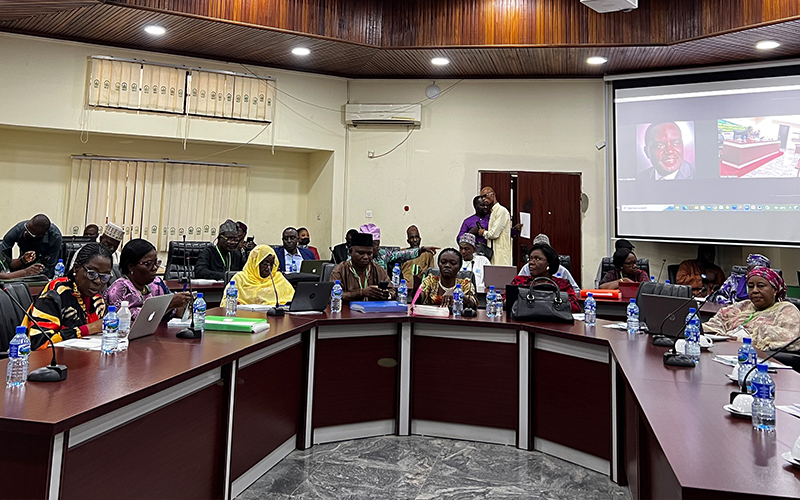 Reading Time:
4
min read
COL and the National Universities Commission (NUC) of Nigeria organised a high-level workshop on mainstreaming OER in higher education institutions in the country. The National Open University of Nigeria (NOUN) was also a partner. The purpose was to build  capacity in the implementation of the national OER policy in higher education (HE) institutions with a focus on inclusivity and skill development. About 150 senior faculty members from 22 institutions participated in this hybrid event where most attended in person. Besides Ministry officials and leaders from the Higher Education sector, representatives of other institutions, such as the National Teachers Institute and the National Council for College Education, also joined the event.
Dr Chris Maiyaki, Deputy Executive Secretary of NUC, in his opening address spoke about the pioneering nature of the national OER policy adopted in 2017 and stressed the need for development of such policies at institutional and project levels as well. Development and access to OER should be synergised with the efforts for improved learning outcomes for which partnerships and international collaboration would be necessary. This was followed by remarks from Professor Peter Okebukola, Chancellor of NOUN and Professor Olufemi Peters, VC.  Professor Olgbemiro Jegede chaired the sessions on the first day. A presentation on accessible OER by Mr. Eloka Odua highlighted the critical importance of inclusivity in Nigeria which has about 19 million persons with disabilities.  A working version of the National OER repository was demonstrated as well.
On the second day, COL represented by Dr V Balaji, Vice President led the capacity building workshop and served as the lead resource for about 80 faculty members from universities across Nigeria. Dr Jane Agbu, Adviser: Higher Education served as a resource person virtually. COL resources were referenced, especially on OER policy development at various levels. The importance of such international collaboration in further building of capacities was highlighted by leaders of institutions and other participants. COL's leadership in advocacy and capacity building for OER were recognised.