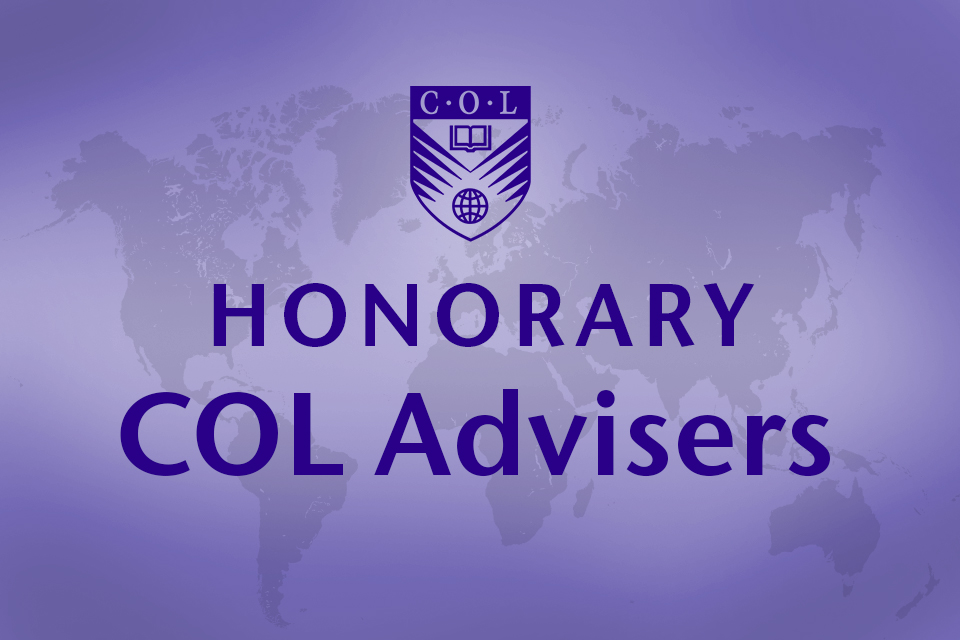 Reading Time:
3
min read
COL is pleased to announce the recent appointment of nine Honorary COL Advisers as follows:
Dr Nancy George, Former Associate Vice President, University of Technology (Jamaica)
Prof Mohammad Junaid, Faculty of Education and Extension Services, Usmanu Danfodiyo University (Nigeria)
Prof Vasudha Kamat, former VC, SNDT Women's University (India)
Prof Shironica Karunanayaka, Dean of Faculty of Education, Open University of Sri Lanka (Sri Lanka)
Prof Goolam Mohamedbhai, former VC, University of Mauritius (Mauritius)
Prof Som Naidu, Pro-Vice Chancellor and Director, Centre for Flexible Learning, University of the South Pacific (Fiji)
Prof Madhu Parhar, Director of Staff Training and Research Institute of Distance Education, Indira Gandhi National Open Univeristy (India)
Prof Moses Tenywa, Director Agricultural Innovation System Brokerage Association, Makerere University (Uganda)
Prof Dr Zoraini Wati Abas, Acting VC, Wawasan Open University (Malaysia)
The Honorary COL Advisers programme, which began in 2009, is comprised of esteemed individuals who serve as goodwill ambassadors for COL. They support COL by providing advice, direction and insight to Member States and their organisations and institutions to advance open and distance learning, and ultimately enhance access to quality education. These Advisers also share and disseminate new ideas, innovations and thought leadership that will promote learning for sustainable development as a central focus of COL's Strategic Plan 2015-2021.