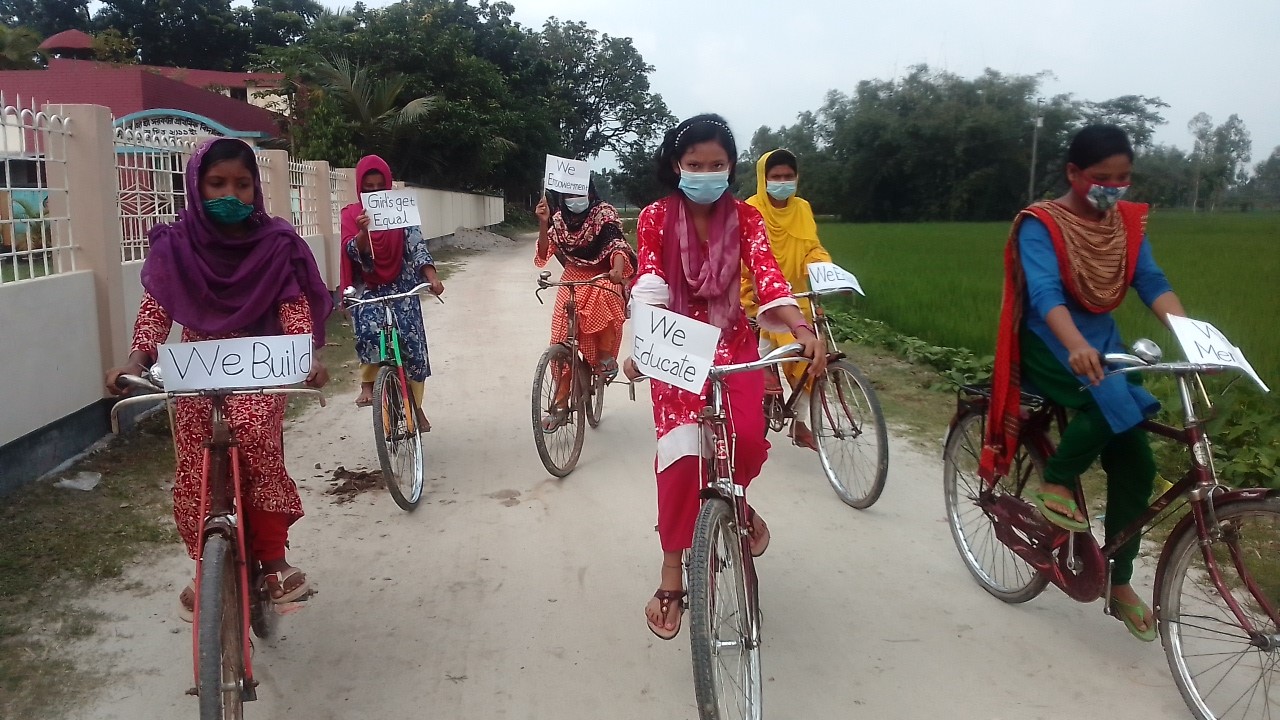 Reading Time:
9
min read
Happy International Day of the Girl Child!
The COVID-19 pandemic has rolled back the hard-fought gains made to gender equality and has deepened the existing gender disparities. Over the past few months, it has become evident that COVID-19 affects women and men, boys and girls differently. Worldwide, nearly one in four girls aged 15-19 is neither employed nor in education or training compared to one in 10 boys of the same age (UN Women, 2020). Education for all learners has been interrupted, including the education of more than 743 million girls worldwide (Plan International, May 2020), and as many as 10 million more may never return to school or resume their education.
The girls who are most affected are those who have been marginalised by poverty, disability, or livie in hard- to-reach locations. Continuity of education and training for girls and women has been jeopardised by: increased gender-based violence, including intimate partner violence; lack of access to health services, particularly for sexual and reproductive health; and increases in unpaid care work.
This year the theme for the International Day of the Girl Child (IDGC) is, "My voice, our equal future", and it challenges us to do our part to allow the voices of all girls to contribute to an equal future.
At COL we are working with international development partners, governments, educational institutions, and organisations representing vulnerable communities and people with disabilities to bring education and training to women and girls in the Commonwealth countries. One such initiative is GIRLS Inspire. Its holistic approach involves local implementing organisations, community leaders and parents, local government officials, prospective employers, and girls in hard- to-reach communities. The aim of the project is to empower marginalised girls by training them in livelihoods and life skills – to become productive members of society who understand their rights, earn a livelihood and improve the quality of their lives, while having decision-making powers at both the family and community level.
The GIRLS Inspire project also focuses on Child Early and Forced Marriage (CEFM) which is rooted in gender inequality. This can be sustained through entrenched discriminatory social norms, poverty, and lack of education; or even due to misplaced perceptions of providing protection for girls during a time of increased instability when girls are at a higher risk of physical or sexual abuse (Henderson, 2016). It is an incredibly complex social issue that prevents women and girls from accessing education, limits their economic potential, and can have detrimental effects on their health and well-being.
Before the pandemic, 12 million girls younger than 18 married each year, and it is projected that up to 2.5 million more could be at risk of child marriage over the next five years. This means that every year an additional 500,000 girls will be at risk of being forced into child marriage (Save the Children, 2020).
The GIRLS Inspire project raises awareness about the dangers of CEFM. It has worked with communities to prevent CEFM and introduce changes in social norms which entrench this practice. Over the past four years the GIRLS Inspire project has trained more than 92,000 girls and prevented 1,181 child marriages.
Ramsha, a 14 year-old, victim of CEFM, said: "'Throughout my marriage I was a victim of severe sexual and domestic violence and I was unaware of that because I was too young to understand." The GIRLS Inspire project allowed Ramsha to have a voice. It offered her life skills training which helped her to restart her life with new goals. With assistance from COL's partner in Pakistan, BEDARI, Ramsha is now determined to complete her education, and enroll in the Alama Iqbal Open University to pursue her education and career.
COVID-19 has challenged organisations to find innovative ways to contribute to sustainable leadership, while working towards gender equality. COL has identified women's empowerment as one of its main strategies for achieving sustainable development. In April 2020, COL launched the CommonwealthWiseWomen (CWW) mentorship project – engaging 25 mentors and matching them with 89 girls from underserved communities. COL promotes change by empowering girls to not only become leaders, but also to influence the next generation of leaders.
"The CWW mentorship changed my vision and made me realise what I am capable of. This mentorship enhanced my leadership skills and made me believe in myself. For the first time, I feel like I can raise my voice against the injustice happening in our insensitive society and can actually play my part in making this society inclusive for all human beings." Misbah Shafiq, a CWW mentee.
COL will continue to work with partners in the Commonwealth countries to make the voice of girls such as Ramsha and Misbah's heard, by supporting their right to safe, inclusive, and meaningful participation in all public decision-making. This year, for the IDGC it is important to not only raise girls' voices but also to listen to their demands of living free from violence!
____________________
Ms Frances J. Ferreira
Education Specialist: Gender
Commonwealth of Learning