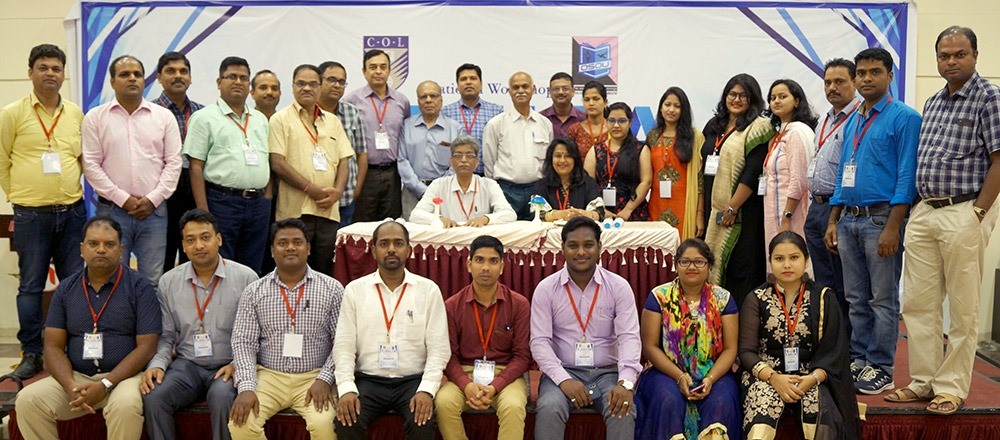 Reading Time:
3
min read
Odisha State Open University (OSOU) began its adoption of COL's Commonwealth Digital Education Leadership Training in Action (C-DELTA) programme at a three-day training workshop for teachers at the Sambalpur campus from 26 to 28 June 2019.
Thirty two teachers from eight universities in Odisha State in India attended the workshop which focused on building the capacities of teachers to serve as mentors for students taking C-DELTA as a non-credit course as part of their learning at OSOU. The training also focused on improving the digital leadership skills of teachers.
Dr Srikant Mohapatra, Vice-Chancellor of OSOU, opened the workshop and encouraged participants to develop digital education competencies to help learners of the 21st century. The workshop was facilitated by Ms Sandhya Gunness, Senior Lecturer in Open and Online Learning at the University of Mauritius.
OSOU has since integrated information about C-DELTA in its student handbook as a non-credit course for all students.
COL's Education Specialist: eLearning, Dr Sanjaya Mishra said, "This is a significant step to improve the digital education skills of learners who are digital natives. It is important to help them recognise the importance of digital footprint, online identity, the sharing and use of digital resources ethically, and the development of a personal learning network. OSOU has taken a leadership role in this area, which will help other institutions follow similar practices".