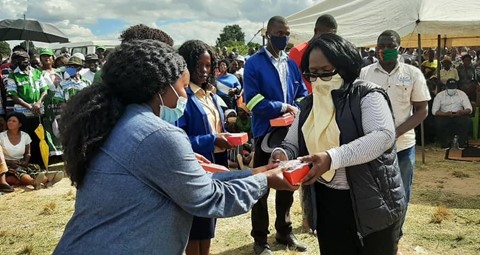 Reading Time:
3
min read
COL has supported Zambia's Ministry of Fisheries and Livestock to develop the Mobile Fisheries and Livestock Advisory Information System (MFLAIS). The new e-platform aims to anchor the e-extension service delivery to its geographically vast community of emerging fisheries and livestock entrepreneurs.
At the MFLAIS launching ceremony in Copperbelt Province, the Honourable Professor Nkandu Luo, Minister of Fisheries and Livestock, noted that worldwide fish and livestock entrepreneurship increases employment opportunities, ensures diversified household nutrition, ultimately contributing to nations' food security and wealth creation. "In order to maximise income generation [in Zambia], the fish and livestock entrepreneurships will need real-time market information for their produce. This is the reason the MFLAIS is here," she said.
The MFLAIS platform will serve as an e-library for all the Ministry's acts, policies, technical materials, and case studies. It will offer tools for data collection and will address questions frequently asked by farmers. With COL's support, extension workers will use mobile phones to train up to 200,000 learners on how to use the platform.
Dr Moses Tenywa, COL Education Specialist: Agriculture and Livelihoods, said: "The initiative will support the Ministry of Fisheries and Livestock to strengthen linkages between farmers and the ICT-based extension system, towards increased production and productivity for sustainable livelihoods."