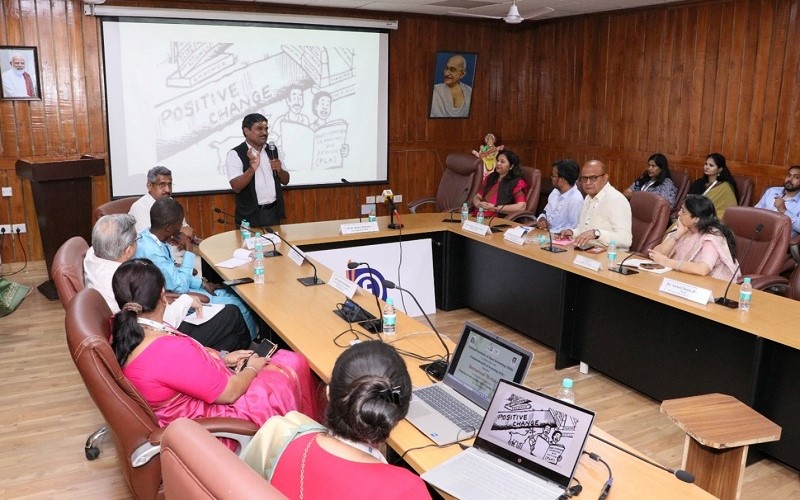 Reading Time:
3
min read
In June 2023, the Commonwealth of Learning (COL), in partnership with the National Institute of Open Schooling (NIOS), organised an international workshop in Noida, India, with a focus on the adoption of the gender-green teacher (GGT) programme.
The workshop attracted 49 principals and senior professors from Africa (The Gambia, Ghana, Mozambique, Sierra Leone and Uganda) and Asia (Bangladesh, India, Maldives and Sri Lanka).
Professor Asha Kanwar, President and CEO of COL, in her opening address via video conference, emphasised that this workshop "is particularly significant as it brings together three core values of the Commonwealth of Learning – gender equity, environmental consciousness and quality education."
Professor Kanwar stressed the importance of education in preparing present and future generations to mitigate and adapt to the impacts of climate change.
The event's Chief Guest, Professor Jagmohan Singh Rajput, the former Director of the National Council of Educational Research and Training (NCERT), commended the COL and NIOS partnership in helping alleviate the impacts of climate change through open education. Drawing inspiration from Mahatma Gandhi's famous quote, "The world has enough for everyone's needs, but not everyone's greed," Professor Rajput underpinned the common good for humanity in promoting gender equality and a healthy environment.
Professor Saroj Sharma, Chairperson of NIOS, hailed the institute's valuable contribution to enhancing the capacity of Commonwealth countries. She also elaborated on how the workshop, through the cultivation of a new cohort of environmentally-conscious educators, has actively contributed to the continuous pursuit of sustainable education and a brighter future for all.
As part of the workshop, each participating institution developed an action plan to implement the GGT programme in their respective countries, ensuring that the acquired knowledge and skills translate into practical teaching strategies.