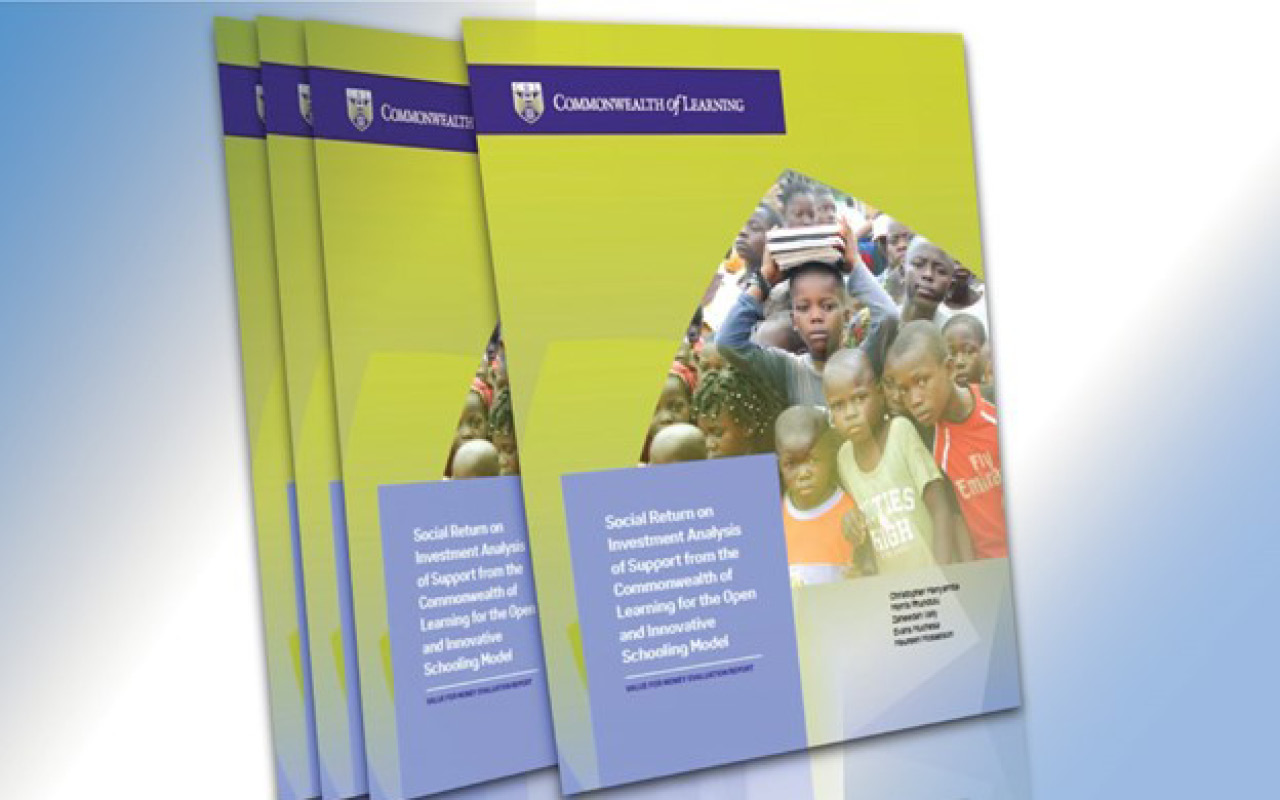 Reading Time:
5
min read
by Dr Tony Mays
COL Education Specialist: Open Schooling
COL's open schooling (OS) seeks to assist governments and/or institutions to address the needs of out-of-school children (OOSC), as well as youths and adults, who are in need of a second opportunity to complete schooling or to improve their schooling outcomes. The four prerequisites for the success of OS are: well-trained teachers, quality learning resources, appropriate use of technology and good management of schools/support centres.
A new report commissioned by COL points to a positive social return on investment in OS and concludes that continued support will contribute to bringing children back to school and help prevent them from dropping out. The report is based on an online quantitative study of OS interventions in Belize, Malawi, Mozambique, Trinidad and Tobago and Zambia, followed by a contextual cost–benefit analysis, and a social return on investment (SROI) analysis.
The SROI method included intangible (non-monetary) benefits and looked not only for returns generated by COL but also what social value had been created for the stakeholder groups (teachers, students and school communities). The SROI is a cost-benefit analysis with a strong focus on measuring economic, social and environmental impacts which are difficult to quantify and assign monetary value to.
In this study, the direct costs of the COL investment are largely known and expressed in monetary terms, but the benefits are more difficult to quantify for monetary conversion. To mitigate these limitations, the analysis utilised survey results to conceptualise and contextualise the economic and social impacts on the beneficiaries' lives.
The report observes:
"Overall, COL's contribution to the OIS programme … is perceived to have significantly contributed to the success noted so far in the five countries under study. The SROI ratios for all countries were positive, indicating that the social returns on this intervention are desirable, justifying a case for continued funding."
and
"The results indicate that for each CAD 1 invested, approximately CAD 4–5's worth of value in the short term (five years, unless otherwise indicated) was created. This means the benefits realised from COL's investment will outweigh the costs in the next five years. The total cumulative net value (benefits) of the COL programme was approximately CAD 18.6 million in the short term."
The added benefits relate in part to the fact that the digital OER created can be used or adapted by any teacher or learner not just those involved in the pilots. In addition, the study showed that the training and support provided to teachers and centre managers during the process helped improve technical skills and technology enabled learning approaches more generally.
These findings complement the results of previous studies which underscored that supporting open schooling interventions can provide social returns that go beyond the immediate intervention, and also that  appropriate use of appropriate technology is key.
As we engage with our OS partners going forward, we will prioritise initiatives which not only address the needs of out-of-school children and youth, but which can also have a wider systemic impact.