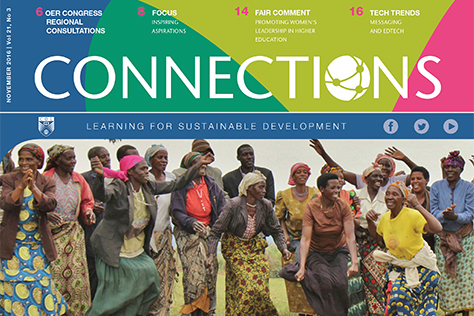 Reading Time:
2
min read
The July 2017 issue of Connections is now available. Topics covered in this issue include:
Regional Consultations on OER
Top 4 trends in higher education
Open textbooks and costs: What does research tell us?
INVEST Africa reaches educators in seven countries
GIRLS Inspire reaches over 25,000 unreached women and girls
What can conversations with a computer lead to?
And much more!
Download the digital version from OAsis
Connections is published by COL three times a year. Through Connections, COL shares updates and stories from programmes across the Commonwealth and features pieces by distinguished thought leaders and practitioners in the field of learning for sustainable development.
Sign up to receive email updates from COL.