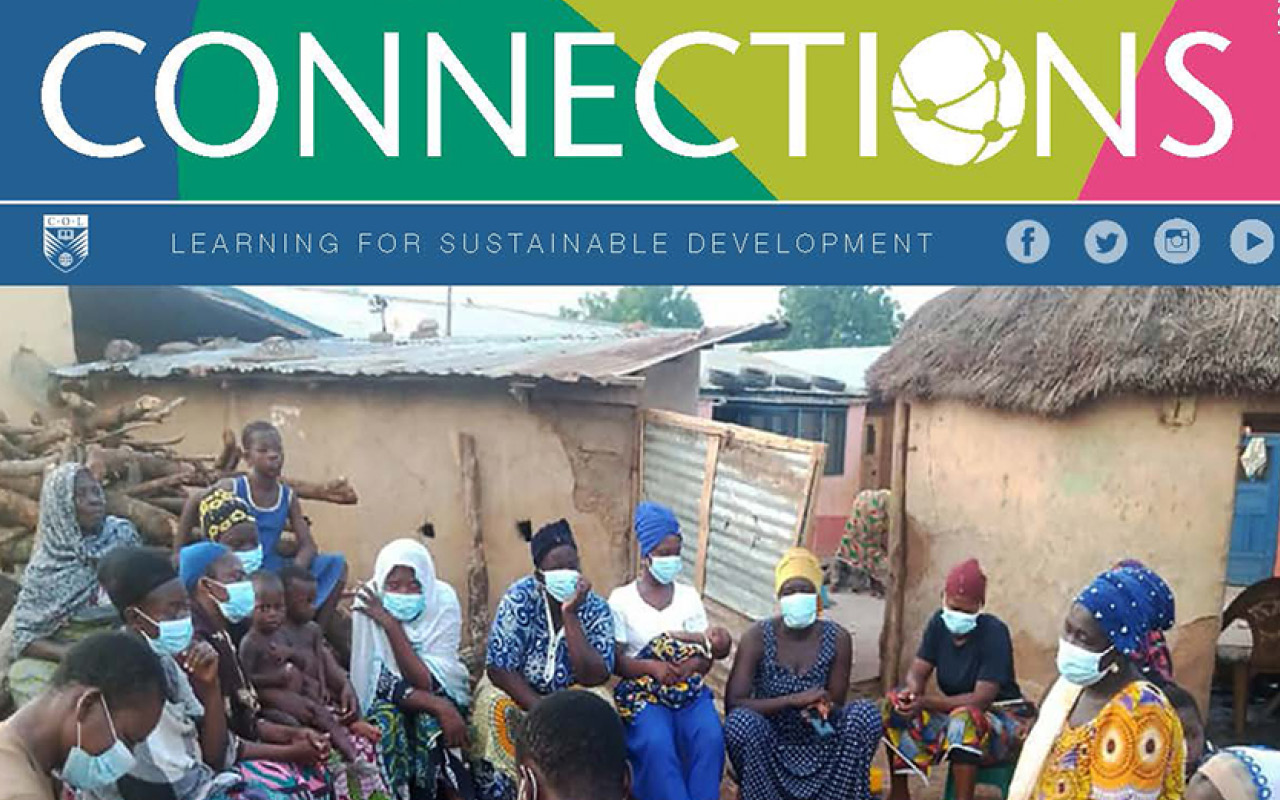 Reading Time:
38
min read
Download the digital version (PDF) from OAsis
Sign up to receive email updates from COL
COVER STORY
---
Open education in the time of COVID-19: lessons learned
"Leaving no one behind requires full commitment, well beyond the pandemic."
We are now in year two of COVID-19. The pandemic has been marked by tremendous losses and disruptions and has widened inequalities. But it has also created new opportunities, notably in the area of remote learning. As the world pivoted to online and distance learning, open education gained greater acceptance. What would have taken years of advocacy happened within a matter of days.
For COL, open education means policies and practices that permit entry to learning with as few barriers as possible. Throughout the pandemic, COL has supported Member States to remove these barriers and address the needs of "the last person in the queue." A few important lessons have surfaced along the way.
Open schools are a viable means to ensure the doors of learning stay open. COL has been promoting this distance learning model for secondary education. Not only did open schools remain open during the pandemic, but they were also able to provide printed course materials to students of regular schools in several countries" for example, in Botswana and Namibia.
As COVID-19 forced governments to cut back on resource allocations for education, there was a growing need for cost-effective solutions to bring quality learning to all. Open educational resources (OER) emerged as a way forward, helping bridge the divides and enabling the marginalised. COL has launched the Pacific Regional Channel, containing over 960 OER, to support the curriculum needs of Pacific island states.
Even as countries closed borders to contain the virus, open collaboration became essential to support current needs and build resilience for the future. COL's OpenDoor partnership attracted more than 60 organisations, institutions and associations across the world, becoming a vibrant platform where partners have shared over 260 courses.
Open education is critical for sustainable development. It empowers learners to access quality opportunities for economic growth, participate in the process of effecting social change, and contribute to environmental conservation. Leaving no one behind requires full commitment, well beyond the pandemic.
PHOTO Courtesy of School for Life, Ghana
REGIONAL NEWS
---
PAN-COMMONWEALTH / GLOBAL
Webinar series on micro-credentials


Higher education institutions are seeking models for offering training and certification in smaller units of learning directly tied to workplace needs. In response to this demand, COL organised a webinar series to explore micro-certification and the design and implementation of micro-credentials. It attracted over 200 participants from 24 Commonwealth countries.
COL's panel at Commonwealth Women's Summit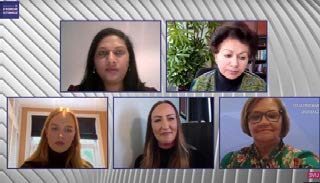 Professor Asha Kanwar moderated a panel discussion in the framework of the Commonwealth Women's Entrepreneurship Summit 21. "Edtech for the New Normal" focused on the ways technology can empower women entrepreneurs for success and build their resilience in the face of COVID-19. Panelists talked about the skills necessary to empower women to be prepared for an increasingly changing and dynamic work environment and the biggest barriers to female entrepreneurship. They discussed opportunities and resources available for female entrepreneurs, the efficacy of massive open online courses and how micro-badging and micro- credentialling can assist women to get the necessary skills for embracing technology. Watch at: https://www.youtube.com/watch?v=FIwxCGV79gc
New employment pathways for 150,000 learners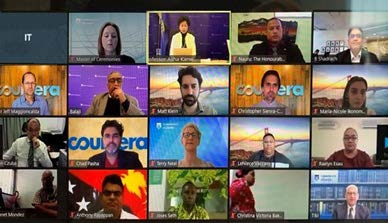 Over 150,000 individuals from the Commonwealth and beyond were able to unlock their potential through learning in the face of COVID-19. With the help of the COL-Coursera Workforce Recovery Initiative, they gained free access to 5,000 courses taught by highly reputed professors and mentors from top universities and companies around the world. For many, this was a pathway to regaining employment lost due to the pandemic. Course enrollments topped 1 million, and COL recognised at regional online convocations the achievements of learners who had obtained certificates.
The virtual convocation for the Pacific celebrated 127 learners from the region, who were joined by Professor Asha Kanwar, COL President and CEO, the Honourable Richard-Hyde Menke, Deputy Minister of Education, Nauru, and Mr Jeff Maggioncalda, CEO of Coursera. Calling the initiative "a lifeline" for those affected by the pandemic, the Deputy Minister noted its contribution to ensuring inclusive and equitable access to quality education for all.
Over 10,000 Asian learners were celebrated at an online convocation, with participation by the two partner organisations and dignitaries from the region. Increased confidence in building the right skillset for the labour market, as well as a sense of personal growth and achievement were a few of the experiences graduates shared. Learners were congratulated by the Honourable Tipu Munshi, MP, Commerce Minister, Bangladesh, the Honourable Dr Ibrahim Hassan, Minister of Higher Education, Maldives, and Professor Kapila Perera, Secretary, Ministry of Education, Sri Lanka.
Building "skills for work" across the Commonwealth
COL has partnered with Coursera, Google and Udemy to offer scholarships to learners across the Commonwealth in courses that build skills for work. Between 1 April and 30 September 2021, the first cohort of more than 18,600 individuals will gain free and unlimited access to employability-oriented courses taught by professors from leading universities and top industry leaders.
COL is offering three different certification programmes under the Skills for Work Initiative:
COL-Grow with Google Skills for Work Certification Programme
COL-Coursera Skills for Work Certification Programme
COL-Udemy Skills for Work Certification Programme
For more details on how to enrol, please visit: www.col-skillsforwork.org
Jumping into the "courage zone"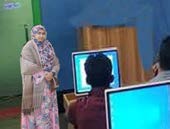 With her father in jail and no sources of income, Khondokar Nilufa Yasmin Pias (Bangladesh) was about to be married off at the age of ten. Her child marriage was prevented with support from COL's local partner CMES Rural Technology Centre. During the next several years, Khondokar received life-skills training on various social issues and honed her computer skills, ultimately securing a job as a computer operator. Most recently, she joined a major non-governmental organisation in Bangladesh as a computer trainer. Khondokar, who recently turned 20, is now able to support her family and contribute to the community.
Christina Zulu (Malawi) hails from Traditional Authority Nyoka. She dropped out of school in Grade 4 due to pregnancy, feeling that her life "was doomed." With support from COL and its local partner Concerned Youth Organisation, Christina, who is now 21, was motivated to go back to school in January 2021. She is poised to complete her education and become a community role model.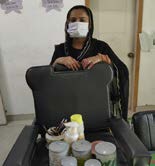 Rimsha Amanat (Pakistan) comes from a family of seven and had to leave primary school due to her family's dire poverty. It was the social mobilisation efforts of COL's partner SPARC that helped Rimsha "jump out of her comfort zone, into the courage zone." She enrolled in vocational and life- skills courses. While she was studying, her family tried to marry her off to a relative's son, but SPARC helped prevent this early marriage. Rimsha was able to complete her vocational training in the field of cosmetics and start her own beauty centre in her village. With an average monthly income of Rs. 3,000, she feels that the financial situation of her family has improved. She is now encouraging her siblings to pursue education as an investment in their future.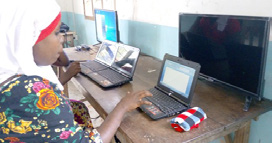 Rahma Njengite (Tanzania) touched a computer for the first time several months ago when she enrolled in a programme facilitated by YAPO, COL's local partner. With no appropriate skills to support herself, this young woman felt especially affected by the COVID-19 restrictions. She has now acquired computer skills and successfully completed online courses on food processing and packaging. Rahma is planning to set up a food kiosk to sell and deliver well-packaged snacks to customers in her village.
New platform for micro-courses
COL launched COL Commons, a platform that leverages the power of distance education and technology-enabled learning to build 21st-century skills for teaching, learning and employability. The new platform offers a constantly growing selection of micro-courses developed with support from leading experts. Learners will have access to interesting videos and quizzes, and upon the successful completion of the courses, they will receive COL certificates.
The platform can be accessed at: https://colcommons.org
C-DELTA trainings across the Commonwealth
COL's Commonwealth Digital Education Leadership Training in Action (C-DELTA) engages with governments, educational institutions, teachers and civil society organisations to build capacities across the Commonwealth. As part of the programme, COL trained future trainers in Africa and Asia. Responding to the needs of the Seychelles Ministry of Education, COL organised an online training-of-trainers workshop for 32 teachers from primary and secondary schools across the country. Another workshop aimed to assist Kibabii University, Kenya to adopt C-DELTA and brought together 24 faculty members. In India, the Model Institute of Education and Research, Jammu and Kashmir region, hosted an online training of trainers for 47 teachers, who will now encourage other teachers and students to take C-DELTA as a non-credit course.
JL4D seeks contributions
Contributions are invited for the Journal of Learning for Development, which focuses on innovations in learning" in particular, but not exclusively, open and distance learning and its role in development. Contributions can take the form of research articles, case studies, commentaries and reports from the field.
Please visit the journal's website for more details and to submit work: www.jl4d.org
AFRICA
Innovative e-platform for Zambian entrepreneurs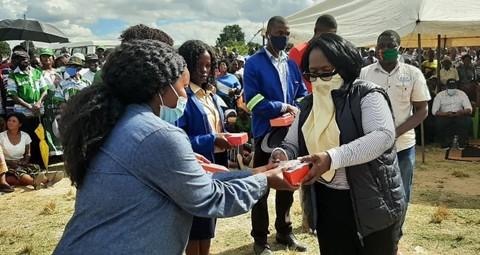 COL has supported Zambia's Ministry of Fisheries and Livestock to strengthen linkages between farmers and the ICT-based extension system, with the aim of increasing production and productivity for sustainable livelihoods. Through a newly created Mobile Fisheries and Livestock Advisory Information System (MFLAIS), the e-extension service delivery will be anchored to Zambia's geographically vast community of emerging fisheries and livestock entrepreneurs. The MFLAIS platform will serve as an e-library for all the ministry's acts, policies, technical materials, and case studies. It will offer tools for data collection and will address questions frequently asked by farmers. The Honourable Professor Nkandu Luo, Minister of Fisheries and Livestock, participated in the platform launch, noting that MFLAIS will maximise income generation in Zambia.
Empowering female educators in Nigeria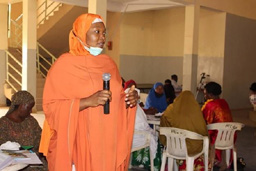 With COL's support, 200 female educators from Nigeria have been trained to use mobile technologies to access eLearning resources, including OER. A recent five-day blended workshop hosted by the Centre for Girls Education brought together teachers, teacher educators and quality assurance officers from 40 schools in Zaria and Sabon Gari in the State of Kaduna. The training aimed at improving knowledge-sharing capabilities among teachers as well as ensuring learning continuity in Mathematics, English Language, Basic Science, Social Studies and Computer Science, the core subjects in which the region's girls need tutorial support.
COL at South-South online fair
COL's successes in blending online with workplace learning and assessment for practical skills were presented at the recent Skills Virtual Fair: South-South, hosted by the International Labour Organzation. The fair aimed to identify innovative solutions for specific skills-development challenges, particularly in light of the COVID-19 pandemic. Representatives from Yaba College of Technology in Nigeria and Luanshya Technical Business College in Zambia described how COL is helping build their training capacity, with a view to meeting the challenge of implementing technical and vocational education at a distance. COL supports south-south co-operation through an online community of practice, and there is further potential to increase scale and affordability by sharing digital OER and collaborating across countries for training.
Parental learning for better outcomes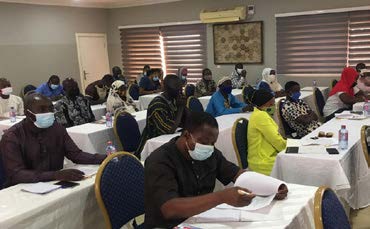 COL has launched a new project aiming to develop the skills required to build and sustain partnerships between teachers and parents for the benefit of learners. Parental Learning for Uninterrupted Schooling (PLUS) nurtures partnerships for improved learning outcomes, especially in marginalised communities. In the framework of the project, COL supported a two-day workshop in Northern Ghana on parental involvement in learning. Organised in partnership with the NGO School for Life, the workshop was attended by 42 key stakeholders, including representatives from the Ghana Education Service, the Non-Formal Education Division, as well as community leaders, parents, teachers, and representatives of non-governmental and civil-society organisations.
Participants discussed innovative strategies and measures to ensure the effective involvement of parents in the schooling of their children, including parents who are non-literate and have limited access to technology.
agMOOCs for capacity building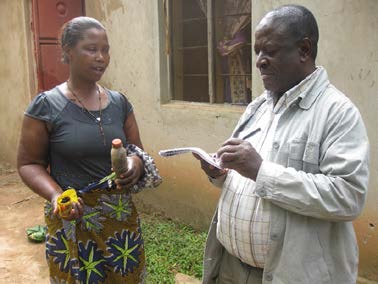 In partnership with the African Agricultural Advisory Services (AFAAS), COL organised a webinar titled 'Strengthening the Capacity of Agricultural Extension and Advisory Services through Utilising the agMOOCs in Africa.' Participants from 27 countries brainstormed on how agMOOCs could be used for massive training of extension practitioners. The webinar featured case studies, as well as discussions about micro-learning and micro- credentials to certify workforce competencies. Participants concluded that agMOOCs present an immense training opportunity to bridge the extension gap, and that there is room for inter-agency action, including in curating and delivering these courses.
The Regional Universities Forum for Capacity Building in Agriculture (RUFORUM) has partnered with COL to build the capacity of academic staff to use agMOOCs for student and faculty training. A recent virtual workshop focused on the usefulness of agMOOCs for capacity building in agriculture in Sub-Saharan Africa. Topics ranged from insights into aspects of agMOOC technology, to the role of academic faculty and leadership in contextualising skill sets, prospects for scaling up online courses, as well as certification and learner outcomes. A total of 110 participants from 28 countries welcomed the idea of MOOC-based learning as an avenue to fill capacity gaps with micro-credentialling. The next steps include awareness building for managers and academic leaders about aspects of developing, delivering and assessing agMOOCs.
ICT skills for young women in Uganda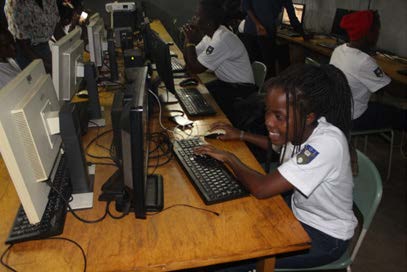 COL has been working with the youth-based organisation Kampabits, in Uganda, to equip vulnerable and unemployed youths with life-changing skills. A total of 100 young women recently completed a programme that included life-skills and entrepreneurship training and counselling to support employment and entrepreneurship. With their new skills and knowledge in graphic design, web development and programming, the majority of participants were able to gain employment or start internships at the end of the training.
Reaching out-of-school children by motorcycle
COL has been providing multifaceted support to bring children back to school in Nigeria. The flexible range of strategies has included community outreach on motorcycle by a team from the University of Nigeria's Researchers on ICTs in Higher Education in Africa (RICTHE). RICTHE representatives paid weekly visits to learners' homes, offering the services of a mobile library. The materials included audio memory cards, disks and printed materials for children to borrow, interact with, use for activities and return. Based on the needs of out-of-school children and their parents, a set of OER in local languages has been developed.
Integrating table banking in Tanzania's laws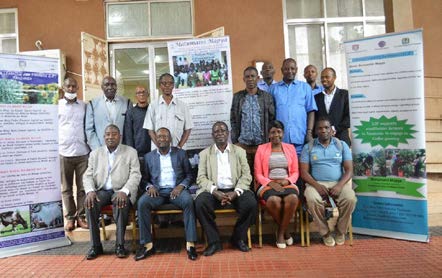 COL's work supports the creation of legal environments that contribute to sustainable livelihoods in Member States. In Tanzania, a special project aims to integrate table banking and lifelong learning for farmers (L3F) into the country's legislation.
A recent workshop organised by COL with its local partner Matumaini Mapya brought together key stakeholders, including officials from the Ministry of Agriculture and the Tanzania Cooperative Development Commission.
During the workshop, findings of two studies were shared: about L3F's impact on the welfare of farmers and about the role of table banking and L3F in strengthening savings and credit co-operatives. Participants discussed a strategy to implement key recommendations.
Building teacher capacity in assistive technologies
COL is working to build teacher capacity to provide quality learning opportunities to all, regardless of abilities and location. In Mauritius, 29 Special Education teachers completed a 12-week pilot course on disabilities needs assessment and assistive technologies. The project was carried out in partnership with the Global Rainbow Foundation, Mauritius, and Diversity and Ability, UK. Course participants gained skills in how to choose appropriate technologies that are accessible and affordable and can help bridge existing inequalities. The pilot has generated interest around the Commonwealth, with the Ministry of Education (MOE) in Tonga requesting COL's support to contextualise and offer this programme locally. MOE launched the course in June for Tonga's inclusive education staff, teachers and NGO disability practitioners.
Reaching students outside traditional classrooms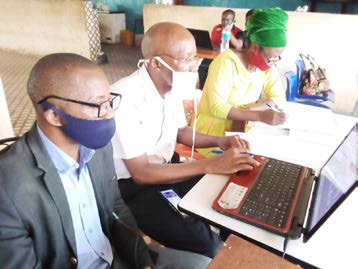 Recognising that distance education might present challenges for teachers and learners in under-resourced settings, COL supported the Freetown Teachers College to organise a learning infrastructure workshop. It brought together 76 teachers and teacher educators and was also attended by an official from the Ministry of Technical and Higher Education. The workshop featured the skills and resources needed to reach students outside the traditional classroom environment. Participants appreciated the opportunity to cover the syllabus in an asynchronous mode, "when students are absent from classes due to unavoidable circumstances."
Using virtual labs for science courses
Laboratory-based science programmes have been challenging to deliver during the COVID-19 crisis, requiring educators to explore alternative ways of providing rigorous and productive learning experiences for students. With support from COL, Kenyatta University (KU) is exploring the feasibility of virtual labs using software that offers high-resolution simulations. These virtual labs would directly integrate with the higher education science curriculum.
Following a feasibility study to test the efficacy of software for labs in Chemistry, Biology and Zoology, KU faculty are now implementing pilot projects involving students. Based on the results, a decision will be made about how to expand the use of virtual labs as a component of lab-based science courses at the university and at other partner institutions in Africa.
ASIA
Listening for immunity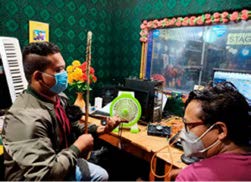 CEMCA reached over 1.8 million persons in rural, tribal and semi-urban areas of India as part of the "Listening for Immunity" public awareness campaign. Through 25 community radio stations, listeners learned about immunity-boosting measures for self-care during COVID-19. The campaign was carried out with funding from the Government of India.
COL President addresses Asian Association of Open Universities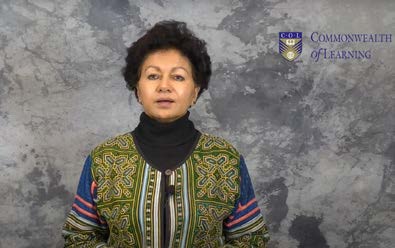 Professor Asha Kanwar was a keynote speaker at the 34th conference of the Asian Association of Open Universities. Her presentation, which was delivered virtually, focused on the lessons from COVID-19 that could be used to build education systems for a safer, more equal and more resilient future. For technology to be effectively harnessed to bridge the digital divide, it must be placed in an appropriate social, cultural and political context, she said. Professor Kanwar also spoke about the importance of mainstreaming OER by building the capacities of teachers, policy makers and learners. She called on ODL institutions to assume a leadership role to promote quality education, support innovation and address issues of social justice.
You can watch the video recording of the presentation here.
Online course development for SWAYAM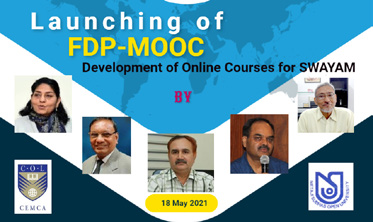 CEMCA offered a two-week MOOC to faculty of higher education institutions in India to build their capacity in developing courses for the SWAYAM learning platform. 'Development of Online Courses for SWAYAM' was initiated following the call by India's University Grants Commission for educators to submit expressions of interest for creating undergraduate and postgraduate courses for the platform. Developed in partnership with experts from the Netaji Subhas Open University, Kolkata, the MOOC introduced learners to the framework for course development and provided step-by-step guidelines. More than 390 participants from higher education institutions joined the MOOC launch.
Teaching with virtual reality
CEMCA and Ravenshaw University, Cuttack co-hosted a hands-on workshop titled 'Virtual Reality (VR) Teaching and Learning.' The workshop brought together 42 faculty members and research scholars from the Department of Education to build their capacity in developing VR materials. Participants practised preparing lesson content using a 360-degree VR platform.
Introduction to artificial intelligence
In partnership with COL, the Virtual University of Pakistan (VUP) launched the MOOC 'Introduction to Artificial Intelligence (AI) for IT and Non-IT Professionals.' It aims to inspire learners to adopt this exciting new field and allay fears in a general audience. The course introduces basic AI concepts and techniques and offers material for further studies in the field for those who want to gain additional proficiency. It has been offered through the VUP platform, attracting close to 22,000 learners since its launch in late 2020. COL is planning to extend the course across the Commonwealth and will also offer micro-credentials for those who complete it.
mobiMOOC technology for bankers
Blending the features of Internet technology with a delivery system via phone calls, mobiMOOCs provide an opportunity for scalable learning. COL has successfully used this technology to link thousands of farmers to quality learning and has recently repurposed it for other sectors. A meeting at the Andhra Pradesh State Cooperative Bank evaluated the results of a mobiMOOC delivered to more than 900 members of its staff. Participants in 'Business Development for Primary Agricultural Cooperative Society (PACS): Credit and Non-credit' appreciated the content and ease of delivery. This mobiMOOC technology can be replicated by other banks working to improve farm credit management in the Commonwealth.
CARIBBEAN & AMERICAS
Aptus for Antigua and Barbuda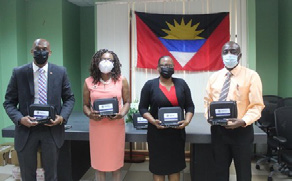 To help minimise the disruption to learning brought about by COVID-19, COL has partnered with the Ministry of Education, Sports and Creative Industries in Antigua and Barbuda to pilot six Aptus devices in schools in Barbuda. Ministry IT professionals, teachers and other school personnel will benefit from training on how to use, maintain and teach with Aptus.
Professionalising youth work in The Bahamas
COL has partnered with The Bahamas Ministry of Education, The Bahamas Technical and Vocational Institute, Mount Pleasant Green Baptist Church (The Bahamas) and Lakehead University (Canada) in a new project, 'Supporting Youth Development: Professionalising Youth Workers in The Bahamas.' Building on the success of a similar initiative in the Pacific, the project will focus on developing a suite of micro-courses for youth workers and leaders, with a view to their rapid upskilling. The virtual project la