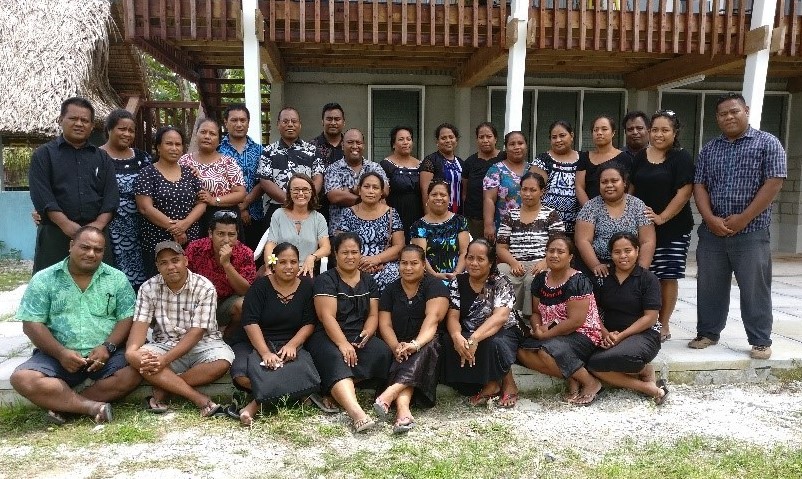 Reading Time:
3
min read
The Ministry of Education in Kiribati, in collaboration with COL, hosted a 5-day workshop on technology-enabled Teacher Professional Development (TPD) between 7 to 12 February 2019 at Kiribati Teachers College (KTC). Activities included face-to-face workshop sessions with teachers, online demonstrations and discussions, as well as on-site group coaching for KTC staff, as part of the ongoing in-service teacher mentoring programme.
The Principal KTC Ms Lucy Kum-On congratulated the participants who had been selected to take part in the training and said, "While the focus for TPD has been on primary and junior secondary schools, teachers in senior secondary schools are now fortunate that the Ministry is able to provide them with such training through KTC, in collaboration with COL, for which the Ministry is grateful." She added that the in-service programme, which is accessible to teachers from different locations, will better enhance their teaching, thus supporting and improving students' learning.
COL's Adviser: Teacher Education, Dr Betty Ogange said, "The workshop not only supported the capacity of the KTC staff to upgrade the online components of their courses using OERs, but they were also able to use technology to introduce and mentor teachers in the online TPD courses."
A total of 105 teacher educators and teachers participated in the workshop. The training resources for the programme have been adapted from COL's Blueprint and Toolkit for School-Based Teacher Development and developed into two 7-week online workshops.
Photo: Participants at the on-site coaching session at Kiribati Teachers College.