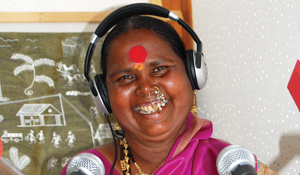 Reading Time:
4
min read
L3F pioneer Ms. Lakshmi Lokhande is a local celebrity in Mhaswad, in southwest India. She is a mentor working with two L3F partners, the Mann Deshi Foundation and the Mann Deshi Women's Co-operative Bank. For a living, she hand-makes brooms and, with her husband, sells them in different villages on a bicycle cart.
She has become a magnificent inspiration to many women in her hometown, all of whom celebrated her recently receiving an entrepreneurship for women award from the FICCI Ladies Organisation (FLO).
Travelling out of Mhaswad for the first time, on a flight, was an out-of-the-world experience for Lakshmi Tai! You can feel both the pride and the simplicity in her voice. "I only saw airplanes in the sky before, but I wasn't scared to be on the flight. I felt like I was comfortably sitting at home."
Her face lights up when she sees her picture on Mann Deshi's brochure. She enquires about the pictures of FICCI's award function, as she cannot wait to share these with her children. She says her grandchildren are really proud of her.
This, however, was not her first profession. She started out making ropes in a local agency, but it shut down due to water shortage and other issues. She had observed women making brooms and quietly learned from them. Exposed to the L3F programme in her community and motivated to succeed, she trained at Mann Deshi and took out loans to start her business; she proudly says she repaid all of the loans on time.
She is a regular listener to community radio, as well as being an L3F resource person for Financial Literacy and other programmes. Her eloquent advice is aired on Mann Deshi radio frequently. Lakshmi Lokhande is one of the many award-winning entrepreneurs whom Mann Deshi has helped to grow.
Life was not very easy for Lakshmi Tai, but she never lost hope and courageously moved ahead. The award celebrates this courage that will inspire more such women to break the barriers of poverty and reject the traditional, feeble identity associated with the rural women of India.