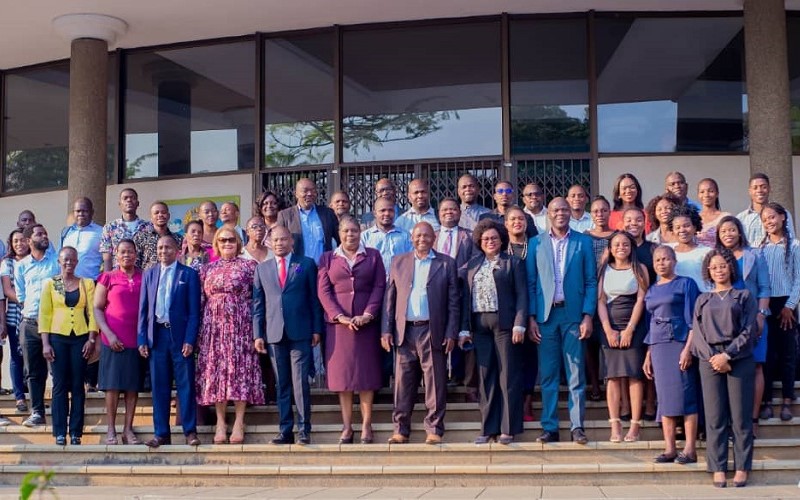 Reading Time:
4
min read
The Commonwealth of Learning's (COL) Empowering Women and Girls project – supported by Global Affairs Canada – was launched at the Blantyre City Hall in Malawi on 21 September 2023 by Ms Noria Nchingula, Director of Open Distance and eLearning at the Ministry of Education, Malawi.
In attendance were COL's partners for the project – Concerned Youth Organisation (CYO) and Centre for Research and Development Initiative (CERADI) – city and district council officials, civil society organisations, women's and girl's rights organisations, such as Her Liberty Malawi, the Girls Empowerment Network (GENET) and Centre for Conflict Management and Women Development Affairs (CECOWDA), along with local media.
Speaking on behalf of the city, Mr Lytton Stan Nkata, Director of Administrative Services commended COL for seeking funding for the project. He asked to be regularly updated on its progress and recommended that a similar meeting be held at the end of the project to report on the achievements.
Ms Nchingula commented that the project is a testament to the international solidarity for women's and girl's empowerment. She added that it was heartening for Malawi to share this journey and their unique experiences and challenges with the other nations participating in the project – Bangladesh, Mozambique, Pakistan and Sri Lanka. She said,
"This project is more than an initiative. It's a movement, a conscious choice to elevate our women and girls, especially those from disadvantaged communities. By focusing on four areas: education, health, economic participation, and holistic skill development, we aim to transform society. I am very happy that the project tackles pertinent issues. The project will contribute towards improved empowerment of women and girls, including those with disabilities."
Prior to the launch, the CERADI and CYO teams accompanied COL's Senior Adviser: Women and Girls, Ms Frances Ferreira, for a group community awareness-raising meeting in Mtenje with community leaders, teachers and youth from nine villages. Ms Ferreira informed the community leaders that COL values their leadership and participation in the project's implementation. She noted, "Engaging with the community members and youth from these villages was encouraging, with these communities welcoming the project."