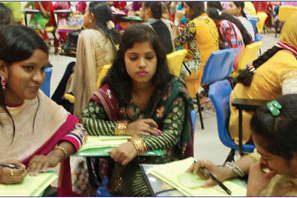 Reading Time:
5
min read
COL is organising a series of training workshops in Botswana and Bangladesh to awaken and enhance the leadership potential of girls who are studying at local open schools.
In Botswana, this training was carried out by the Community Capacity Enhancement and Empowerment Society (CCEES), and 20 girls were trained. The workshop followed an interactive approach, covering topics on leadership and mentoring for adolescent girls.
In September, COL's open schooling specialist, Ms. Frances Ferreira, co-facilitated the second workshop in the series, with faculty members of Bangladesh Open University's Open School (BOU OS).
One hundred girls from eight BOU OS centres participated in the training. The workshop content was quite different from that of the Botswana workshop in that more emphasis was placed on the girls' own experiences and aspirations. Each session was introduced with a game and led to the highlighting of specific leadership issues. The topics included the girls' voices on leadership. During this session, the girls came up with a list of 10 tips for leadership:
to inspire others through positive influence
to give direction to what one is trying to achieve
to develop people by empowering them
to be honest and trustworthy
to motivate others
to be brave and self-confident
to share responsibility for one's success
to give power for making the right decision at the right time
to have a mentality for accepting challenges
to take the time to understand and listen to others
The session on values and the links between values, choices, decisions and leadership was likely the most revealing for the girls. The facilitators agreed that this exercise assisted the girls in seeing how one's own value system influences one's leadership style, choices and decisions. Their leadership was put into practice with a fashion show, in which the girls developed beautiful costumes from flipchart paper and Post-it notes. The leaders stepped forward, took control and supported each other. It was an amazing experience for the facilitators to observe how the participants worked in harmony.
At the end of the workshop, the girls were asked for their impressions. Here are two of the responses:
"Before this workshop, I had no clear idea about leadership and values. Now I know how to choose the right path and why I have to choose this path."
"Facilitators are friendly. I was nervous before coming to the workshop. But now I am satisfied about the workshop. I have learned about leadership, role models, values, relationships and how to work in a group."
Next, COL plans to carry out Leadership 4 Girls 4 Change (L4G4C) workshops in India in collaboration with the National Institute for Open Schooling. If girls' ability to lead is strengthened, they will have more confidence in their ability to learn and achieve, and to motivate other girls to do the same. These girl-leaders will be role models for other girls in their communities.
Originally published in Connections, Nov 2014