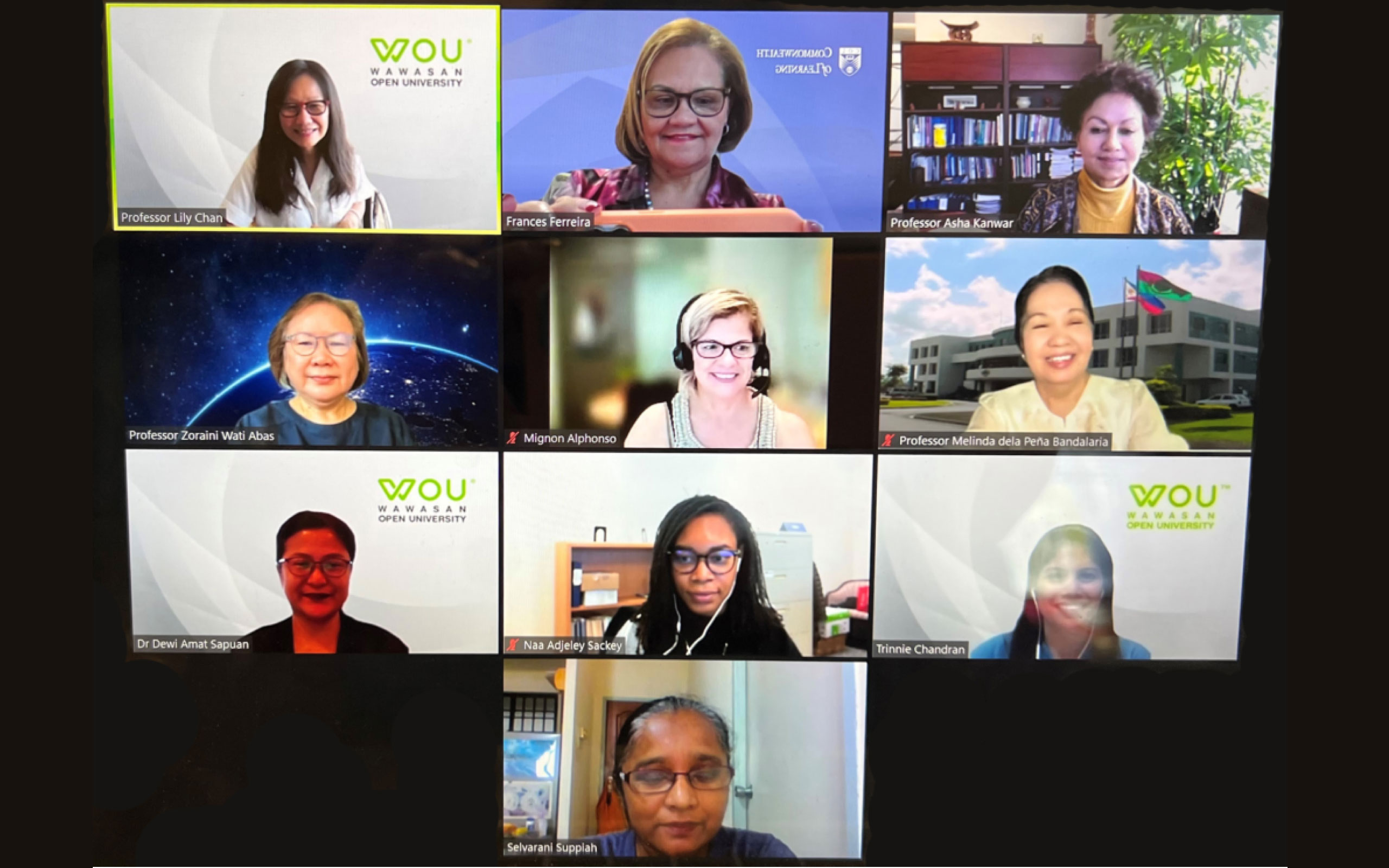 Reading Time:
4
min read
The third Pan-Commonwealth Training Programme on Women and Leadership in ODL was held virtually from March 30 to April 1. Organised as part of COL's commitment to gender mainstreaming and focusing on transformational leadership, this three-day workshop engaged 18 women leaders from 14 countries in Africa, Asia, the Caribbean and the Pacific. COL partnered with Wawasan Open University, Penang, Malaysia, in organising this event.
The training programme was designed for mid-career women from Commonwealth institutions who are interested in assuming leadership in ODL and ICT-based fields. Expert panellists included Professor Asha Kanwar, COL President and CEO, Dr Lily Chan, Chief Executive and Vice Chancellor of Wawasan Open University, Dr Melinda dela Peña Bandalaria, Professor and Chancellor at the University of the Philippines Open University, Professor Zoraini Wati Abas, former Dean of Distance Education, Universiti Sains Malaysia and Adjunct Professor at Asia e-University, Ms Frances Ferreira, COL Acting Director for Skills, and Ms Mig Alphonso, Gender Adviser at COL. The training programme included short presentations by inspirational women leaders, followed by panel discussions involving the workshop participants. The sessions were designed around three main themes: Women and Leadership, Educational Technology and Women and Climate Change. To enhance their capacity as advocates for change, for championing gender mainstreaming and to advance the women leadership agenda, each participant prepared a personal strategic plan.
Talking about the importance of leadership as a skill for women, Professor Asha Kanwar said: "Whenever crisis strikes, it's women who are the most vulnerable, as was the case during Covid-19. We need to be constantly learning new skills to become even more resilient, relevant, and indispensable".
This programme will serve as a launching pad for the participants to be more motivated, to acquire new knowledge and sharpen skills as well as to craft a strategic plan for advancing women leadership at home institutions.