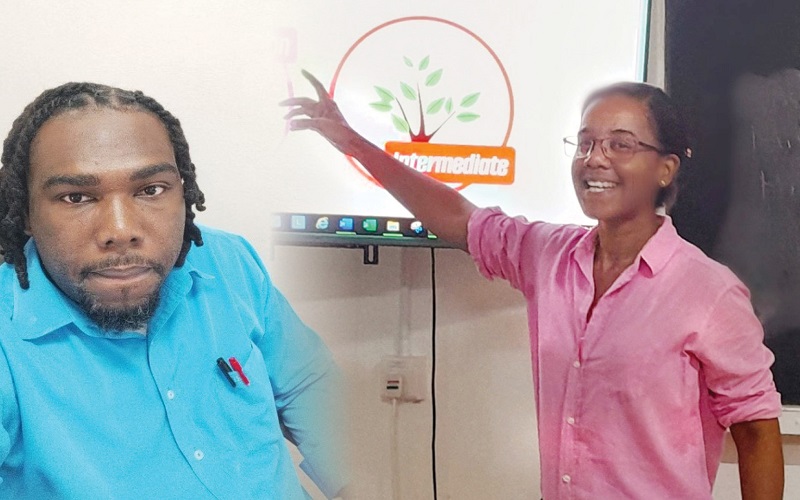 Reading Time:
5
min read
In today's rapidly evolving digital landscape, the impact of artificial intelligence (AI) is far-reaching. Two young teachers who recently completed COL's self-paced 'Introduction to AI for IT and Non-IT Professionals' course are harnessing the power of this technology in their professional lives.
A teacher from Grenada, Mr Akeem Cyrus has been interested in AI for more than five years, having first encountered its use in 2017 while travelling in China. He has long searched for self-paced and affordable training in AI and was curious when he saw the course flyer. He described the course as useful and discovered applications for AI in both his professions–teaching and farming.
"I'm a part-time farmer as well as a secondary school Information Technology teacher," he explains.
Since taking the course, he has seen numerous opportunities to integrate AI into his teaching, his students' assignments and his farming.
"I have a few students in Form 5 who are interested in coding," he explains. "So, I'll be talking with them about how they can increase their efficiency and coding capabilities with AI."
Mr Cyrus also wants to use AI to monitor his agricultural property, particularly when he cannot get onto the land every day.
"I see it providing us with the ability to determine when vegetables in the ground are ripe and ready to be picked and decreasing the amount of spoilage that we experience," he says. "The course opened my eyes to things that I never thought AI was a part of."
Fellow learner and science and maths teacher in Seychelles, Ms Vicky Aglae, found the course gave her more insight into how people can work with various types of AI.
"My first impression was why do we need to be here if robots are replacing us," she says. "But then I realised that these tools would help us rather than replace us."
She sees the opportunity to use AI to supplement her students' learning, making the courses as entertaining and interesting as possible to keep her students engaged.
"As a teacher today, it's important to continue growing; otherwise, you'll find your kids have passed you. Plus, it's a good way of modelling lifelong learning for my students."
COL's six-week self-paced course is designed to introduce and explain many of the key concepts of AI and show learners how the tools are being used now and potentially in the future. One of the course's unique features was the Moodle Helpdesk powered by an AI chatbot with human support looped in.  For learners with troubleshooting questions, this was a plus. But as experienced online learners, Akeem and Vicky navigated and managed registration, enrolment and accessing their certificates without issue.
Learners must complete a dozen quizzes during the six weeks, with a minimum score of 85 per cent overall to earn a certificate of completion. Interested learners can expect the course to be offered again in September 2023.