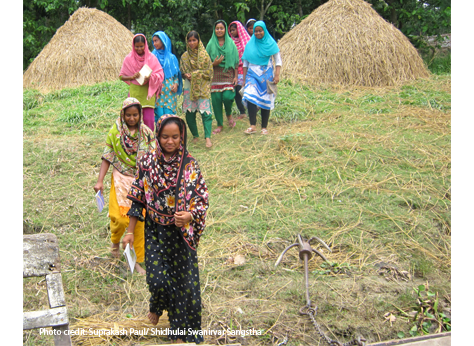 Reading Time:
9
min read
Learning for sustainable development, as defined by COL, is a process that aims to bring about empowerment through learning in both formal and non-formal settings. Using its expertise in distance, blended, flexible and technology-based approaches, COL is contributing to the achievement of the Sustainable Development Goals. Our work in gender, in particular, has become more extensive than ever before, from supporting women farmers in Uganda through mobile learning in their own language, to preventing child and early forced marriage through the GIRLS Inspire initiative in five Commonwealth countries, to community radio programmes on women's health and nutrition in India.
COL is helping to drive positive social change and economic growth by fostering inclusive and sustainable societies; facilitating gender equality in decision-making; encouraging gender equality in access to the resources, opportunities and benefits of social and economic development; and enabling equitable access to quality learning opportunities.
With the adoption of the 2030 Agenda for Sustainable Development, all countries in the world pledged that "no one will be left behind". Yet, if those that face discrimination and disadvantage are not able to claim their human rights, to fully participate in the social, economic and political development of their communities and societies, many will certainly "be left behind". Efforts towards inclusive growth, poverty reduction and gender equality need to take place within a context of democratic governance, where the rule of law is upheld, citizen participation is fostered, and human rights and fundamental freedoms are respected.
Human rights are universal, inalienable, interdependent, indivisible, equal, nondiscriminatory, and they come with the obligation to be fulfilled under international law. When human beings are not able to claim their basic entitlements, whether they be the right to study, to work, to participate in political life, to adequate food and shelter, to a clean and safe environment, to participate in and benefit from development processes, to own land, etc., the achievement of sustainable development is not possible.
Violence against women and girls is a human rights issue. It compromises women's and girls' right to live a life free of physical, sexual or psychological harm or suffering, whether in public or in private life. Child, early and forced marriage (CEFM) is, itself, a form of violence against girls, as they are often married against their will. Not only does CEFM impede a girl's right to education and her right to choose when and if she will marry, it also hinders her future prospects and aspirations.
In developing countries, one out of three girls are married before the age of 18, and one out of nine are married before the age of 15. This means that an average of 15 million girls each year are married before the age of 18. Girls who marry before 18 years of age are also more likely to experience domestic violence than their peers who marry later.
Violence against women and girls not only prevents women and girls from fully participating in their communities and societies, it prevents them from contributing their skills and experiences to social, economic and political development. It is also a significant barrier to the achievement of the Sustainable Development Goals and works against efforts to reduce poverty, spur economic development and promote stability and peace.
What should be of great interest to Commonwealth governments is that violence against women and girls is linked to a depletion of economic resources. According to the Social Institutions and Gender Index (SIGI), it is estimated that discriminatory social institutions, including violence against women and girls, costs the global economy approximately US$12 trillion per year. Given that the 2030 Agenda relies on strategically directed actions and resources, Commonwealth countries should find the economic impact of violence against women and girls yet another motivation for action.
To ensure "no one will be left behind", Commonwealth governments need to protect and fulfil human rights and address violence against women and girls in a meaningful way: increased investment and a multi-stakeholder, multipronged approach at all levels that involves men, women, community and religious leaders, civil society, youth, educational institutions, policy makers and development agencies. It also requires access to better data on the prevalence and incidence of violence against women and girls in order to facilitate evidence-based decision-making that has the potential to make real change.
To support the 2030 Agenda, COL President and CEO Professor Asha Kanwar and UN Women Executive Director Phumzile Mlambo-Ngcuka signed a Memorandum of Understanding at the recent 8th Pan-Commonwealth Forum held in Malaysia. The two organisations will cooperate on two key common objectives: promoting gender equality in education and learning; and ensuring that women and girls acquire relevant skills for decent employment and economic empowerment, through technology-based approaches to learning. This collaborative work not only contributes to the achievement of SDG 4 ("ensure inclusive and equitable quality education and promote lifelong learning opportunities for all") and SDG 5 ("achieve gender equality and empower all women and girls"), but will contribute to the lives of girls and women around the world, their families, their communities and their countries.