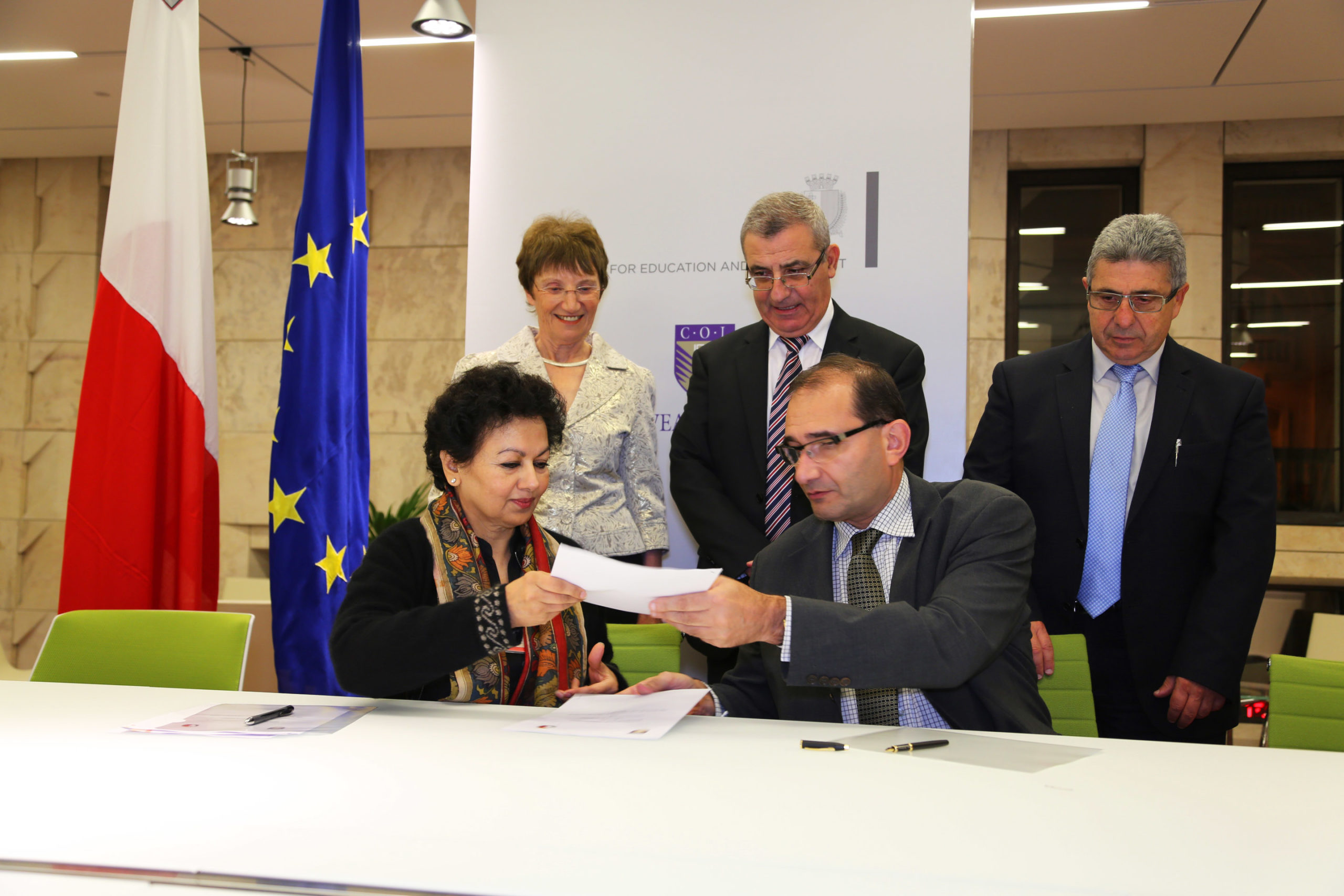 Reading Time:
5
min read
JOINT PRESS RELEASE
Valletta, Malta – The Malta Ministry for Education and Employment (MEDE) and the Commonwealth of Learning (COL) have signed a memorandum of understanding establishing the basis for long-term collaboration between the two entities in digital education. The MOU was signed by Mr Joseph Caruana, Permanent Secretary, MEDE and Professor Asha Kanwar, President and CEO of COL at a brief ceremony at MEDE.
COL is an intergovernmental organization created by Commonwealth Heads of Government in 1987 to promote the development and sharing of open learning and distance education knowledge, resources and technologies.
The partnership between MEDE and COL recognises Malta's key position as an interface between the Commonwealth and that of the European Union, and seeks to lever on cooperation in international fora to advance common objectives in education and learning for sustainable development. The partners intend to mobilise a think-tank of global leaders in digital education and develop a robust, sustainable framework for good practice in digital pedagogy. This framework will include pilot systems for the recognition and accreditation of online qualifications with due consideration for quality assurance. The collaboration will also seek to advance the Transnational Qualifications Framework (TQF) emerging from the Virtual University for the Small States of the Commonwealth (VUSSC) as a method of choice for accreditation of existing digital courses.
Minister Evarist Bartolo welcomed the collaboration with COL as a win-win situation. "COL will provide us with access to international know-how and best-practice on digital literacies and digital skills in the education system; Malta will provide COL with a rich and complex setting for innovation in digital pedagogy. Policy-makers and educators in Malta will work alongside their peers in other Commonwealth countries. We're very excited by the possibilities this collaboration will offer teachers and learners."
The agreement also provides for the establishment of a Commonwealth Centre for Connected Learning based in Malta, and managed as a joint-venture between COL and MEDE. The Centre will operate as an international hub for action research on digital education, including content, curricula, assessments, new forms of teaching and learning practices and changes to leadership and values. The Centre will also develop teacher education programmes, levering on COL's success with the Commonwealth Certificate for Teacher ICT Integration (CCTI) in the Commonwealth.
"This partnership recognises Malta's unique position in both the EU's educational framework and as a small Commonwealth state with an advanced system of education and training," said COL President &CEO Professor Asha Kanwar. "COL has successfully worked with and operated multi-country centres in Asia, Southern Africa, West Africa and the Pacific for many years. We are hopeful that this new centre will serve not only Malta, but the Europe-Africa region of the Commonwealth."