Reading Time:
33
min read
Download the digital version (PDF) from OAsis
Sign up to receive email updates from COL
COVER STORY
---
COL delivers through innovation
"Learning is our common wealth and the key to our common future."
Marked annually across the globe, Commonwealth Day is an occasion to celebrate our collective values and shared vision. This year's theme, "Delivering a Common Future: Connecting, Innovating, Transforming," is of great relevance.
There are three Commonwealth intergovernmental organisations and over 80 associations, each contributing to development in Member States in a special way.
As one of the three intergovernmental organisations, COL was set up specifically to bring quality education and lifelong learning to those who need it the most. It empowers people in the Commonwealth and beyond to take greater responsibility for their own lives, their societies and their environment.
COL connects: 32 of our 54 Commonwealth members are small states, including many island nations, which are very vulnerable to the risks associated with climate change. COL creates synergies throughout the Commonwealth to increase awareness of the climate crisis and the benefits of the blue economy and green technologies to help small states become climate-resilient nations. COL's Virtual University for Small States of the Commonwealth fosters cooperation among the 32 members.
COL innovates: More than 60 per cent of the Commonwealth's citizens are 29 or under. COL's low-cost Aptus device helps create virtual classrooms, addressing the needs of out-of-school youths. COL helps build the capacity of teachers and institutions to improve learning outcomes for young people and equip them with the know-how that the 21st century really needs.
COL transforms lives: Women's equality and empowerment are central to COL's vision of promoting learning for sustainable development. With support from the governments of Canada and Australia, COL has skilled over 80,000 women and girls for livelihoods, so that child, early and forced marriage can be prevented.
Learning is our common wealth and the key to our common future. Let us connect, innovate, and transform together. Happy Commonwealth Day to all!
REGIONAL NEWS
---
Caribbean focal points meet in Saint Lucia

With a two-day meeting in Saint Lucia, COL launched a series of consultations to identify key regional priorities and guide the development of its new strategic plan. The event brought together COL's Focal Points from Antigua and Barbuda, The Bahamas, Belize, Grenada, Jamaica, Saint Kitts and Nevis, Saint Lucia, Saint Vincent & the Grenadines along with COL staff and representatives from The William and Flora Hewlett Foundation. The meeting boosted COL's understanding of the needs and priorities in the region. It was an opportunity to review COL's work in the Caribbean and identify new opportunities for collaboration among different stakeholders.
As part of the programme, the Honourable Dr Gale Tracy Christiane Rigobert, Minister of Education, Innovation, Gender Relations and Sustainable Development, hosted a dinner for meeting participants. She expressed gratitude to COL for its contributions to ICT integration in Saint Lucia.
Supporting gender equality in Malawi

In partnership with the Concerned Youth Organisation, COL is training 2,250 women and girls in Mchinji District, Malawi to increase gender equality. Activities are implemented in rural settings with typical grassroots
communities, some of whom have never worked with an NGO, to improve gender equality. In the first phase of the project, women and girls in the Traditional Authority Nyoka benefited from a session on human rights, gender equality and sexual and reproductive rights, under the theme "Health-seeking behaviour among women and girls."
COL conducts trial audit at Unisa

An institutional trial audit of the University of South Africa (Unisa) conducted by COL marked a critical milestone in a year-long collaborative project between the two institutions. Initiated to prepare Unisa for its institutional review by South Africa's Council of Higher Education in 2020, it supports South Africa's largest university in reviewing its policies and practices. Particular focus is on teaching and learning, and student success.
Livelihoods training for women and girls

The Centre for Mass Education in Science (CMES) in Bangladesh is partnering with COL's GIRLS Inspire project to train vulnerable women and girls for sustainable livelihoods. Focusing on hard-to-reach districts, CMES works with adolescents and youths to empower them economically and socially through skills development. Vermicompost workshops are part of the livelihoods training the Centre offers to women and girls. Graduates from this successful programme produce quality compost, which they sell to farmers to generate income.
CEMCA Advisory Board meeting

The Commonwealth Educational Media Centre for Asia (CEMCA) held the 19th annual meeting of its Advisory Board in New Delhi, India. Representatives of the Ministries of Education in India and Sri Lanka joined the meeting, along with vice chancellors of national open universities in Bangladesh and India. COL's President, Professor Asha Kanwar, chaired the meeting, with the Vice President, Dr Venkataraman Balaji, in attendance. Professor Madhu Parhar, Director, CEMCA, presented the annual report.
IN BRIEF
---
Meeting with Prime Minister and Agriculture Minister, Antigua & Barbuda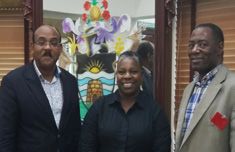 During a recent trip to the Caribbean, COL's Education Specialist: Agriculture & Livelihoods, Dr Moses Tenywa, met with H.E. Gaston Browne, PM and Minister of Finance of Antigua and Barbuda, and the Minister of Agriculture, Lands, Fisheries and Barbuda Affairs, the Honourable Samantha Marshall to explore means of increasing access to credit by L3F learners.
Consultations in Papua New Guinea and Kiribati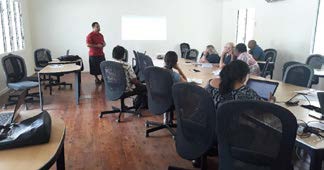 In partnership with SP's Centre for Flexible Learning, PACFOLD and New Zealand's Ministry of Foreign Affairs and Trade, COL organised in-country consultations in Papua New Guinea and Kiribati. The goal was to present proposed initiatives to key stakeholders and experts, validate focus areas, and ensure they will meet the needs of learners in the two countries.
Former COL Board Member receives top China award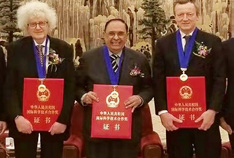 Former COL Board member Professor Dr Atta-ur-Rahman (below, centre) received the prestigious China International Science and Technology Cooperation Award 2020.
AI in education
Artificial intelligence (AI) is quickly moving into education, not just in terms of technology that can support teaching and learning but also in the way it is changing the nature of the world. Find out more from Artificial Intelligence in Education, an interview with Professor Rose Luckin, UCL Knowledge Lab, which COL conducted at PCF9 in Edinburgh.
Open Schooling Programme launched in Nigeria

Six northern states in Nigeria will be pioneering an Open Schooling Programme with COL's support in an effort to reduce the number of out-of-school children in the country. The initial workshop in Abuja brought together over 100 participants, including content developers, centre managers, as well as members of the task team from the Universal Basic Education Commission and its sister agencies to develop the programme content.
Quality learning for persons with disabilities

In response to concerns about the absence of an inclusive space for the community of persons with disabilities (PWD) to participate in national and economic upliftment, as well as political and public life, COL has launched a project in Mauritius in partnership with the Global Rainbow Foundation (GRF). The aim is to leverage the potential of technology-enabled learning to build capacity among practitioners and members of the PWD community, and raise awareness among companies, government organisations and the private sector about the inclusion of PWD in the workplace.
During a recent project workshop, UK-based Diversity and Ability (DnA), who were contracted by COL, conducted needs assessments and stakeholder consultations among members of the PWD community, practitioners who work with them, and other stakeholders. DnA trained GRF staff in needs assessment and assistive technologies.
Diplomats' Induction Programme in London

COL partnered with the Commonwealth Secretariat and the Commonwealth Foundation for the 36th Diplomats Induction Programme (DIP) at Marlborough House in London, UK. Designed to introduce newly appointed envoys to a broad range of Commonwealth initiatives and collaborative opportunities, DIP brought together high commissioners and young diplomats from 16 countries. Professor Asha Kanwar described COL's governance structure and spoke about the ways the organisation promotes inclusive and equitable quality education and lifelong learning for all.
Supporting "Digital Bangladesh 2021 Vision"
COL is supporting Ahsanullah University of Science and Technology (AUST) in implementing the "Digital Bangladesh 2021 Vision" through the application of technology-enabled learning (TEL). With a view to helping AUST strengthen its capacity to leverage TEL effectively to improve student learning, COL co-organised a workshop on developing blended courses using the Moodle learning management system.
FUN MOOC
Recognising the need to improve numeracy skills among youths in the Pacific region, PACFOLD delivered a MOOC entitled Functional Numeracy. It ran for five weeks and included content for everyday functions, such as order of operations, percentages and interest, and data analysis.
Caribbean regional capacity building workshop on OER

More than 30 representatives of education ministries, universities and colleges, as well as education consortiums and councils from 14 countries in the Caribbean gathered in Saint Lucia for the regional Capacity-Building Workshop on Open Educational Resources (OER). The event was organised by COL in partnership with UNESCO and The William and Flora Hewlett Foundation. The workshop raised awareness about OER among officials and policy makers in the Caribbean, prepared participants to advocate for OER and supported them in their efforts to develop and implement OER policies.
During the workshop, the Honourable Dr Gale Tracy Christiane Rigobert, Saint Lucia's Minister of Education, Innovation, Gender Relations and Sustainable Development, reiterated her ministry's commitment to OER and to bridging the digital divide.
COL and OU-UK promote inclusive education in Kenya

COL, in collaboration with The Open University (OU), UK, supported the Ministry of Education and the Kenya Institute of Special Education (KISE) in hosting a Learning Design Workshop. This activity is part of KISE's implementation of COL's Teacher Futures model, which aims to improve teacher quality and learning outcomes through innovative school-based teacher development. Staff from the OU's Teacher Education in Sub-Saharan Africa (TESSA) programme facilitated the training, which focused on adaptation and integration of relevant open educational resources in the teacher development programme on inclusive education. Microlearning resources and a draft training handbook were developed, along with an outline of a future MOOC on inclusive pedagogies.
Capacity building for Federal University Oye-Ekiti

RETRIDOL supported a capacity-building workshop for the Federal University Oye-Ekiti (FUOYE), which is in the process of acquiring accreditation from Nigeria's National Universities Commission to operate as a dual-mode university. During the workshop, staff from FUOYE's Distance Learning Institute were trained in the use of Moodle, materials development, online pedagogy and OER. FUOYE is the 17th university in Nigeria to participate in RETRIDOL's dual-mode project.
Market-driven skills training for youth

COL's Gender Initiative has launched a project with Youth Challenge Guyana to provide market-driven technical skills training to 280 men between the ages of 16 and 30. These young men will be trained in electrical installation, solar power maintenance, and refrigeration and air conditioning. In the framework of the project, local businesses will offer internships for participants to reinforce their newly acquired skills, and ensure that they acquire on-the-job experience and learn how to be effective at work. The youths will have male mentors, who will focus on various areas of personal and career development.
New pathways to employment
COL's Skills in Demand model seeks to improve livelihoods for individuals in developing Commonwealth countries by matching skills development to industry and community needs, and in this way creating a pathway to employment and entrepreneurship. A series of workshops recently organised by COL in Ghana, Kenya, Nigeria and Zambia aimed to tap into informal apprenticeships – a well-established training system in Africa – with the goal of increasing access for marginalised people to technical and soft skill development opportunities.
Meeting at National Accreditation Council of Guyana
During a visit to Georgetown, Guyana, COL's Education Specialist: VUSSC, Dr Mairette Newman, met with representatives of the country's National Accreditation Council to identify a series of activities for strengthening their technical capacity to quality assure tertiary educational institutions offering online and blended programmes of study.
Strengthening climate resilience in Dominica

Update, Upgrade for a More Resilient Dominica – this is the theme of the five locally produced public education messages that were recently broadcast on radio stations in Dominica with COL support. Following the devastation of Hurricane Maria, COL has partnered with Dominica's Ministry of Education and Human Resource Development to educate citizens about mitigating climate change risks and becoming better prepared for future disasters.
BA in Youth Work
The Commonwealth Higher Education Consortium for Youth Work organised a technical workshop at the Bangladesh Open University as part of a series designed to prepare partner institutions to develop and deliver the Bachelor's Degree in Youth Work in blended and online environments.
By making the degree available to partner institutions as OER and building their capacity to offer it in online and blended delivery modalities, the Consortium is increasing access to education and training for aspiring and practising youth workers.
The Consortium is led by COL, the Commonwealth Secretariat and The University of the West Indies, with 17 universities from 15 Commonwealth countries as implementing partners.
COL enhances website accessibility
With a view to empowering persons with disabilities and ensuring inclusiveness and equality, the Commonwealth of Learning has made its website more accessible to the visually impaired. The site is now equipped with assistive technology for a customised experience. A ReadSpeaker has been installed, allowing visitors to listen to content, as well as change speed, colour, language and other settings. COL will be adding more functionalities to the website to better serve the needs of persons with disabilities and create more effective learning environments for all.
For more information, visit www.col.org/accessibility.
Workshop on quality assurance in East Africa

A workshop hosted by Kenyatta University in Nairobi, Kenya under the aegis of the Partnership for Enhanced and Blended Learning (PEBL) project brought together 22 senior administrators and faculty from 21 universities in Kenya, Rwanda, Tanzania and Uganda. Attendees reviewed their progress in quality assurance interventions and identified institutional gaps in quality assurance processes for blended learning. They will now focus on developing and implementing improvement plans for each university.
PEBL, a joint project with ACU, funded by UK's DFID under the SPHEIR initiative, is centred on course development and creating a network among universities in East Africa. The goal is to strengthen higher education institutions in the region.
Employability meeting in Johannesburg

National quality assurance (QA) agencies that form part of a regional QA Community of Practice, supported by COL, got together to develop Key Employability Indicators (KEI) to monitor and evaluate the concept of employability through tangible outputs and outcomes, in alignment with COL's employability readiness model. At a meeting in Johannesburg, members of the Community of Practice from Botswana, eSwatini, Lesotho, Mauritius, Namibia and Zambia validated the KEI and discussed ways in which they can be integrated in quality assessments at the national level.
TOP 5
---
Top 5 DIMENSIONS OF LEARNER SUPPORT
Open, distance and eLearning (ODeL) approaches have been mainstreamed in recent years, with growing demand from nontraditional students who are seeking access to more flexible learning opportunities. However, to move from access to success, many students require support before, during and after their learning journey.
Flexible learning resources shared as OER – With growing digitisation and the ability to embed interactive feedback into activity-based resources, many learning challenges can be anticipated and pre-empted. Sharing resources as OER makes it possible to tailor content to learners' personal needs or to follow alternative learning pathways.
Authentic assessment and feedback – A clear link between the learning purpose, the intended learning outcomes and authentic assessment activities, as well as timely, clear and constructive feedback are critical for success.
Social support – It is important that learners have a social support network to engage with as needed. Creating tools for engagement with family and friends, other students, potential employers and faculty is critical to overcoming the sense of isolation that students may otherwise feel.
Institutional and academic support – It is important to provide on-demand access to guidelines and feedback. Since academic study may be an unfamiliar activity for many students, it is advisable to pre-emptively provide readily accessible guidelines about relevant academic tasks and skills.
Targeted support – As the student population becomes more diverse, so do learning support needs. For working students, institutions may need to explore ways to increase flexibility around when key tasks must be submitted. Thought must also be given to integrating appropriate assistive technologies to enable students with various learning challenges to engage with the content and learning processes.
To access the full version of the Top 5, visit https://www.col.org/news/col-blog/top-5-critical-dimensions-learner-support.
FOCUS
---
Innovate, Connect and Transform
Inspiring examples of how COL changes lives across the Commonwealth
Addressing skills development challenges in PNG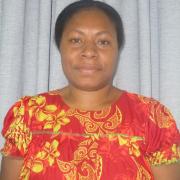 Ancilla Yendi is Executive Manager, Monitoring and Evaluation (M&E), at the Department of Higher Education, Research, Science and Technology (DHERST) in Papua New Guinea (PNG). She works for a new project management unit that has been tasked with monitoring large infrastructure projects at universities as well as teacher, nursing, technical and business colleges. As one of DHERST's staff who has assumed a new role, Ancilla managed to grow her capacity to perform M&E through COL's support. "Many of the project-management instruments are new to us, and COL's online training helped me understand the key elements in the project-management cycle," she says.
Ancilla welcomed the course's convenient format, which broke down key information into manageable sections. She completed it in six weeks and has already started putting the new knowledge into practice. "I can now be more effective in the new big project that I have just been assigned to build infrastructure for a new institute,
and it will also help me develop M&E frameworks for other projects in the higher education sector," she notes. COL is supporting DHERST to combine online and workplace learning. Staff will have an opportunity to work towards a formal project management qualification through blended learning. Future plans include extension of the model to solve other skills development challenges facing PNG.
Building capacity in Belize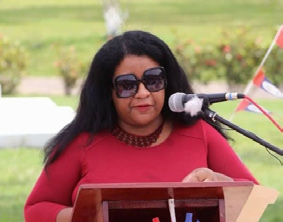 "Having COL is like having a big brother or sister that you can lean on."
Jacklyn Burns is an educator with a professional track record of over 20 years as well as being a two-term member of the Belmopan City Council in Belize. This single mother of two with an insatiable passion for learning has always wanted to achieve a master's degree. Now she has a chance to pursue her dream through the Master in Education Leadership Programme offered at the University of Belize with support from COL's Virtual University for Small States of the Commonwealth (VUSSC).
With its combination of online learning and face-to-face sessions, which are scheduled on Saturdays or after working hours, the programme is a perfect fit. "Education is what is going to improve our lives," says Jacklyn.