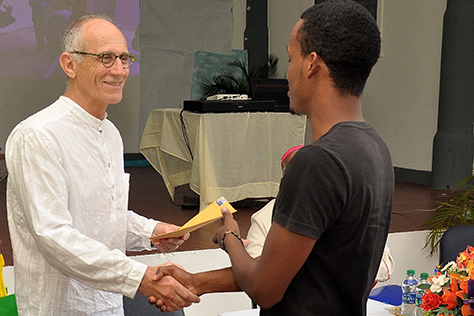 Reading Time:
3
min read
The Matelot Innovative Community Open School (MICOS), an open school in Trinidad and Tobago that targets young people and adults who have dropped out of school, celebrated its first graduating class on 6 April 2017. The Commonwealth of Learning (COL), Catholic Education Board of Management (CEBM) and Caribbean Fisheries Training and Development Institute (CFTDI) jointly initiated the school in April 2016.
Several community leaders, including the Archbishop Joseph Harris and COL Senior Adviser – Open Schooling Dr Johan Hendrikz, attended the graduation ceremony where 20 graduates received certificates.
"Although the Matelot Innovative Open School is, in numbers, a comparatively small initiative, it was found that 10 per cent of the community's households were positively impacted with the first cohort," says Dr Hendrikz. "This is expected to lead to the improvement of sustainable livelihoods in this very secluded and challenged community."
The school is located in a remote fishing community on the north coast of Trinidad and Tobago, and offers three subjects: Net Mending, Fish Processing and Outboard Engine Maintenance and Repair. The school is currently looking at delivering additional courses which also focus on the fishing industry.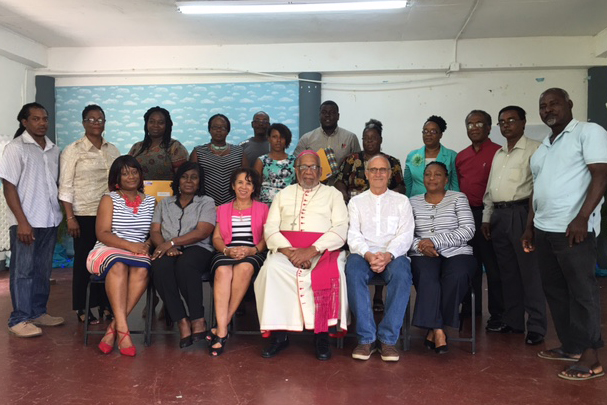 Top photo: COL Senior Adviser – Open Schooling Dr Johan Hendrikz hands a certificate to a MICOS graduate. Bottom photo: Graduates pose with key partners in the MICOS initiative.