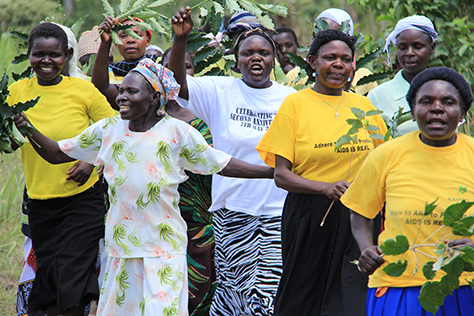 Reading Time:
5
min read
New toolkit provides guidance on the monitoring and evaluation of empowerment in development projects.
Disempowerment has staggering consequences on both personal and societal levels, from poverty, food insecurity and poor health, to productivity losses, missed educational opportunities and violence against women. Research has shown that empowerment can lead to better development outcomes and more sustainable livelihoods. As a result, empowerment is featured prominently in two Sustainable Development Goals: SDG 5, which aims to "Achieve gender equality and empower all women and girls," and SDG 10, which aims to "Reduce inequality within and among countries." It further underpins a number of the other goals, as it can lead to improvements in health, income, livelihood security, education and other outcomes covered by the SDGs.
But how do we ensure our programmes and activities are contributing to empowerment?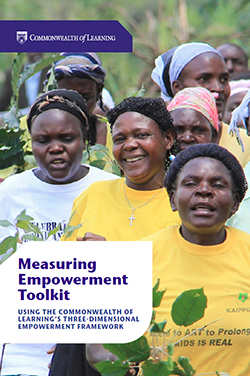 In order to evaluate the efficacy and success of any project or programme, you must be able to measure your results. Measuring Empowerment Toolkit: Using the Commonwealth of Learning's Three-Dimensional Empowerment Framework presents a three-dimensional framework, developed by COL, for measuring empowerment. Designed primarily for development practitioners, government officials, academics, monitoring and evaluation specialists, and researchers, the toolkit provides guidance on using the framework for survey creation, indexing and preliminary data analysis.
Victorine Atieno, a development practitioner in Western Kenya who manages the Siaya SEED Savings and Credit Cooperative Society, says in the foreword: "As an on-the-ground development practitioner, I know that empowerment is not akin to learning new skills. Using a tool like the Commonwealth of Learning's Three-Dimensional Framework can help us to assess a person's control over decision making in a holistic way, and to measure various aspects of their home life, their livelihood activities and their community involvement and experience. This gives us a much clearer picture of empowerment. As a result, we can better target our interventions, make decisions about the allocation of resources and improve service and performance. Being able to measure empowerment also benefits our reporting, because we can show quantifiable evidence that change has taken place."
The framework was initially developed as a tool for creating a survey instrument to assess empowerment among male and female participants in COL's Lifelong Learning for Farmers Programme. A related study was published in the Journal of Learning for Development under the title "From Learning to Empowerment: A study of smallholder farmers in South West Uganda".
The Toolkit is made available under a Creative Commons Attribution-ShareAlike 4.0 Licence. We encourage you to share the resource among your colleagues and to also share your experiences using it with us at info@col.org.