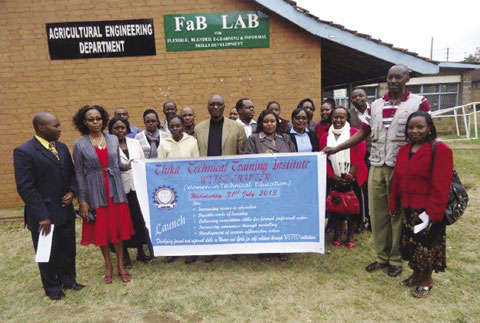 Reading Time:
3
min read
There is a disparity between the rates at which males and females participate in technical and vocational education and training (TVET) in most Commonwealth countries. Finding effective strategies to increase female participation is an enduring challenge. Through INVEST (Innovation in Vocational Education and Skills Training) Africa, COL has been working with 13 institutional partners to take active steps to bring more girls into TVET and to support them in male-dominated vocational areas. Institutions have been establishing Women in Technical Education (WITED) chapters and encouraging more girls to enrol for TVET. At Mbeya University of Science and Technology (MUST), in Tanzania, the access programme has recruited 185 girls to study a special bridging course and be rewarded with a place on the diploma programme if they are successful.
INVEST Africa aims to increase access to skills training for disadvantaged learners – especially people working in the informal sector. Several INVEST Africa partners have expanded their flexible course offerings. Following successful informal sector training earlier this year, where most of the graduates found employment or started self-employment, Thika Technical Training Institute, in Kenya, will continue to offer the programme. In total, 133 young people have received training in biogas production, generator operation, hospitality, customer relations and sales, and basic ICT skills.
There was an overwhelming response to the invitation to informal sector skills training at Koforidua Polytechnic, in Ghana. The 300 participants included food vendors, drivers, mechanics, hairdressers and seamstresses.
Auchi Polytechnic, in Nigeria, has 90 students enrolled in three new courses.