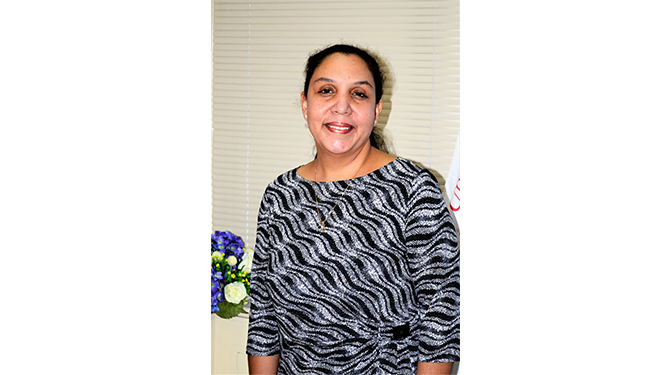 Reading Time:
8
min read
Annelise Lafrance was working as a mathematics educator at a secondary school when she decided to enrol in the Commonwealth Executive Master of Business Administration and Public Administration (CEMBA/MPA) Programme at the Open University of Mauritius in 2014.
Today, Ms Lafrance works as Deputy Rector of Saint Mary's College in Rose Hill, Mauritius.
COL met with Ms Lafrance to hear more about how the programme charted the course of her career.
Q: Can you describe your background and career before you entered the CEMBA/MPA programme?
A: Before joining the programme, I worked at BPS College in Beau Bassin, Mauritius for 10 years. I was a student there and, after my degree, I was employed as a mathematics educator. Working at BPS College was a privilege and I felt that I was giving back a bit of what I received as a student. I was also a section leader. As someone who supervised grade 11 students, I had to ensure that the girls were focused on their studies, while at the same time, listening to them and maintaining discipline. I also helped the administration when needed.
Q: What inspired you to enrol in the CEMBA/MPA programme? What about the programme attracted you?
A: I felt that something was lacking… Was I doing the right thing? The programme was really God sent! I did not have much time and money to spend on a full-time or part-time master's degree. When the OU advertised the course, I felt it was what I needed for several reasons:
It was flexible. I did not have to go to university after school or every weekend. I worked at my own pace and place while choosing the number of modules that I wanted to cover per semester.
It was accessible. It is not easy for someone to invest large sums of money in one go for a master's degree. I paid per semester and this was really a deciding factor.
It was blended. It was not solely distance learning, nor only on campus. We had five tutorials per module per semester. We felt that we were not alone and we relied on the tutoring to better grasp certain topics.
It was internationally recognised and COL monitored the quality of the materials.
Q: What was your favourite course/module and why?
A: All the modules helped me grow but my favourite one remains 'Research Methods'! I am passionate about research, about discovering new things, about finding links and reasons. 'Research Methods' gave us the techniques we needed. It showed us how to link our research activities to our objectives, to our hypotheses and how to answer these hypotheses, what are the variables involved, what tests should be done and how to do it. The tutor helped us understand the module. We used what we learned to prepare our dissertations later in the programme.
Q: How did the CEMBA/MPA programme help prepare you for your future career?
A: I took a job in administration as the next step in my career path and became a deputy rector. I wanted to change things and do the work differently. To do that, I needed to gain some knowledge which I did not receive with my first degree. I needed to understand how an administrator works and what forms the world of administration. The modules taught me how to be better prepared, whether in human resources management, leadership skills or accounting.
Q: What is a practical skill or piece of knowledge you learned that you now use regularly in your job?
A: The practical skill that I use most is people management. As a deputy rector, I deal mostly with people, whether it's students, parents or staff. They are the assets of the school and each one has different needs and ways of seeing things. We need to cater to them in a fair way and help everyone work together and grow as a community. The leadership and management skills I acquired during the course are proving to be very helpful.
Q: If you had one piece of advice for students who are considering enroling in the CEMBA/MPA programme, what would it be?
A: I would say go for it! You may at first feel that it is too much or that the program is not for you, but believe me, once you get started, you will really enjoy it. Also, if you are working, please don't leave things up to the last minute. Work a little bit every day, one step at a time. Every module will make sense as you walk your way through the programme…like pieces of a big puzzle! You will definitely gain from this incredible journey.
Looking for more? Watch the vlog interview with Annelise Lafrance.