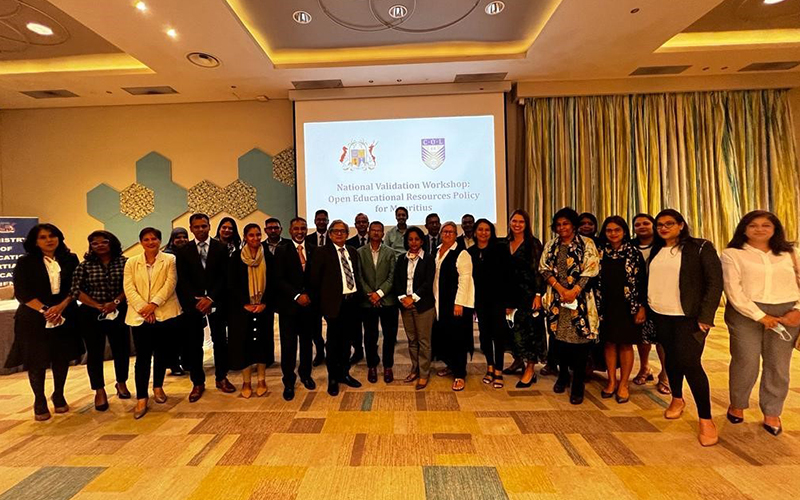 Reading Time:
3
min read
COL conducted a national consultation and validation workshop on an Open Educational Resources (OER) policy which was organised by the Ministry of Education, Tertiary Education, Science and Technology (MOETEST) in Mauritius on 30 May 2022.
Inaugurating the workshop Mrs Shabina Lotun, the Permanent Secretary of MOETEST stated that the Ministry is committed to creating an enabling and equitable environment for access to quality learning materials. She thanked COL for its continuous support in developing the policy draft, building capacity and taking the OER mission forward in the country.
COL has supported a baseline study and preparation of the draft policy by a national level committee facilitated by the Open University of Mauritius. The policy draft is based on the existing national level initiatives of the Government of Mauritius and strengthens its leadership position as a creator of knowledge in the African region and elsewhere.
Several important suggestions were offered at the meeting to ensure quality of the OER and focusing on the capacity building of teachers at both in-service and pre-service level. Issues related to collaboration with private sector and encouraging them to release content at OER were highlighted. The participants agreed on the various amendments and on a timeline to finalise the draft policy.
Dr Sanjaya Mishra, Director: Education at COL said, "in light of UNESCO's recommendations on OER, approved by the general conference in 2019, ministries are expected to take appropriate steps in this direction and consider how to mainstream OER in teaching and learning. The OER policy development in Mauritius may also harness the growing interest in online learning to promote resource-based lifelong learning. The draft policy has provisions to support a national repository apart from encouraging higher education institutions to have their own policy and repository.