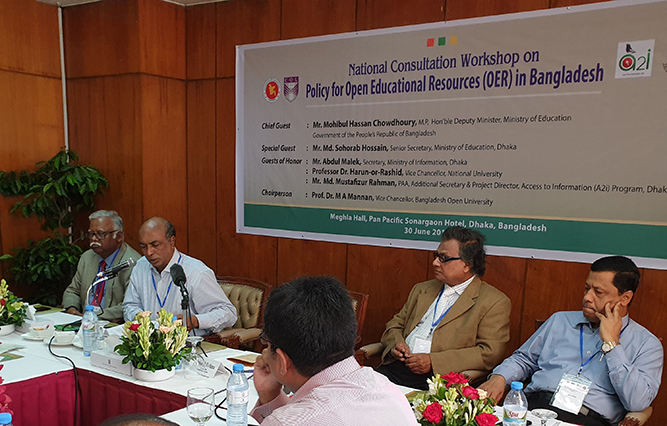 Reading Time:
4
min read
Bangladesh Open University (BOU), with support from COL, held a national consultation on 30 June 2019 to review the draft Open Educational Resources (OER) policy for Bangladesh. The consultation was jointly organised with the Ministry of Education (MOE) and Access to Information (a2i) programme of the Government of Bangladesh.
The consultation provided an opportunity to help key officials, educators and education stakeholders understand the potential of OER. Participants reviewed the draft national OER policy and recommended strategies for early adoption. Once the policy is approved, stakeholders would be able to support its implementation at their own institutions, which would help improve the quality of learning outcomes and foster educational innovations across the country.
Forty one participants attended the event from across the country, representing Ministries of Education, Information, and Primary and Mass Education, the University Grants Commission, National Curriculum & Textbook Board, a2i, UNESCO, World Bank, National Academy for Educational Management, Department of Youth Development, Bangladesh Technical Education Board, Directorate of Secondary and Higher Education, BRAC, Directorate of Primary Education, Dhaka University, National University (NU), and BOU.
Also in attendance were Mr Md. Sohorab Hossain, Senior Secretary, Ministry of Education, Mr Abdul Malek, Secretary, Ministry of Information, Professor Dr Harun-or-Rashid, Vice Chancellor, NU, and Professor Dr M A Mannan, Vice Chancellor, BOU.
Workshop participants said they could see the potential for the national OER policy to help achieve the Sustainable Development Goals by 2030, as well as the goal of turning Bangladesh into a developed nation by 2041. They recommended not only the approval of the policy but also advocated for a practical implementation plan.
Dr Sanjaya Mishra, COL's Education Specialist: eLearning said, "There is a need to promote OER in Bangladesh by adopting appropriate policy. COL has been working with the Government of Bangladesh to strengthen the capacity for adoption of OER."
A draft policy, 'Towards a National Policy on Open Educational Resources in Bangladesh,' was developed in 2017.