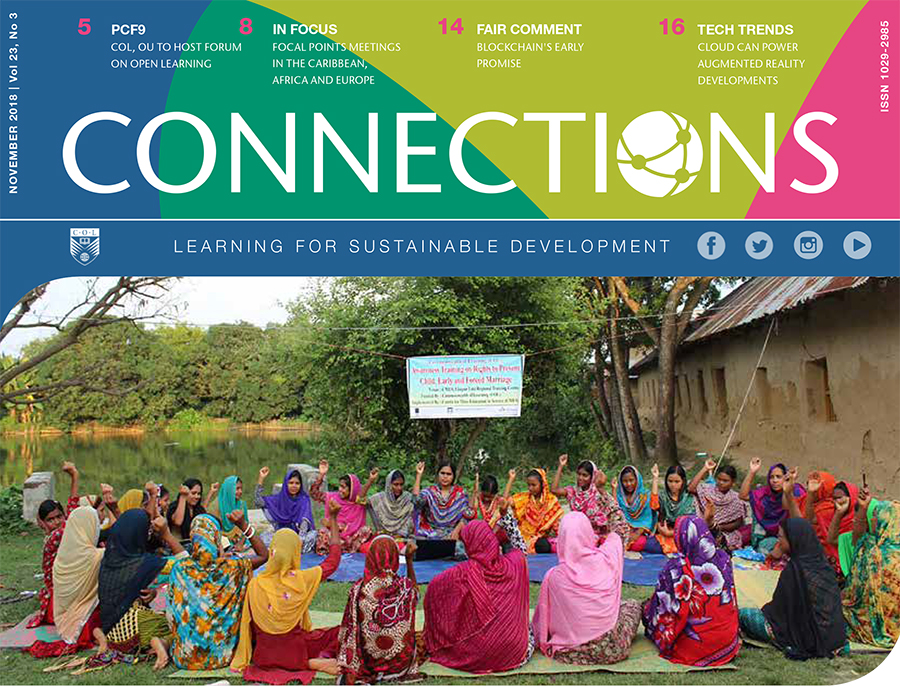 Reading Time:
35
min read
Empowering girls at an awareness training session in Bangladesh.
Download the digital version (PDF) from OAsis
Sign up to receive email updates from COL.
COVER STORY
---
With Her: A Skilled GirlForce
Skilling girls, catalysing communities
'To empower women and girls, COL harnesses the potential of technologies and uses innovative approaches to increase access to education and training.'
October 11 marked the sixth commemoration of the International Day of the Girl Child since its declaration in 2011 and the first celebration in 2012. This day highlights the challenges faced by the girl child and seeks ways to empower girls. This year's theme, "With Her: A Skilled GirlForce," calls on the global community to work with and for girls to expand learning opportunities and equip them with the required skills to successfully transition into the world of work.
During the 2018 Commonwealth Heads of Government Meeting, heads of Commonwealth countries noted the ongoing action by Member States and Commonwealth institutions to prevent and eliminate child, early and forced marriage which is one of the barriers to girls' empowerment. They committed to the promotion of gender equality and inclusion, as well as the empowerment of all women and girls in social, economic and political life.
COL has been at the forefront of providing opportunities for girls to attain skills for employability and entrepreneurship. To empower women and girls, COL harnesses the potential of technologies and uses innovative approaches to increase access to education and training. Thanks to grants from the governments of Canada and Australia, COL has trained thousands of marginalised girls in skills for livelihoods in five countries: Bangladesh, India, Mozambique, Pakistan and Tanzania. In the last two years, COL trained over 47,000 women and girls, of whom nearly 9,000 have new sources of income.
As COL's President and CEO, Professor Asha Kanwar, said in her video message to commemorate the day, "One of the reasons for the success of COL's GIRLS Inspire project is that it actively involves the girls, their families and communities." COL works with the girls to define their needs and catalyses the linkages between key stakeholders. This is a participatory approach that works with the community to support girls' learning for sustainable livelihoods.
The video message is available here.
REGIONAL NEWS
---
PAN-COMMONWEALTH/GLOBAL
COL President appointed to UNESCO IITE Governing Board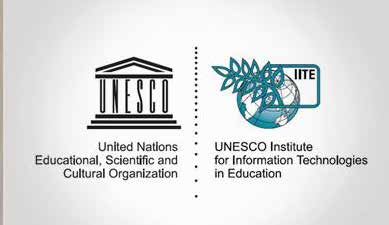 Professor Asha Kanwar has been appointed to the Governing Board of the UNESCO Institute for Information Technologies in Education (IITE). Members of this board are selected from across the world for their reputation in effectively utilising ICT for teaching and learning.
Speaking on her appointment, Professor Kanwar said, "I look forward to working with the distinguished group of experts to promote the innovative uses of technology for quality education and lifelong learning. The partnership with IITE will create better synergies between Commonwealth and non-Commonwealth Member States to the mutual advantage of both."
Located in Moscow, Russia, IITE was established by UNESCO's General Conference in November 1997. The institute promotes the innovative use of ICT globally and serves as a facilitator and enabler for achieving Sustainable Development Goal 4 through ICT-enabled solutions and best practices.
COL President briefs new London-based diplomats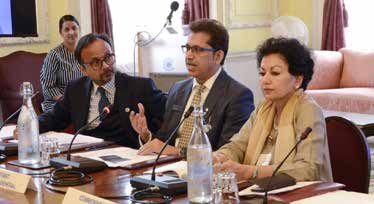 Professor Asha Kanwar briefed new London-based diplomats at the 35th Commonwealth Diplomats Induction Programme (CDIP), held in London, United Kingdom in September 2018. She highlighted COL's work in supporting Commonwealth governments' and institutions' use of technology to improve and expand learning for sustainable development.
Professor Kanwar stressed the impact of open, distance and technology-based learning in providing equitable access to quality lifelong learning for all and encouraged the diplomats to ensure that their countries take advantage of COL's expertise.
The aim of the CDIP is to introduce diplomats to the intergovernmental and civil society organisations that link governments and the 2.4 billion people of the Commonwealth. For the first time, COL joined the Commonwealth Secretariat and the Commonwealth Foundation as a joint organiser of the programme.
Free online course on OER
COL has updated "its course on 'Understanding Open Educational Resources (OER)' to improve the adoption of OER by teachers, educational institutions and policy makers. The course was first introduced in 2015 to address the inadequate understanding of OER and open licences. Over 18,000 learners from 160 countries accessed the two-hour course.
Due to its popularity, COL revised the course after the 2nd World OER Congress, making it a stand-alone platform. The course is short and succinct, providing distilled information and links to additional resources to enable the learner to pursue deeper interests in specific aspects of OER.
Higher education in an age of disruption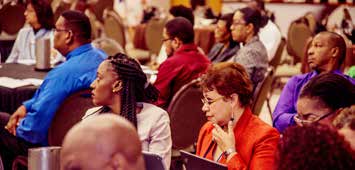 Artificial intelligence (AI) and blockchain are two technological trends transforming teaching and learning. Professor Asha Kanwar spoke about these emerging trends in July 2018 at the 17th Annual Association of Caribbean Higher Education Administrators (ACHEA) Conference in Trinidad and Tobago, in her address on creativity and innovation.
Professor Kanwar noted that the adoption of such technology will result in blended and collaborative learning. She stressed that the rapid rise of messaging has strong implications for learning, particularly via WhatsApp and Messenger, which both have billions of users. "Because messaging is widely used, messaging-based learning management platforms will have a faster uptake in the developing world, thereby reducing costs," she said.
The presentation, titled "Innovations in Higher Education: Re-imagining Learning," suggested that learners will move back and forth between academia and employment to skill and reskill themselves. Faculty will also have to become lifelong learners to keep pace with these changes, and the focus will be on acquiring knowledge and skills in new modes of delivery and pedagogy.
Photo credit: ACHEA
Pan-Commonwealth Forum on Open Learning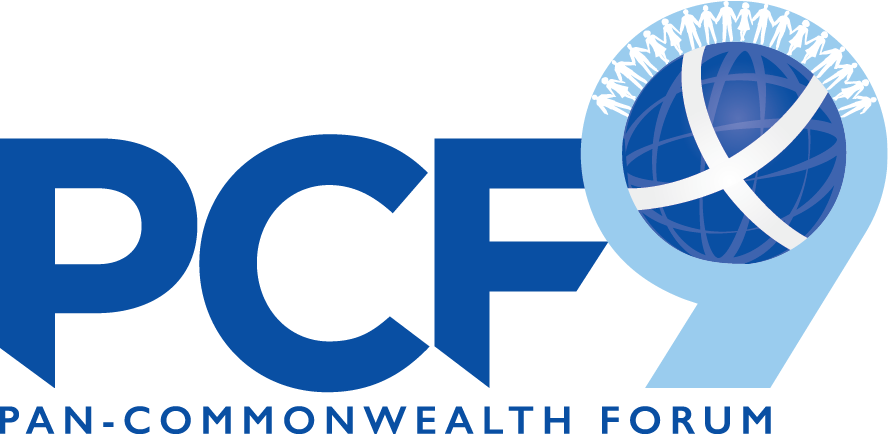 The Ninth Pan-Commonwealth Forum on Open Learning (PCF9) will be held at BT Murrayfield, Edinburgh, Scotland from 9 to 12 September 2019. Organised by COL in partnership with The Open University, United Kingdom, PCF9 brings together the best minds in open and distance learning to discuss issues of common interest, exchange ideas and explore best practices.
PCF9's theme is "Innovations for Quality Education and Lifelong Learning" with four sub-themes:
Employability
Equity and Inclusion
Opening Up Education
Technology
Special Focus
Education for Girls
Empowering Youth
Call for applications: COL Chairs Programme
COL invites applications from Commonwealth citizens to serve a three-year tenure as COL Chairs.
The COL Chairs are thought leaders or scholars who undertake research and innovation in open and distance learning (ODL), open educational resources (OER), technology-enabled learning (TEL) and learning for sustainable development.
The strategic objectives of the COL Chairs Programme are to:
Promote thought leadership in COL's areas of competence;
Apply research and innovation to support the achievement of Sustainable Development Goal 4; and
Support learning for sustainable development within the framework of COL's Strategic Plan (2015-2021).
Submitted applications will be reviewed on an ongoing basis. Applications and instructions for submission can be found on the COL Chairs webpage.
AFRICA
Supporting COL's newest member, The Gambia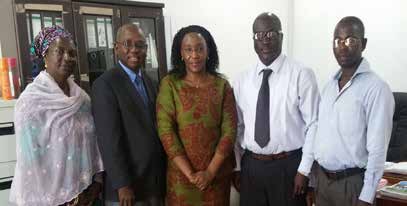 Ahead of the launch of COL's school-based teacher development programme in The Gambia, COL's Adviser: Teacher Education, Dr Betty Ogange, briefed the permanent secretaries of the Ministry of Higher Education, Research, Science and Technology (MHERST) and the Ministry of Basic and Secondary Education (MoBSE) on COL's Teacher Futures programme in September 2018.
Dr Ogange also visited The Gambia College and met the principal and staff. She noted during the briefings that "an important component of the Teacher Futures programme is to support partner institutions in developing a cost-effective technology-based teacher professional development programme and strengthen the capacity for monitoring and evaluation in The Gambia."
The Permanent Secretary of MHERST, Mr Yaya Sireh Jallow, expressed optimism about a strong partnership with COL after the country rejoined the Commonwealth. "We are pleased to collaborate with COL to improve teacher quality. The support for capacity building in teacher professional development in partnership with COL is timely indeed," he noted.
"The MoBSE hopes to work closely with The Gambia College in quality assurance as well as monitoring and evaluation of the proposed programme," said the Permanent Secretary of MoBSE, Mr Mohammed S. Jallow.
COL's Adviser: Teacher Education, Dr Betty Ogange (middle), with the Permanent Secretary, MHERST, Mr Yaya Sireh Jallow (second left), COL's Focal Point in The Gambia, Mr Anthony Mendy (second right), and other officials.
Supporting Technology-Enabled Learning in Mauritius

COL's Education Specialist: eLearning, Dr Sanjaya Mishra, met with the Acting President of Mauritius, H.E. Barlen Vyapoory, in October 2018 to brief him about COL's activities supporting the use of technologyenabled learning for expanding access to education and training in the country.
eLearning in Eswatini

COL's Education Specialist: Higher Education, Professor Romeela Mohee, delivered a public lecture on the role of blended learning in transforming higher education practices at the University of Eswatini (UNESWA) in September 2018. Her presentation was part of UNESWA's celebration of 50 years of academic progress.
Seventeen faculty who had completed a COL-supported course on developing and teaching online courses received certificates of completion during the ceremony.
Improving quality in African universities

COL supported a regional meeting of the quality assurance (QA) Community of Practice (CoP) in Johannesburg, South Africa in September 2018. During the meeting, participants from Botswana, Eswatini, Lesotho, Malawi, Mauritius, Namibia and Zambia shared their experiences of piloting QA guidelines developed by COL's CoP.
RETRIDOL workshop in Ghana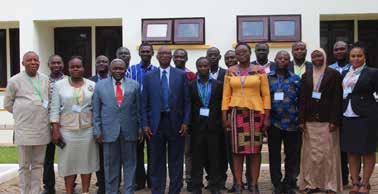 COL collaborated with the Regional Training and Research Institute for Open and Distance Learning (RETRIDOL) to organise a workshop entitled "Overview of Open and Distance Learning (ODL)" at the University of Ghana in June 2018. The workshop, aimed at supporting institutions to embrace distance education practices, was attended by 22 senior administrators and faculty from ten Ghanaian educational institutions.
COL's Adviser: Education, Dr Kirk Perris, noted that the workshop built on a larger initiative to expand the use of ODL in West Africa to augment enrolment in post-secondary education. As such, participating institutions from Ghana were tasked with drafting policies that will support their transition to becoming dual-mode institutions.
Professor Goski Alabi, a member of the Board of Governors of Laweh Open University College, said, "The GER in Ghana is only 16%, so Ghana needs to look in the area of open and distance education. We cannot achieve SDG4, which emphasises inclusive, equitable and quality access [to education] and to promote lifelong learning, without adopting ODL."
Dr Ojo Olugbenda and Dr Clifford Amini, both faculty of the National Open University of Nigeria, where RETRIDOL is hosted, facilitated the workshop.
Open Schooling for SADC-CDE

The Southern African Development Community Centre for Distance Education (SADC-CDE) and COL held a workshop on Technology-Enabled Learning (TEL) for Open Schooling at the Botswana Open University (BOU), Gaborone, in August 2018.
The workshop, hosted by BOU, presented opportunities to augment the volume, quality and delivery of content through the adoption of TEL and Aptus. Participants, consisting of 24 research officers, directors and other staff from the university, worked in small teams to select and critique open educational resources and to develop mini courses using MOODLE.
TEL serves to facilitate a more learner-centred pedagogy and reduce the costs of printing materials, while also heightening interactivity and learning outcomes.
Tanzanian women turn entrepreneurs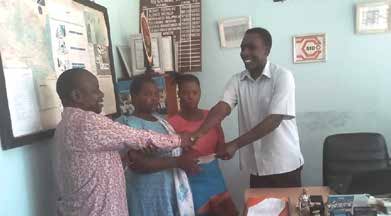 One of COL's GIRLS Inspire project partners, the Institute of Adult Education (IAE), recently introduced the Msanzi CEFM Women's Group in Tanzania to microfinancing opportunities to help them become entrepreneurs. Following this, the Rukwa Regional Manager of the Small Industries Development Organisation, Mr Emmanuel Makere, presented a soft loan to the group in September 2018. This loan will enable the women to launch small businesses in areas such as soap and batik fabric production.
In partnership with IAE, the GIRLS Inspire project reintegrates women and girls into education through open, distance and technology-based education to prevent child, early and forced marriage (CEFM) in the country. Over 2,700 women and girls have registered for schooling and skills training with IAE. "The GIRLS Inspire project not only trains women in financial literacy, life skills and vocational training, but provides them with opportunities to apply their skills in improving their livelihoods," says COL's Senior Adviser: Women and Girls, Ms Frances Ferreira.
Open/Innovative Schooling model takes off in Mozambique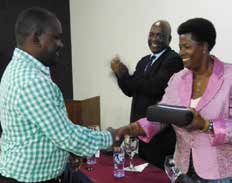 COL, in collaboration with the National Institute of Distance Education (INED), launched Phase 2 of COL's Open/Innovative Schooling model in Mozambique during a workshop organised in August 2018. Technology-enabled learning will be implemented in 15 pilot schools.
Speaking about the model, COL's Senior Adviser: Open Schooling, Dr Johan Hendrikz, said, "In preparation for this launch, over 1,600 eLearning resources developed by Mozambique's Ministry of Education and Human Development were loaded on 15 Aptus devices and handed to staff of the pilot schools, who were trained to use the Aptus."
The Honourable Minister of Education and Human Development, Ms Conceita Sortane, handed the Aptus devices and laptops to representatives of the pilot schools. She was accompanied by the Director General of INED, Mr Pedro Baptista, and the Director of the Institute of Distance Education, Mr M. Simbine. The workshop was conducted by Ms Rosário Passos.
The workshop was attended by two staff members from each of the selected schools, geographically spread throughout Mozambique. It focused on the pedagogy of teaching in an eLearning mode using the Aptus device.
Nigeria launches Green Teacher programme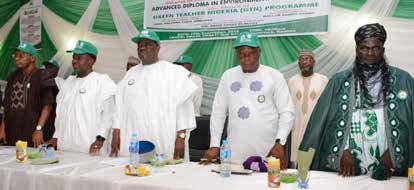 COL, in collaboration with the National Teachers' Institute (NTI) Kaduna, officially launched the Advanced Diploma in Environmental Education Programme, also known as the Green Teacher Nigeria Programme, in September 2018. This 12-month blended online programme targets primary and secondary school teachers, as well as staff of environmental protection agencies and other stakeholders in the country.
During the inauguration, the Executive Secretary, National Board for Technical Education, Dr Mansur Mas'udu Kazaure, read a message from Nigeria's Honourable Minister of Education, Mallam Adamu Adamu, which stated: "I applaud the institute for taking advantage of the opportunities provided by new technology to deliver the new diploma programme."
NTI's Director General and Chief Executive, Professor Garba Dahuwa Azare, stressed the institute's commitment to improving the quality of teachers at all levels of the nation's education system through its various training programmes. "COL's partnership with NTI marks an important milestone in teacher and learner empowerment in the conservation and improvement of the environment," said COL's Adviser: Teacher Education, Dr Betty Ogange.
Digital learning for teachers in South Africa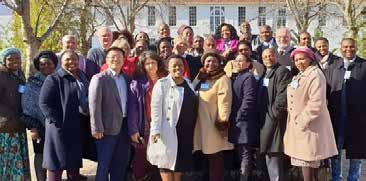 COL and the Department of Basic Education (DBE) in South Africa organised a four-day planning forum for professional development in digital learning in September 2018 at the University of Fort Hare.
The Acting Dean of the Faculty of Education at the University of Fort Hare, Professor Mzuyanda Percival Mavuso, welcomed participants to the forum, which was attended by 39 delegates, including academic staff from the Faculty of Education and the university's Teaching and Learning Centre. Representatives from the national, provincial and district departments of education as well as the Nelson Mandela Institute of Education and Rural Development also attended.
In her opening address, the DBE's Director for Learning and Teaching Support Materials, Policy Development and Innovation, Ms Kulula Manona, stated that the DBE looked forward to the partnership with COL to ensure innovative digital teaching and learning in secondary schools in the Eastern Cape.
COL's Adviser: Teacher Education, Dr Betty Ogange, said that "COL recognises the need to work with in-country partners to develop a professional development programme that will upscale digital knowledge and skills among teachers towards better educational achievement in the Eastern Cape initially, and in other parts of South Africa subsequently."
Blended online course development in Uganda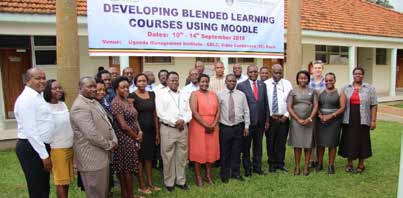 COL supported a five-day workshop on developing blended courses at the Uganda Management Institute (UMI) in September 2018. The workshop was aimed at assisting teachers to develop blended courses for UMI's MBA programme, using a learning management system (LMS). In 2017, COL supported the development of a technology-enabled learning policy and trained teachers to use the LMS.
Inaugurating the workshop, UMI's Director of Programmes and Student Affairs, Dr S. Kasozi Mulidwa, said that "COL's support is timely and will help UMI faculty to gain new technology-enabled pedagogical practices as well as reduce their workload." He asked participants to deliver the developed programme to students in the upcoming semester, in early 2019.
The workshop was facilitated by Mr Andrew Moore from South Africa and attended by 20 teachers who are developing modules and courses for UMI's MBA programme.
Inclusive education in Kenya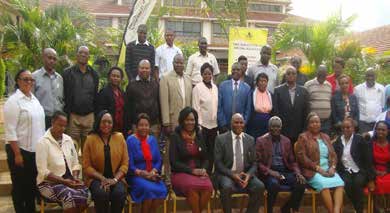 COL, in collaboration with the Ministry of Education, Kenya, organised a three-day stakeholder forum on inclusive education in secondary schools in August 2018 at the Kenya Institute of Special Education (KISE), Nairobi.
The Director of KISE, Mr Wambua T. Mutiso, said that the forum was an eye-opener for the secondary school heads and teachers – many of whom had not received any training on inclusive teaching practices and yet were constantly faced with the challenge of helping students with disabilities and special needs. "We look forward to the partnership with COL to ensure successful inclusive education in the secondary school sector in our country," he added.
Participants represented the Ministry of Education, the Teachers Service Commission, the Kenya Institute of Curriculum Development, KISE, as well as selected special, integrated and mainstream secondary schools.
Teacher professional development in Botswana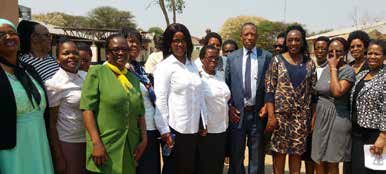 COL organised a sensitisation meeting on teacher professional development at the Tlokweng College of Education in Botswana in September 2018.
COL's Adviser: Teacher Education, Dr Betty Ogange, said that COL has developed a blueprint and toolkit for school-based teacher development (SBTD) for countries and regions wishing to implement SBTD to improve schools' performance and pupils' achievement.
The principal of the college, Mr Bushy Setabo, lauded COL's efforts in strengthening the capacity of teacher education institutions and providing mentorship for SBTD, saying, "We welcome this initiative and hope that the ministry can guide us further to be able to engage with COL in this initiative."
ICT integrated courses in Kenya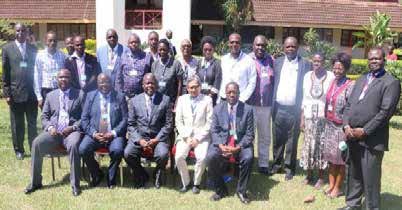 COL supported a workshop on developing policy for the implementation of technology-enabled learning (TEL) at the Jaramogi Oginga Odinga University of Science and Technology (JOOUST) in Bondo, Kenya in September 2018. The workshop was conducted based on the findings of a baseline study by the university, which examined the utilisation of ICT in teaching and learning.
Inaugurating the workshop, the Vice Chancellor of JOOUST, Professor Stephen G. Agong, said, "We are already on the path to embrace technology-enabled learning – thanks to COL's support, the university can now adopt TEL systematically." He called on the deans of the university to leverage this opportunity to develop
an inclusive and realistic TEL policy that can be implemented.
COL's Education Specialist: eLearning, Dr Sanjaya Mishra, noted that "JOOUST is a fertile ground for success in TEL implementation as the university already has a learning management system and an institutional repository in place. The baseline study also reported that faculty members and students are looking forward to the integration of TEL, and the university's strategic plan aims at integrating ICT in 50 per cent of courses by 2021."
Quality higher education in Uganda
COL is working with Busitema University (BU) in Uganda to implement open and distance learning (ODL) and transition to being a dual-mode university. In June 2018, COL supported a workshop on online course development for 27 BU faculty. With campuses in rural areas of the country, BU looks to ODL as a means of increasing access, improving programme flexibility for students, and boosting the overall quality of programmes through effective instructional design and learner support.
"By providing quality distance and online learning opportunities, we anticipate that BU will be able to increase access and positively impact the lives of learners in Uganda," said COL's Education Specialist: Higher Education, Professor Romeela Mohee.
ASIA
Innovative agMOOC for farmers

COL partnered with the Indian Institute of Technology Kanpur (IITK) and the University of Agricultural Sciences (UAS), Raichur to launch a massive open online course (MOOC) for rice and cotton farmers in Karnataka, India. Over 4,000 farmers enrolled in this course, which started in August 2018.
The course is free of charge and accessible through basic mobile phones. The learning materials are in the Kannada language and are available in an audio