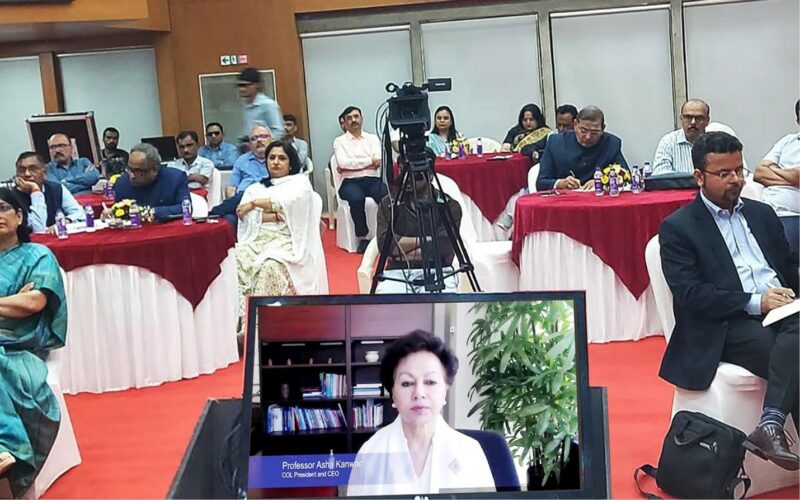 Reading Time:
3
min read
Speaking virtually at the inaugural session of the State Open University Vice Chancellor's Forum in India, Professor Asha Kanwar highlighted the importance of open and distance learning in the National Education Policy (NEP) of India.
"One silver lining of the Covid-19 pandemic was the global acceptance of distance and online learning. However, emergency remote learning is not distance education and as the open and distance learning community, we have much to share with the higher education sector," she said. While so, COL's survey of 28 Open Universities in the Commonwealth showed a decline in enrollment numbers. Could this be because other institutions are also offering courses in the distance and online mode? COL's survey also showed that Open Universities are increasingly interested in quality, inclusion, internalisation and research all of which are priorities in India's NEP as well.
Professor Kanwar pointed out that recent technological advances are influencing the way we learn and teach, "AI is being mainstreamed in education. Intelligent Tutoring Systems use AI techniques to simulate one-to-one human tutoring and provide timely feedback". This also contributes to ODL moving to personalisation from massification.
The forum was organised by the B R Ambedkar Open University, Gujarat State, India with support from COL. Twelve Vice Chancellors of Open Universities in India were among the participants. Leaders of universities and regulatory bodies from Malaysia, Mauritius and the United Arab Emirates participated, as well.
The script of the talk is available at Oasis, COL's online repository.