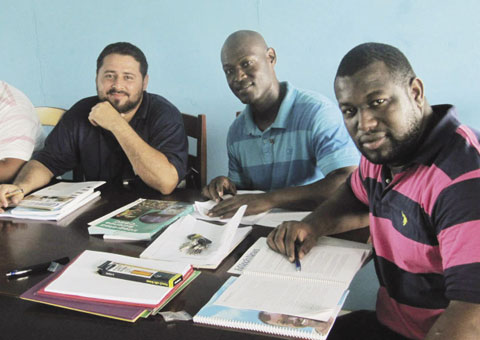 Reading Time:
4
min read
NOW AVAILABLE IN BELIZE
The Gwen Lizarraga Open School was launched on 23 August in Belize. Planning for the school was assisted by a COL-brokered twinning between the University of Belize and the Fraser Valley Distance Education School (British Columbia, Canada). Notesmaster Caribbean also supported intensive training in online content development. The school will provide online learning in at least five subjects, starting in January 2014.
The Honourable Patrick Faber, Minister of Education, Youth and Sports, speaking at the launch, said, "the concept of the Open School is really to tear down the walls, the physical structure of the schools – it's putting everything online and using the technology. So in effect we're hoping that students across the nation, or people who are not students who need a good quality education or need that kind of support, will be able to access quality available resources on this website and through this initiative."
Participants attending the workshop to develop a strategy and work plan for the Gwen Lizarraga Open School.
NOW AVAILABLE IN VANUATU
Vanuatu established its open school in July. Also in July, COL conducted a Learner Support for Tutors in Learning Centres workshop in Port Villa. A final reflection by participants on tutoring in open schooling showed a significant shift in the concept of how students learn and in the role of the tutor. In a response to the question, "What does tutoring involve?", one of the participants answered, "It involves planning, organising and creating/designing activities that will help promote students' understanding of the content of the subject."
COSTS AND FINANCING
Open schooling is not only a vital response to the rapidly increasing demand for secondary education; it also holds enormous promise for developing countries to achieve greater cost efficiency. This, however, presents a challenge to many institutions and governments because while there are several differences between the economics of distance and conventional education, these are not always taken into consideration when planning for open schools.
COL's Open Schooling initiative endeavours to develop and promote models that are sustainable and that include costs and financing matters. COL has held regional workshops on the topic for open-school management and ministry of education officials in Africa, Asia, the Pacific and, most recently, the Caribbean. Most Commonwealth Caribbean countries were represented at the meeting in Barbados.