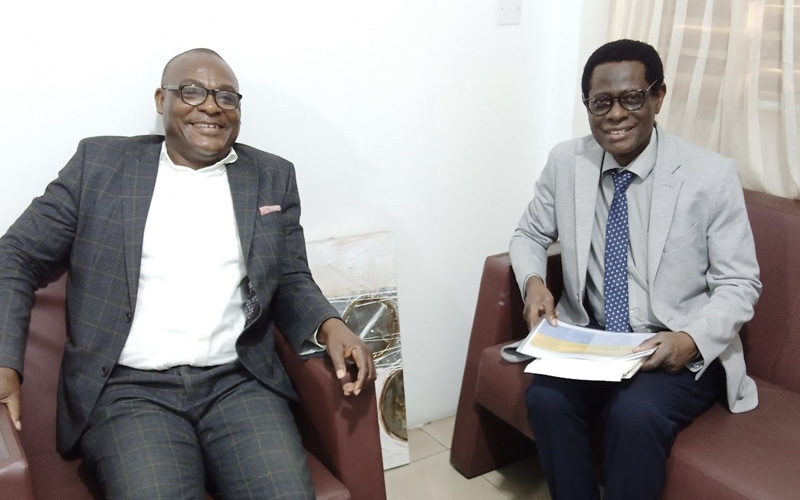 Reading Time:
4
min read
Following concerns expressed by Commonwealth Heads of Government at their meeting in Rwanda in June 2022 on the declining situation of food security and inefficient food systems and their concomitant effect on the attainment of Sustainable Development Goals (SDGs), the Commonwealth of Learning (COL) has stepped up the process of scaling up its Lifelong Learning for Farmers (L3F) initiative in various countries.
Professor Wale Adekunle, Adviser, Lifelong Learning for Farmers at COL, recently visited Ghana to meet with stakeholders in producer organisations in agricultural support institutions and in government. The main purpose of this visit was to expand opportunities for farmers through the adoption of the L3F approach which seeks to bridge the learning and social deficit in the lives and business of farmers and associated stakeholders along the value chain for the attainment of greater agricultural yields and income, leading to quicker and larger impact.
In recent years, COL has worked with the GARU Presbyterian Agricultural Station (GPAS) – a non-profit organisation which was established to improve the living standards of farmers in Northern Ghana. GPAS currently operates in Garu, Tempane, Pusiga, Binduri and Bawku West Districts, along with the Bawku Municipality. So far, this work has focused on improving the livelihoods of sorghum farmers. Through this program, GPAS and COL have improved the lives of more than 30,000 farming households.
Now, the L3F approach has been scaled up to cover more areas in Northern Ghana including the Bunkpurugu-Nakapanduri and Yonyoo-Nasuam Districts of the Northern Region. In turn, this will potentially reach even more farming households bringing with it the benefits of increases in yields, market access and income.
Professor Adekunle met with Mr Kwabena E Quaison, Director in the Ministry of Environment, Science, Technology and Innovation and with Mr Yaw Osafo-Maafo, Senior Presidential Advisor on the 'Future of Ghana without Aid.' These discussions helped set guidelines and opened the way for greater collaboration towards the attainment of food security through the scaling up of the L3F approach.
In light of this evolving partnership, COL will be working with stakeholders in Ghana, including the Government itself, to attain self-sufficiency in strategic commodities.
According to Professor Adekunle, sorghum has been a starting point, but other commodities will be included in the future to attain self-sufficiency in strategic commodities.
Image caption: Professor Wale Adekunle, COL (right) meeting with Mr Kwabena E Quaison, Director, Ministry of Science, Technology and Innovations, Ghana.