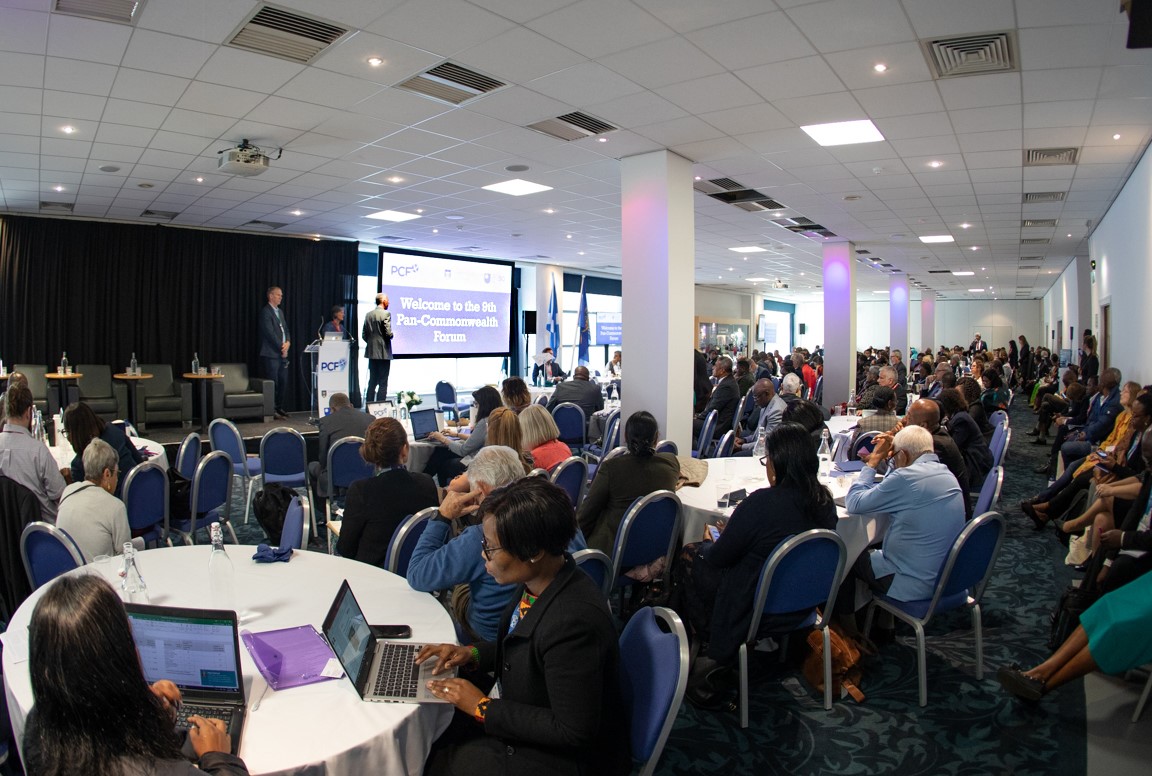 Reading Time:
5
min read
13 September 2019, Burnaby, BC, Canada – The ninth Pan-Commonwealth Forum (PCF9) concluded on 12 September 2019 after four days of insightful keynote addresses, engaging plenary panels, informative parallel sessions, and many other programme highlights.
Held every three years, the Pan-Commonwealth Forum is organised by the Commonwealth of Learning (COL). This year's event was co-hosted by the Open University and held at BT Murrayfield Stadium in Edinburgh, Scotland.
Highlights of the 12 September programme included plenary panels on three key topics: equity and inclusion, employability, and education for girls. Parallel sessions continued on day four and covered a wide range of content, including how the use of OER and ICT can contribute to lifelong learning across borders, interventions that can prepare learners for employment, and research results on mobile learning. The Rt Hon Nick Gibb, UK Minister for School Standards, participated in a lively closing session on the evening of 12 September, which served as a fitting end to the multi-day event.
COL recognised excellence in open, distance and technology-enabled learning with the presentation of the Excellence in Distance Education Awards (EDEA) on 11 September 2019. Presented every three years, these awards acknowledge achievement by institutions/organisations and individuals at many points throughout the learning process. The EDEA winners are:
Yashwantrao Chavan Maharashtra Open University (India)
Open University of Malaysia (Malaysia)
Athabasca University (Canada)
Open Education Resource Foundation (New Zealand)
Ms Sakshi Kumari (India)
Mr Jima Ngei (Nigeria)
For more information on the 2019 EDEA, visit: https://www.col.org/news/news/excellence-distance-education-awards-presented-during-pcf9
Eight new Honorary Fellows of COL were also named during the forum. The designation of COL Honorary Fellow recognises outstanding individual contributions to open and distance learning. The names of the 2019 Honorary Fellows are:
Professor Abdalla Uba Adamu (Nigeria)
Ms Anne Gaskell (United Kingdom)
Professor Datuk Dr Asma Ismail (Malaysia)
Mr Kamaraj Keppanan (India)
Professor Mandla Makhanya (South Africa)
Professor Nageshwar Rao (India)
Professor Clement Sankat (Belize)
Dr Linda Sissons (New Zealand)
For more information on the 2019 Honorary Fellows, visit: https://www.col.org/news/news/col-announces-new-honorary-fellows
In the coming weeks, participants have been invited to comment on an Edinburgh Statement, which will include a number of collective actions aimed at significantly accelerating progress towards achieving Sustainable Development Goal 4: Ensure inclusive and equitable quality education and promote lifelong learning opportunities for all.
COL invites you to watch the PCF9 Highlights video: https://www.youtube.com/watch?v=vSpyXwW3mg0&feature=youtu.be
About COL
The Commonwealth of Learning (COL) was created by Commonwealth Heads of Government to promote the development and sharing of open learning and distance education knowledge, resources and technologies. Hosted by the Government of Canada, COL is the world's only intergovernmental organisation solely concerned with the promotion and development of distance education and open learning.
– 30 –