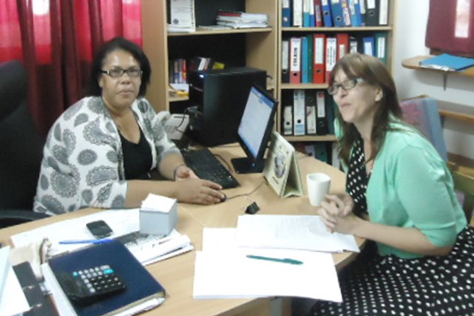 Reading Time:
4
min read
The National Institute of Health and Social Studies (NIHSS) is a tertiary training institution located on the Island of Mahé, Seychelles under the administration of the Ministry of Health. It is the only institution offering pre and in-service courses in nursing, allied health and social studies related fields in Seychelles.
The NIHSS-COL partnership began in 2011 when the Institute was undergoing transition to the Ministry of Health administration, which triggered the need to review systems and implement improvement with communication with parent ministry, stakeholders, needs orientation, engagement, dynamism and intention to work towards success.
In collaboration with the Seychelles Qualifications Authority and the Ministry of Education, NIHSS and COL embarked on the COL Review and Improvement Model (COL-RIM) quality assurance exercise. The review identified some good practices which highlighted the strength of the Institute, namely learner and knowledge society focus and impact on society outcomes. This review indicated that the institution is moving towards achieving quality standards in teaching and learning. A follow-up assessment indicated the need to improve internal systems and develop staff capacity for quality assurance. The COL-RIM verification visit indicated an improved awareness amongst staff about quality assurance and self-assessment as a result.
COL and NIHSS advanced its partnership with a new project in 2014 to develop a foundational program of mandatory courses for all new students who do not meet entry criteria. Courses would be designed using principles of adult learning, but also considering students' limited academic skills. Following consultation with key stakeholders, the major problems and underlying concerns were identified. Therefore, the programme will be designed to prepare NIHSS graduates to perform at a higher functional level in their first job. As a transition-to-practice program, it will provide additional training and supports to help guide growth and development of the novice practitioner. NIHSS can then play a useful role in helping employers develop internship programmes that are integrated with NIHSS approaches for a smoother transition.
NIHSS extends its deepest gratitude to COL for all the support and guidance with the intention of improving teaching and learning at the Institute. Further we are grateful of the reassurance that they are there for future assistance.