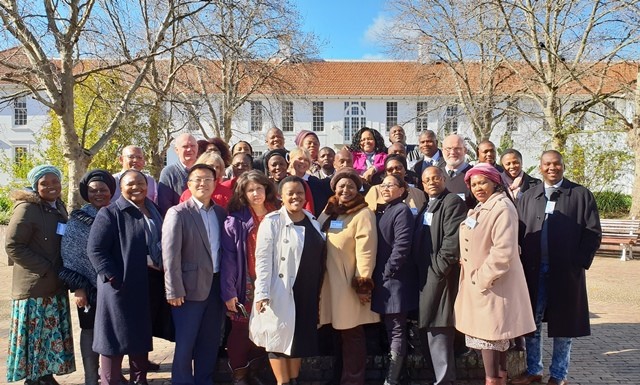 Reading Time:
3
min read
COL, in collaboration with the Department of Basic Education (DBE) in South Africa, organised a four-day planning forum for professional development in digital learning from 3 – 6 September 2018 at the Alice Campus of the University of Fort Hare.
The acting Dean of the Faculty of Education at the University of Fort Hare, Professor Mzuyanda Percival Mavuso, welcomed participants to the forum, which was attended by 39 delegates, including academic staff from the Faculty of Education and the university's Teaching and Learning Centre. Representatives from the national, provincial and district departments of education, as well as the Nelson Mandela Institute of Education and Rural Development also attended.
In her opening address, the Director for Learning and Teaching Support Materials, Policy Development and Innovation at DBE, Ms Kulula Manona, said "The best thing you can do for teachers is to teach them how to teach effectively with technology." She stated that the DBE looked forward to the partnership with COL to ensure innovative digital teaching and learning in secondary schools in the Eastern Cape.
COL's Adviser: Teacher Education, Dr Betty Ogange said that "COL recognises the need to work with in-country partners to develop a professional development programme that will upscale the digital knowledge and skills among teachers towards better educational achievement in the Eastern Cape initially, and in other parts of South Africa subsequently."
Delegates developed a strategy and action plan towards the Teacher Futures Programme, focusing on Digital Education in South Africa. The forum was facilitated by SchoolNet SA.
PHOTO: Participants at the forum.